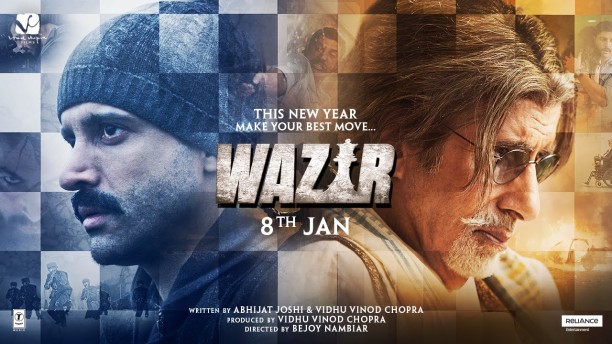 Starring Amitabh Bachchan and Farhan Akhtar, the new dramatic thriller Wazir, set to release on January 8th, is definitely on our list of must see movies. Directed by Bejoy Nambiar, Wazir is a tale of two unlikely friends, a wheelchair-bound chess grandmaster and a brave ATS officer, brought together by grief and a strange twist of fate. The two men decide to help each other win the biggest game of their lives. But there's a mysterious and dangerous opponent lurking in the shadows, who is all set to checkmate them. Wazir is a pulsating thriller, a moving character study and a gripping revenge story.
Of course, an intrinsic part of a film is the music and for Wazir, Nambiar brought in an impressive line up of composers including Shantanu Moitra and Ankit Tiwari.
When we spoke to star Farhan Akhtar he had this to say about the songs of Wazir, "The music, I feel, of Wazir is very, very charming. It is very, very melodious. It is soulful. The songs are very well written. What I enjoy the most about it is there is a very strong focus in terms of composing and in terms of production where there has been a lot of respect to the writing of the song – to the lyric of the song."
He adds, "There is wonderful singing by Sonu, Shreya and Ankit – they have sung the songs beautifully."
From what we have seen and heard so far we completely agree! We will have our full music review soon so watch this space to see what rating we give to the tracks of the Wazir!
Also keep checking back to BollySpice because we have an exclusive and we have to say fabulous interview with Mr. Akhtar about all things Wazir including more about the music! You don't want to miss this!