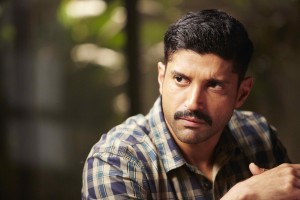 Every since Farhan Akhtar first stepped in front of the camera as an actor, after directing of some of Hindi films' best movies,  he has been thrilling audiences with his outstanding performances. It all began with Rock On! and from there through his incredible transformation and complete immersion into his character in Bhaag Milkha Bhaag, to last year's Dil Dhadakne Do, Akhtar has shown he is one of the best actors in the industry.
In his newest film Wazir, which opens this Friday January 8th, the actor took on many new challenges, including playing a cop for the first time, doing action sequences and oh yes, starring opposite the legendary Amitabh Bachchan.
Directed by Bejoy Nambiar, the Vidhu Vinod Chopra – Rajkumar Hirani produced film tells the tale of two unlikely friends, a wheelchair-bound chess grandmaster and a brave ATS officer, brought together by grief and a strange twist of fate. The two men decide to help each other win the biggest game of their lives. A pulsating thriller, a moving character study and a gripping revenge story, Wazir promises to be a fabulous night at the movies.
Stacey was lucky to catch up with Farhan Akhtar for an amazing conversation about Wazir. Full of laughter and insight, Farhan talked about how he prepares and becomes his characters, working with Mr. Bachchan and what he thinks makes Wazir such a good movie! Check it out!
What was it about this role and this film that made you say I want to play this part.
As an actor I think you are looking for things to challenge you and of course, excite you. When I heard the script from Bejoy and from Vinod Chopra, it was something that I connected with very, very strongly. It is a character I haven't played before. It is set in a world that I enjoy tremendously as a viewer watching, but I have never been a part of that world in any film, either that I have directed or been in as an actor. It is a really, really well written script. It is a story with great heart. At the same time it has got all the elements of a thriller. It really moves you. I think that is something that will really surprise people because they expect it to be a thriller, but they don't know how moving the story is because at the heart of it it really is a story of friendship. And it is a story of discovering love again. Finding redemption. Dealing with your own personal demons. There are many such things that are layered in the script. The way Abhijat and Vinod have written it – they have struck a beautiful balance between the pace that is needed for a thriller and the kind of depth that is needed for an emotionally told story. They have struck that balance really well.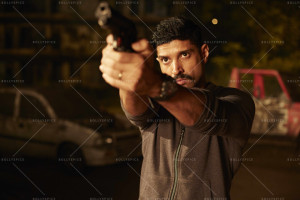 With each role you really become the character, how do you find him, imbibe him to become him? What is your process and how do you find your characters?
Initially it starts off with reading the script… many times! Because you know the more you read it somehow the more familiar that person becomes to you and you start seeing the lines in a way that you feel are appropriate for the kind of person that he is. Then, of course, the director is there to give you a lot of background in terms of where he is from and where he trained and everything. Then you draw from your personal experiences. I know many people in the police force here in Mumbai and also many who were part of the ATS, which is the Anti Terrorism Squad. I know many of them. I have met them at social occasions, I have met them in their workspace. So I have seen their body language and seen the way they speak, the way they behave when they are in different kinds of situations. At the same time there is a certain way and kind of decorum that is always there and a certain respect. There is this aura that they have around them because of just the power that they possess. You know, it is interesting they are not really revealing of their true emotions. I am sure they are when they are at home when they are with their families, but you know when they are out there it is very guarded. It is very interesting to see. You have to understand all that and then to somehow bring that into the way you move in the film. The way you sit in the film. The way you speak in the film. It is very interesting to just bring all that experience in to play.
Of course, you are starring with the incredible Mr. Bachchan. What is it like to do prepare and then do a scene with him?
It is interesting. It is very, very interesting. There were actually eight days straight of just rehearsals and readings. You know, we did a lot of readings in his house as well. That kind of really helped in terms of breaking the ice of the fact that now we are going to be in a film and working scenes together. I think if I just met him on the first day on set it would have been pretty nerve wracking! (Smiles) So that really did help. But still, at the same time, on the first day of filming there is still something that is unique when you are finally in costume and you are on set and you are realizing that right now, on that day what will be captured is what the audience is going to see. They will never see what happened in the reading room. They will never see what happened in those rehearsals, but they are going to watch this. There was a very strange kind of surreal feeling that I had for a good like half an hour to an hour when we were initially rehearsing on set that really did take me some time to get over. It was like 'okay I am finally on set with him and this is what he is going to look like in the scene and this is what I am going to look like in the scene (laughs) now I just have to get this out of my head and come back into this moment because I am really having a bit of an out of body experience.' (Laughs)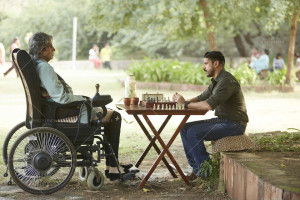 Yes, I can see you saying okay I am sitting opposite him…. acting!
Yes! And you know my introduction into movies was by watching his movies. It was very, very surreal to be sharing screen space with him.
And you directed him in Lakshya; did you ever imagine that one day you would be acting opposite him?
No, never, never. I mean when I made Dil Chahta Hai, Lakshya and Don, I had no intention whatsoever in acting in films. That was a very different experience because he was one member of a cast that was a very, very big cast and as a director you have to give equal attention to everyone. My time was very divided so I did not get as much time as I got on this film to spend with him when I directed Lakshya. This was a very, very different experience of working with him on a film.
How was it to work with director Bejoy Nambiar?
You know Bejoy and me have known each other for many years. We have been speaking about wanting to do something together many times for many years. Somehow it just never happened. It was kind of cool when Vidhu Vinod Chopra called me he said he has this script and Bejoy has agreed to direct it. I was very, very kicked! At that time I had not heard the script but I had always wanted to work with Bejoy because I think he is a very talented boy. It was nice to know that he was on board already. That kind of added to the enthusiasm of wanting to hear the script. I knew that if I get into in and I enjoy the script, then I definitely will have a nice time making the film because he is going to be directing it.
I believe this is your first action movie as an actor; did you enjoy shooting those scenes?
I was telling Bejoy actually, you know I have done a couple of films before this in which I have always been at the receiving end of some slap or something or other. (Laughs) It is really nice when I can finally give it back to other actors. (Laughs) I enjoyed it tremendously. I got to punch people, kick people, jump off of buildings, do bike chases, car chases, fire guns. It was an amazing time! We had a great action team. I always felt safe when I was doing all this stuff. It was a lot of fun to do! I am looking forward now to doing more action in films to come.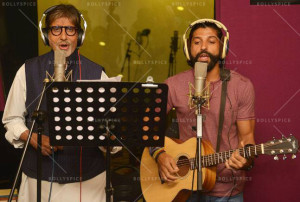 What are your thoughts on the music of Wazir?
The music, I feel, is very, very charming. It is very, very melodious. What I enjoy the most about it is there is a very strong focus in terms of composing and in terms of production especially of the song where there has been a lot of respect given to the writing of the song – to the lyric of the song. That is something I think that over time songs have started tending to get over produced! The lyrics start getting drowned out and you can't even understand what somebody is saying anymore. Just culturally, as a people, we are not a race of people who just enjoy listening to the music. We want to sing the song! When you can't hear what is being said, somehow you can never connect with the music. Especially as well as it may be composed as well as it maybe produced if you can't hear what the singer is saying. These songs take you back to that time when you just enjoyed listening to a song, where you could just play it while you are having a cup of tea and a samosa (Laughs) and just listen to some really good lyrics. It takes you back to that. And of course, there is wonderful singing by Sonu, Shreya and Ankit – they have sung the songs beautifully. The songs are very well written. I just love it that there is an album that is very classical in terms of the way it is produced for people to listen to and I think people are really responding to it that way. There are messages on my social feed where people are saying, 'Oh finally I can hear the lyrics', 'Oh finally a song that feels like a good love song that I have not heard for a long time'. I think the only difference is that this has been produced the way it should be. I think that is the big difference. They are very soulful.
What would you say to someone if they asked you why should I go see Wazir?
I think in a nutshell it probably would just be that it is just a good movie. It is a good film. Of course, you want to be part of good movies all the time, and you endeavor to make good films all the time, but there are certain movies that give you a kind of belief when finally you are done with it and when you watch that film. They give you a belief and that confidence to be able to tell people you really should watch this film and I feel really proud to be part of this movie. I think that is basically it. It is a good film. I just hope people go and support a good film.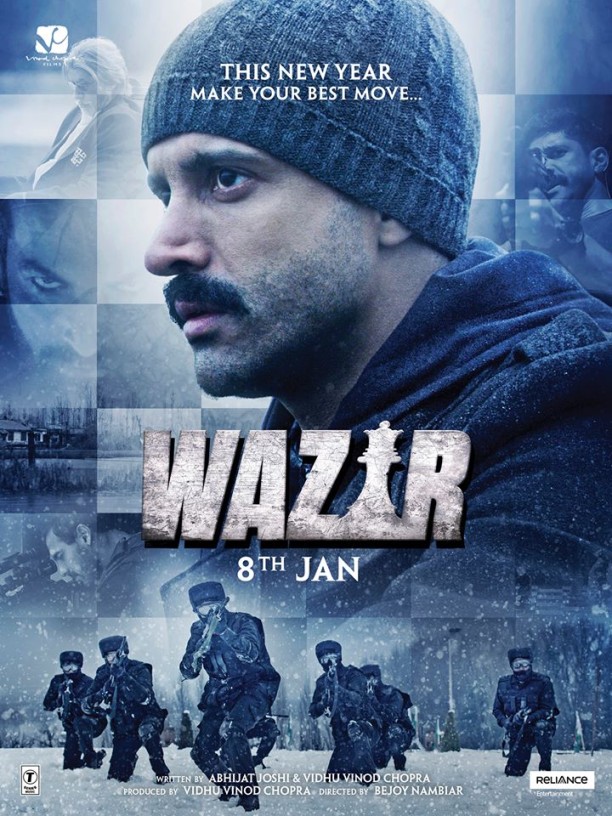 Looking back over your career as an actor what would you say?
It has been a pretty intense, amazing and a fun journey. I have had the great pleasure on working on some very interesting films in a relatively short period of time. Directors have trusted me, someone who is not really, really that old in the world of acting, they have trusted me with some really, really challenging roles. I feel very fortunate to part of every film that I have done.
If you were going to direct you, what would you tell yourself?
What are you doing behind the camera, do you mind going out there to perform please. (Laughs) That would be my first thought! (Laughs) But possible it would be to try and get all my prep work done before I come on set so when I am on set I can just focus on the performance. I think that would be it. You know, people have done it very successfully in the past, where they have directed and acted in the same film, but I find the job so varied from each other, they are so different, the demands are so different, I don't know if that is something I would be able to do or not. I guess time will tell but at this moment I'm not ready at all.
You are also now currently shooting Rock On 2. So how is that going?
It is coming along really, really well. I am so excited that the sequel is finally happening. It is back to that world of music that I love. It is back to those characters that were so enjoyable. It is a completely new canvas for the film. It is set in the Northeast, which is really on some levels the rock capital of India. We have a new cast that is joining us. So all in all, it has just been an amazing experience so far! Just over half is done in terms of filming and in January we start filming again.
After you finish Rock On 2, what is next for you?
At this moment I haven't really made up my mind as what I want to do after Rock On 2. What I do want to do is write some things down that have been on my mind. That is one thing I want to do. The other thing I want to do is go into a recording studio. I have written a lot of songs. Just for myself – like independent music that I want to get into a studio and think about producing it properly and kind of doing something with it. My thoughts and my ideas a lot more and instead of a character's in a film.
A message to your fans?
I think what I always feel like I should say is just thank you so much for these years of support. It really is not possible for us to do what we do if it is not for that. I hope on the 8th of January when Wazir does release that you go and support this film. I do believe very, very sincerely that it is a good film. I do hope you go and enjoy it!