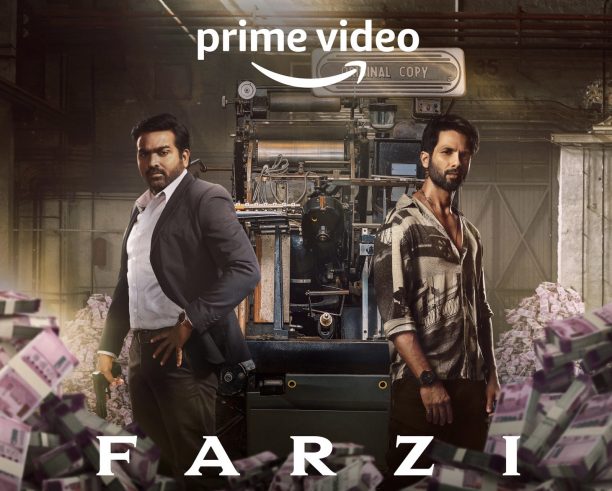 Farzi(Prime Video; 8 episodes)
Directed by Raj & DK
For a series on counterfeit currency creation , there is a discernible lack of artifice in the presentation. Farzi is a series where its helmers have a firm grip over the narration. The editing is tight and the narrative doesn't slip through the cracks even once, not even when the characters are hellbent on sinking in their own morass of greed.
Or maybe greed is not the correct word anymore for aspiring to make become rich quick. Sunny and Firoz, played as a study in companionable contrasts by Shahid Kapoor and Bhuvan Arora, have grown up in a world of debt-ridden anxiety. Shahid's Sunny reminded me of Pavail Gulati's Abhay in Faadu. Abhay was more demonstrative about his class-related resentment. Sunny is less prone to outbursts. He is more dangerous.
As we follow his journey from his parentless childhood to an adrift adulthood as an accomplished artistes forced to make roadside portraits, we see the seeds of an approaching peril. Farzi follows Sunny and Firoz through a world of international crime. On a parallel track there is the investigative officer Michael Vedanayagam(Vijay Sethupathi) a Special Task Force officer on duty to bust the counterfeit racket plagued by personal problems which include an estranged wife(Regina Cassandra) and a hotheaded impatient politician(Zakir Hussain).
Raj and DK keep the two parallel plots moving at an equally brisk pace, There is a bracing inevitability to the storytelling, buttressed by an authentic milieu and constant search for an even rather than 'awed'storytelling.
In Farzi Raj & DK don't want to shock or surprise the audience. The clash between a rogue morality and the flexibly establishment is sustained by some consistently credible performances particularly Shahid, Vijay , Amol Palekar and Bhuvan Arora. These actors know they are in this for the kill.