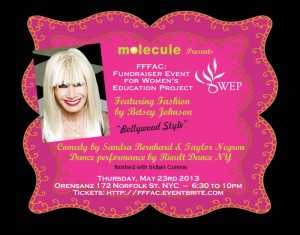 Fashion Designer Betsey Johnson joins hands with Molecule Communications to present Fashion Fiesta For A Cause (FFFAC). The designer will go "Bollywood Style" as she revisits her closet bringing never before seen vintage pieces to sashay down the runway. FFFAC will take place on Thursday, May 23rd, at the exquisite Angel Orensanz Foundation of Contemporary Art in New York City. This cross cultural event will bring Hollywood celebrities and fashion together to raise funds for students of Women's Education Project (WEP), a non-profit organization helping young women living on less than $1 a day in India, to succeed in college and careers.
"So excited to support WEP and the wonderful work they are doing in India helping women get an education and giving them the opportunity to better their lives. I'd do anything for Ajay at Molecule as he's always supported my work over the years. Really excited for the event…ON WITH THE SHOW!" says Fashion Designer, Betsey Johnson.
Along with fashion by Betsey, the fun filled evening will include LAUGHS with super star comedians Sandra Bernhard and Taylor Negron. Sandra is known to be a comedic diva with edgy comedy. She's been on Comedy Central's list of the 100 greatest standups of all time. FFFAC will also have DANCE by Rioult Dance NY, SPICE with Indian Cuisine, MOVE & GROOVE to Dhol, and Bollywood Beats and Bhangra. All proceeds will benefit the Women's Education Project (WEP)
The WEP believes that educated, employed women change their families' standard of living and gain a voice in their communities, creating the first steps out of poverty. WEP partners with NGOs in India to develop resource centers which offer young women scholarships, academic support courses, a library, computer lab, nutritious supplements and most importantly, a community. Through FFFAC, the goal is to fund 100 students' college education for 2 years. A $250 single ticket price allows you to adopt one WEP student. A ticket will support her schooling and career training for an entire year. 2 tickets discounted to $450, will allow you to adopt 2 girls for nearly 22 months!
"Women's education is approaching a tipping point internationally. Protests are waking up governments. Newspapers are covering the issues. Films like Girl Rising are telling their stories. We are so fortunate that Betsey Johnson – a leading woman in fashion – is adding her voice to the cause!" says Zoe Timms, Executive Director for Women's Education Project.
For more information on FFAC, WEP and to purchase tickets, please visit: http://fffac.eventbrite.com/