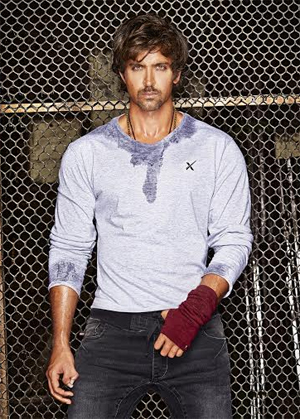 How do you rate yourself as a dancer? Aamir Khan thinks you're damn good?
My passion for dance has been there for as long as I can remember. Watching Michael Jackson dance effortlessly, definitely fuelled that passion. Though I don't think I am a great dancer hence I practice a lot to achieve all that I can when I am on the dance floor. I would love to do some live stage shows hopefully soon! If the right opportunity arises to take part in a dance concert, then I'll certainly consider it.
Tell us a bit more about your fashion line? How did that happen?
I always envisioned HRx – Push Your Extreme to be a platform that could inspire people to bring out their best and to never give up. My team together with Afsar Zaidi from Exceed Entertainment and Sid Shah from The Wild East Group have taken my philosophy and turned it into a brand.HRx together also represents an extreme state of mind that inspires one to be the best version of themselves. The lightweight product range includes comfortable casuals as well as leisure sportswear teamed with sports footwear for men. The products are made of premium fabrics crafted with a contemporary slim fit and dominated by vibrant colours.The business model for HRx has been conceptualised by Exceed and The Wild East Group. They have positioned it as the first celebrity brand extension in India, thought-through and built in the same way heritage brands are in Western countries, where licensees will be appointed in different categories bringing in specific expertise.
We hear you're off to the US for a health check-up? What'll happen to your movie projects?
I have completed my health check-ups and, with the grace of God, all film schedules are going as per plan.
What movies are next in line for you?
I have resumed shooting Bang Bang, which is India's take on the Hollywood blockbuster Knight and Day, which also stars Katrina Kaif. Bang Bang is set to be a rollercoaster of action and emotions, infused with a generous helping of fun, romance and great song and dance routines. The script is intriguing and cleverly unwinds into a thrilling and interesting story.
Have you thought about venturing into producing/directing yet?
I actually began my work in the industry behind the screen, assisting my father, so venturing into producing and direction has always been on my mind. In fact I had a very hands-on role with Krrish 3 and was very much a part of the creative and production processes. Being both behind and in front of the camera for a film like Krrish 3 was sincerely a dream come true and epitomises what I have dreamt of in my work.
Tell us a bit more about your fitness regime, what kind of diet you follow and what's your favourite foods?
I do work out every day, ensuring I exercise at least five to six times a week without fail. I eat sensibly and healthily. This doesn't mean that I don't indulge occasionally! But on the whole, I do try and stick to a balanced diet comprising all food groups. To remain fit, you must be strong mentally, not just physically, that for me is the key. My fitness workout is a major release for me, my own method of relaxation.