The aspiration for sartorial elegance is not always matched in the outcome of the inspiration. In this countdown, we take a look at the fashion mistakes of 2011.
1. Akshay Kumar at Tees Maar Khan Music Launch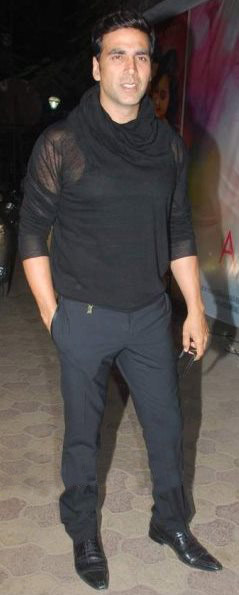 Akshay Kumar doesn't get it wrong. However between the faux cowl-neck, mesh sleeves, tight tank and bunched trousers, this is a look that does not become him. Thankfully, the look was tempered by black but it was still a disappointing outfit for a man who usually looks quite dapper.
2. Hrithik Roshan at 56th Filmfare Awards

Good looking men should hire good stylists, especially when they have the means to do so. The stubble was too casual for the outfit; and the thin lapels, shiny poorly-fitted trousers and the unique weave and thin tie were all screaming for attention and in a bid to outdo each other, they actually detracted the whole look.
3. Kangna Ranaut at The Dirty Picture Success Bash

Known for her bold choices in fashion, Kangna's look here hardly comes as a surprise. There's much of a muchness. The metallic jacket, sateen trousers and glittering shoes could induce a seizure. To top it off, she has painted her face with severe brows, bronzer and concealer. Seems like overcompensation, but for what, we aren't sure.
4. Katrina Kaif at FHM Sexist Women Launch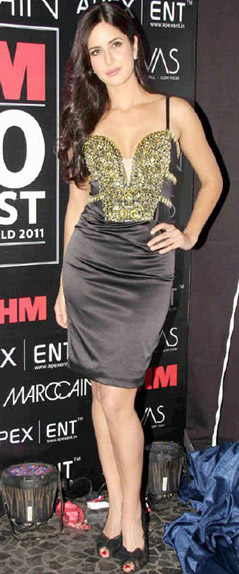 Katrina has a fantastic figure, that's clearly not a secret but it doesn't need regular broadcasting. The corset, the cleavage and sequins just scream trailer trash prom queen. Katrina can do, and has done, better.
5. Shahrukh Khan Leaving for Dubai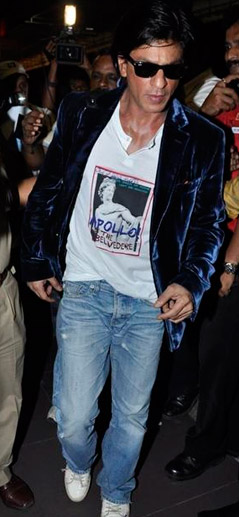 The usually well-dressed SRK seems to be channelling pre-2010 Salman and Amitabh Bachchan. The ensemble is a mixture of distressed jeans, t-shirt emblazoned with pop culture and a velvet jacket; those pieces shouldn't be worn individually, let alone together. There's never a time or a place for this outfit.
6. Malaika Arora at the Audi Show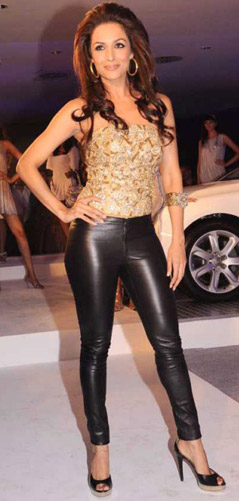 Malaika is fond of her fitted dresses and sexy outfits but maybe this taking it a step too far. While the clothes fit flawlessly, the big, over-styled hair with the bejewelled corset top and leather pants scream car show room girl. We expect more from the Head of Yummy Mummies!
7. Genelia D'souza at Mausam Premiere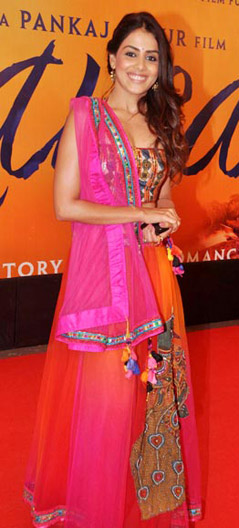 Genelia's megawatt smile and happy demeanour could not salvage this outfit. The motif on the lehenga is interesting and the work on the strapless blouse is intricate but together, they are just clashing. Plus, the drape of the dupatta and the way the top sits on her torso just seems unbalanced. Add the draining colour of her lips against starkness of kohl, this is an ensemble best forgotten.
8. Sonam Kapoor at Mausam Press Meet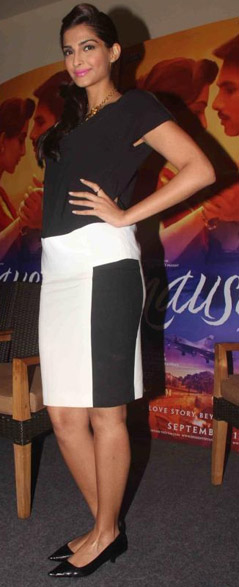 The crowned princess of fashion slipped up. The top and dress are part of set but might have benefitted from the addition of a belt and better footwear. The bubblegum pink, gold accessories and the hair only add to the disaster of the outfit. Sonam is daring but sometimes, it doesn't hurt to play it safe!
9. Sushmita Sen at Paris Hilton Meet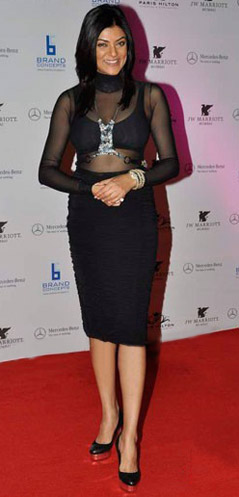 Oh Sush! Looking at this photo, the outfit detracts from all that Sushmita represents: the modern Indian woman. Instead, she appears to be an unsuccessful cougar. The mesh dress, visible underwear and a fetishist's necklace, does not a woman of substance make.
10. Vidya Balan at Melbourne Indian Film Festival

Vidya Balan can rock the sarees but anything else seems to be slightly out of reach for this talented but sartorially-challenged actress. The chains themselves aren't a part of the outfit (she was being honoured by the Mayor of Melbourne) but the dress itself is drab and very unsure of what it wants to be: a shirt dress, gown, maxi or anarkali; a poor reflection of such a powerhouse talent!