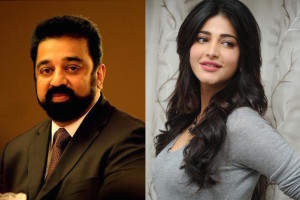 Come 1st May, the famous father-daughter duo Kamal Hassan & Shruti Hassan are going to fight it out. Not literally, but their respective films are all set to hit the screens on the same day.
Shruti Hassan is gearing up for her action thriller film Gabbar is Back with Akshay Kumar while Daddy Kamal Hassan has his film Uttama Villain, both releasing on 1st May.
Though the films belong to different genres and languages, it will be interesting to see the duo clash at the box office as Gabbar is Back is the official remake of the much acclaimed tamil film Ramanaa.
Shruti Hassan's spokesperson confirmed the news saying, "This is the first time in Shruti's career that her film is releasing on the same day as her father's film, (Gabbar is Back releases on 1st May). Though the genre and language is different, Shruti is definitely excited about the same as it's all within the family."