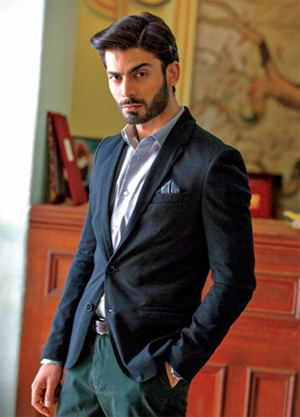 Disney UTV is bringing a Bollywood fairytale story to life again! A reimagining of the 1980 film starring Rekha, this version of Khoobsurat stars Sonam Kapoor. The film directed by Shashanka Ghosh releasing September 19th is a quirky, modern romantic comedy. Of course, a Disney film has to have a handsome prince and that is played by Pakistani actor Fawad Khan.
We were able to catch Fawad Khan for a very quick but wonderful chat. Though we only had the chance to talk for a short time, the actor really took the time to give amazing answers. See what he had to say in this exclusive interview!
Did you always want to be an actor?
Wow! I think that everyone in some corner of their heart and at some point in time in their youth and during their childhood has fantasized that oh I wish I could be that character on screen. I think I have experienced that fantasy – actually many times, over and over again but having said that I don't think it was really on my agenda. I had not really planned for this to happen and that goes to the fact that I have never been a good planner in life altogether. (Laughs) So actually everything happened by chance.
You are making your debut in Hindi films, what made you decide to take this part in this film?
I think there are three or four factors that motivated me. The first being I have always been used to working within a comfort zone of familiar faces. Even back at home, I think I have worked with very few people on the local scene. I just decided it was high time. I also feel it always helps in sort of evolving ones self when you have exposure to different people and different work environments. It is a great learning experience. So I thought let's take the try on this one and see how it turns out.
The second thing is that I think was AKFC, the Anil Kapoor Film Company, and especially Rhea. She really has a great sense of aesthetics. That is not everyone's thing. I always feel that no matter what life you represent or portray in cinema or for that matter television, I think a sense of aesthetics is definitely requited to try to make it as attractive a product as possible for the audience to enjoy. They have that, I think. They do a really great job with whatever they attempt. Especially when it comes to aesthetics.
Thirdly, there are some really seasoned actors, great names in this film other than just Sonam Kapoor. There is Kirron Kher, there is Ratna Pathak Shah – very critically acclaimed. There are also acclaimed theater actors, thespians, there's Aamir Raza Husain, there is Yashwant, Kaizaad Kotwal…so many names actually. Getting the opportunity to work with these people is obviously also an advantage because when you are pitching a product to the audience you would like to have good names associated with it. I always believe it is great when something like that positively contributes to a product. That is great.
Fourthly and most importantly I think it is the first Disney venture out of this region of the world. To be associated with the first I think is a great accomplishment and a great achievement.
And to be a Disney Prince!
Yes, to be a Disney Prince! (Laughs)
How was it to work with Sonam Kapoor?
Working with Sonam has been a great experience. She is a great host. She is a great co-actor. Above all a great human being. She is…how can I say it…very chilled out. A very genuine person. It has been a great experience. Those are the things I look for most when I meet anyone. She has all that going for her and on top of that she is a gorgeous woman.
How do you prepare to play your characters, be it on television or in a film like this?
Wow. For a character like this I think it is a little simple and straightforward. I think you just have to be a little stiff. (Laughs) I think with this prince, this Disney prince and I think it is the same case for all the princes of today's times, they have a greater exposure when it comes to people from various reasons and various walks of life, when they attend university, when they are getting educated, so that's more human. This character is a bit of both tradition and of today.
What do you think audiences will love about the film?
It's an entertainer. It is going to be unique in many ways, but carries on the legacy and tradition of Disney. I hope it will entertain. One day I just walked out of the dub and I was on the floor laughing. And I am the kind of person who doesn't intend this but I don't have a very active sense of humor. What can I say? I just don't laugh at things easily. So if it got my attention, then I think it will definitely catch the audience. Please come and watch it!
Though we had many more questions, sadly he had to run off to an event. We really loved speaking with the actor and wish him all the best.
Be sure to check out Fawad Khan's prince charming in Disney UTV's fairytale Khoobsurat on September 19th!