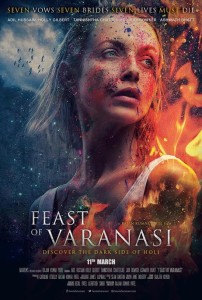 Released last Friday Feast Of Varanasi has had an impressive opening in its first weekend, earning rave reviews by critics and audience alike:
…feels unlike anything else you are likely to discover at the cinema this year and, for those interested in expanding their cultural palette, Patel's cerebral movie is essential" The Totality.com
"Patel's film is a decent thriller which benefits from having such an exotic background" Everyfilm.co.uk
"It is a good first film, and shows promise of good things to come." Britflicks.com
A directorial debut by Rajan Kumar Patel – the director picked up the award for 'Best Debut Director' at the closing ceremony of the London Asian Film Festival held at BAFTA.
Feast Of Varanasi is also nominated for the prestigious National Film Awards 2016 in the Best Independent Feature category, going head to head with Carol and The Gunman amongst others. Nominations for the National Film Awards were submitted and voted for by the public on the official Academy website. Over 1.3 million movie fans cast their submissions in the 18 categories. The ceremony takes place in London, on the 31st of March 2016.
Director Rajan Patel commented: 'Receiving the Best Debut Director Award from the London Asian Film Festival is a real honour but it reflects the ambitions and work of the whole team. Feast of Varanasi started in London with an idea and was filmed in Varanasi, but ultimately came home and received its first award back in London, it's come full circle.
The icing on the cake came at the same moment the film released in cinemas across the UK. I woke to an email stating my film was nominated for Best Independent Feature at the National Film Awards, alongside Carol. I was speechless and had to read and re-read the email. It is such a good feeling and a real honour to have your work recognised and to be nominated among such great company. Independent films need all the support they can get and even a nomination helps bring attention to the film and the efforts of all the people behind it. It certainly is an early Easter surprise."