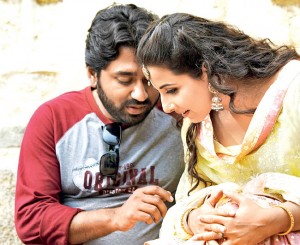 Samar Shaikh's directorial debut, Bobby Jasoos, is a unique thriller exploring the gender struggle in the old city area of Hyderabad.
Starring Vidya Balan in the lead as Bilkis Ahmed/Bobby, an aspiring detective with the ambition to be number one in the city, the director promises the film to "set a new benchmark for the thriller genre in Indian cinema." Brimming with exciting twists and turns the film is not just a combination of a classic thriller story with comedy, but is anticipated to explore some of the complex issues surrounding equality.
Samar Shaikh's previous work includes Fanaa, Dhoom, Dhoom 2 and Dhoom 3 (storyboard artist) and Badmaa$h Company, Dhoom and Roadside Romeo (assistant director).
Bobby Jasoos is co-produced by Bollywood actress Dia Mirza and Sahil Sangha under their production banner Born Free Entertainment and Reliance Entertainment and is set for Release in Cinemas 4th July 2014.
Shaikh speaks on his experience working with Vidya Balan, his favorite scene from Bobby Jasoos, whether he feels the film is destined for success and more!
What was it like working with Vidya Balan?
It was my first time working with her, so I wasn't sure what to expect but I absolutely enjoyed the experience. Vidya is an extremely talented actress. We got on really well and the atmosphere was great. She is a very creative actress, who knows how to bring any character to life on the screen.
How would you describe the movie?
Bobby Jasoos is a gripping film that sets a new benchmark for the thriller genre in Indian cinema and examines in a clever, witty and fresh way the dynamics of the gender struggle between women and men. The film centres around the main female character 'Bobby', played by Vidya [Balan], who wants to become the number one detective in the old city area of Hyderabad. The movie combines comedy with a classic thriller story, full of intriguing twists. The cast are superb, and I am very proud of the outcome of this film
What attracted you to Bobby Jasoos?
I thought it was a fantastic story to bring to life. Also, the story deals with myriad issues beneath the surface. It tackles such issues as a strong woman operating in a traditionally man's profession. The film tries to balance hard-hitting issues with the more usual romance, comedy and suspense. I feel it is a story that hasn't really been told before in Indian cinema.
Your favourite scene from Bobby Jasoos?
I don't think I could pick out just one scene. Every single bit was so entertaining and I believe its part of having to work with a wonderful team.
What will audiences enjoy most about Bobby Jasoos?
I think the most enjoyable thing is that one can actually relate to the story very easily – it is not just a detective story, it's really also a human story about a girl from a small village in Hyderabad with big dreams and aspirations. It shows that you can actually reach your goal no matter where you come from or who you are.
Do you think Bobby Jasoos is destined for success?
I think it has a great story line and a superb cast, but it is up to the audience to decide whether it is going to be successful. Sometimes it is not about box office figures – I really believe in this story and I did put my heart and soul into it. If people will be able to see and appreciate it – I will be very grateful.
Courtesy of Sterling Media