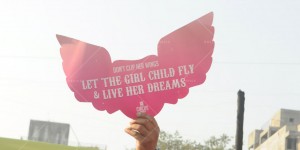 'Femina Run for a Cause'. Every sixth girl child's death in India can be attributed to our gender bias. The world of the girl child is promising yet gloomy, hopeful, yet in despair. This month, don't just stand in support for the girl child. Run!
Femina, India's largest and most widely read women's magazine, has been the definitive life and lifestyle guide for the progressive woman. Their 'Femina Run for a Cause' aims at bringing to light different issues and the very first run is to support the cause of the girl child. To be held on 16th March, 2014, this run is open to all. Participants can opt for a 3km or a 6km run and also donate to the charity Save The Children as part of this initiative.
Sharing her thoughts, Tanya Chaitanya, Editor, Femina says, "Femina has and will always lead the way for the modern Indian woman. This time, while doing so, we sprint. And how! Femina's special marathon supports the girl child and gives everybody a chance to match steps with their compassion. So the only criteria for participation? Your do-gooder spirit. On your marks…"
Flagging off the marathon, will be Kunal Kapoor. The young actor along with Varun Sheth has started Ketto, an online fund raising venture. The duo have spent the last 2 years working together to build an online network that will revolutionize the landscape of philanthropy in India. Through the 'Femina Run for a Cause', Ketto hopes to raise funds for Save Our Sisters (SOS). SOS, an initiative of Save the Children India works to prevent trafficking of women and children from commercial sexual exploitation. The program is designed and operates in sync with the internationally recognized strategies of 'Prevention', 'Protection' and 'Prosecution'.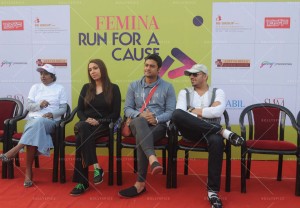 Sharing his views on this initiative, Kunal Kapoor says, "It's a privilege for Ketto to be part of 'Femina Run for a Cause'. Through our fund raising site, Ketto, we connect like-minded individuals and organizations working towards positive change.  'Save the Girl Child' is a cause we truly support and there's no better way than to have so many young people come together to raise funds. The marathon is open to all above the age of 14. Femina's initiative is a great way to create awareness among the youth and empower them with an opportunity to make a difference to the society. Through the marathon, Ketto will pledge our support to, 'Save Our Sisters', and raise funds to prevent trafficking of women and children from commercial sexual exploitation. SOS has been assisting the state government in the rehabilitation of survivors who are provided with specialized skill training in Hospitality and House Keeping, Beauty treatment, Sales and Marketing, Computer Graphics and Designing, nursing to name a few. We hope all of us comes together and helps us further our cause."
Actor Manav Gohil say's, A common man with a purpose & belief can achieve more than he can fathom. Female infanticide is a sick syndrome that prevails across society. I am a proud father to my lovely daughter & it's an honor to be a part of an initiative to eradicate this stigma. Boys are great…. But daughter truly ROCK!!
Come, run with us. Run to support the cause, run to support the future.
This slideshow requires JavaScript.