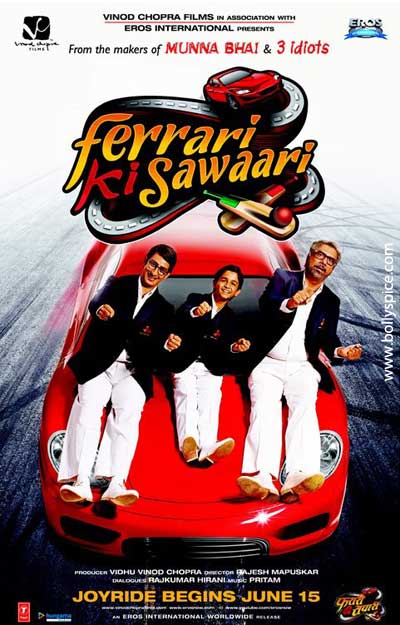 Vidhu Vinod Chopra is a name associated with quality popular filmmaking, and Pritam is a name associated with mass chartbusting hits – and they come together with the soundtrack to VVC's new film, the sports themed Ferrari Ki Sawaari (the first Hindi film to be allowed to shoot at Lords cricket ground in the UK).
The Ferrari ki Sawaari soundtrack literally opens with a bang – several of them in fact: the thunderous banging of dozens of drums opening Maara Re, the clamourous, joyous ode to the game loved by millions: cricket. It's not the most subtle of songs, but Sonu and Aishwarya Nigam along with Ashish do a fantastic job of conveying the heartpumping excitement and sheer thrill of being in crowd of rabid sports fans getting psyched about a game. Maara Re is practically tailor made for the IPL and I'd be surprised if this doesn't become a regular fixture during cricket season.
A gorgeous instrumental number – Rusy's Theme – swiftly follows. If you heard this in isolation, you'd have no idea you were listening to a Hindi film soundtrack – this is the kind of lushly orchestrated track you'd expect to hear in a smoky European cafe, all guitars, accordians, and violins, deftly arranged by Pritam and just epically gorgeous. A track to get lost in.
There's been a lot of talk already about lavani number Mala Jau De mainly due to the fact that woman of the moment Vidya Balan is appearing in the song in the film (producer Vidhu Vinod Chopra categorically states it is NOT an item number). The song is a raucous, sexy, rustic and rhythmic number, with powerful, distinctive vocals from Urmila Dhangar. (It may not be an "item number" but what's the bet Vidya is SIZZLING in it?)
A children's choir forms the centrepiece of the lilting, piano-and strings based Ae Mere Mann, a soothing, track that feels pleasantly vintage – old fashioned and nostalgic in just the right way (complete with glittering flourishes and bell twinkles). This is the longest track on the album and will presumably play an important part in the film.
The low key mood is continued with Good Night, a sweet and soft lullaby from Priyani Vani Pandit. The instrumentation is gorgeous- swelling strings and glimmering pianos and tinkling bells, as well as vague European-inspired motifs echoing the lovely Rusy's Theme earlier in the album. The vocals are steady and measured  – almost whispering – throughout, making this a lovely song to play as you are drifting slowly to sleep.
The final track on the album is a lil bit country hoe-down, a lil bit party sing-along. With rapid fire vocals from Shaan (plus contributions from Boman Irani and Aayush Phukan) lots of people have already pointed out the definite Kishore Kumar vibe that runs through Chal Ghoome (Ferrari ki Sawaari). It's just a fun, upbeat, likeable track, that ends the album on a definite up note.
All in all, the Ferrari Ki Sawaari soundtrack is a definite mixed bag – an eclectic mix of strong situational tracks that will possibly take on more vivid significance after viewing the picture. It's a short but sweet album with a lovely old-fashioned vibe to it (NO REMIXES! HOW REFRESHING!) but there's not a bad track on here.