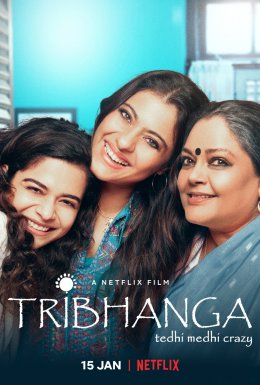 Tribhanga (Netflix)
Starring Kajol,Tanvi Azmi,Mithila Palkar,Kunaal Roy Kapur,Vaibhav Tatwawaadi
Written & Directed by Renuka Shahane
Just like life, Tribhanga is somewhat off-kilter, a little askew, at times uneven and even patchy. But the story of three generations of women from one family, spirited, unorthodox, unfettered, holds together, moles, warts and all. Tribhanga is a fiercely original film, though cinephiles would like to see distinct shades of Ingmar Bergman's imperishable classic Autumn Sonata in Renuka Shahane's striking debut film. But that, like much in life, is only an illusion.
The film's scenes are ignited by the presence of Kajol. The fieriest actress on this side of Fearless Nadia and Geeta Bali, Kajol brings to Tribhanga a kind of unrehearsed ferocity that is at once intimidating, intriguing, and irresistible.
Strangely there aren't that many confrontation scenes between mother Tanve Azmi and daughter Kajol. Maybe Ms. Shahane in her bid to escape a conventional conflict, went the other way in search of the deathly stillness under the drama of disengagement that defines the fiery Anu (Kajol)'s relationship with her celebrity mother Nayantara (Tanve Azmi), an author who couldn't write a happy ending for her own life.
There is one major confrontational mother-daughter sequence where after being abused by her Russian husband (why Russian?) Anu bodily pushes her mother out of the door when she pays a sympathy visit. It's a devastatingly PHYSICAL moment because when Kajol gets physical she really gets physical. Pulling out all stops, she gives one of her best performances in recent years.
In contrast, kid brother (Vaibhav Tatawaadi) a Krishna bhakt is a quiet gentle soul always trying to calm down his hyper-ventilating sister. It's a study in contrasts that avoids looking doctored into the plot.
More than her complex tangled relationship with her mother, it is Anu's ongoing fencing with her mother's biographer that had me fascinated. Anu hurls the choicest Hindi and angrezi abuses at the saintly biographer Milan, played with an aching sincerity by Kunaal Roy Kapur (who according to me is the most talented soul in the family). Kunaal plays the king gentle alpha male that is essential in all films about women protagonists who are victims of patriarchal abuse.
Milan speaks shuddh Hindi and never uses strong language, no matter what the provocation. Anu lets the expletives roll out like rotis at a roadside dhaba. I would like to see a whole film devoted to these two characters.
Not that this one is short of lamb-like males. Maaniv Govil plays Kajol's incredibly gentle partner who makes coffee for her (have you seen even one film about a supportive male where he doesn't offer to make coffee for his beloved?) while she dances her Odissi and hurls abuses at everyone who has the misfortune to be in her life.
The most admirable part of Tribhanga is that the women are no saints or victims. They are flawed and therefore fabulous. At least two of them Tanve Azmi and Kajol are. The third Mithila Palkar, as Kajol's daughter, hardly has breathing space in the plot with two older women shouting down all other voices. But Mithila too manages to leave a strong impact.
Walking that lonely path of going against conventions, the women in Tribhanga are no cardboard feminists. These are people who are real with real problems, not afraid to bare their soul when the director calls 'action'. Renuka Shahne gets more than she had bargained for.