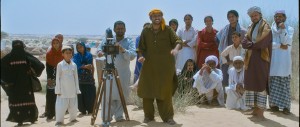 India's Prime minister – elect Narendra Modi's attempt to improve relations with Pakistan seems to have initiate favour with unusual quarters – Debutant director Nitin Kakkar's 2013 National award-winning film Filmistaan incidentally revolves around the story of aspirant actor and Bollywood devotee, who finds himself detain in Pakistaan. Filmistaan makers are keen to have film release across border are now taking talks further with some Pakistani distributors.
An insider close to production says, "They are using this opportunity, when India and Pakistan's relation is the highlight in the news, to ensure the smooth release of their film. They have contacted a few distributors for the same."
"We are really looking forward to releasing the film in Pakistan. We are showing it to some distributors over there and we wish to send out a message of love and brotherhood through the movie," confirms Nitin Kakkar.