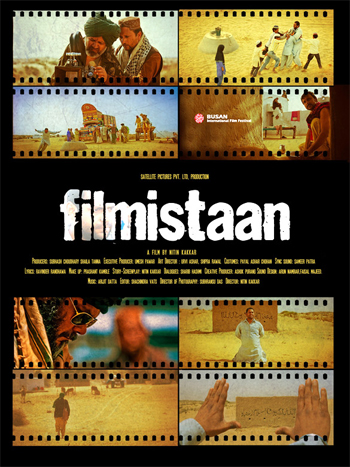 There is a scene in Filmistaan where Sunny (Sharib Hashmi) watches the film Maine Pyar Kiya from afar and speaks each and every dialogue of the movie along with the characters. As a film buff who has seen that film more than 40 times, I could totally identify with him. This is what Filmistaan should have been about – the unabashed love we feel for our cinema, the pure joy it brings us. Unfortunately such moments of Bollywood love are too few in the film. It gets more serious than it should have and that is the reason that, despite being all heart, the film fails to make an impact.
Sunny works as an Assistant Director in films while waiting for his big acting break. During a shooting schedule in Rajasthan he is kidnapped by extremists from across the border and taken to a small village in Pakistan. The hostile environment fails to diminish his happy-go-lucky spirit and the ham artist in him soon wins over the Bollywood-loving villagers. He also strikes an unlikely friendship with Aftab (Inaamulhaq), a film pirate as much in love with Bollywood as Sunny.
It was a perfect situation for a joyous celebration of India and Pakistan's mutual love for Hindi cinema. If only director Nitin Kakkar had remained focused on the soft power of Bollywood and how it can bridge the gaps between the two warring countries. Instead he uses it as a base to tell a completely different story of how extremism breeds terrorism. What we get finally is a handful of sparkling scenes but by and large the storytelling remains dull.
Though Kakkar creates characters we come to care for, he never lets them live up to their potential. Sharib and Inaamulhaq try their best (Inaamulhaq is better) and even the supporting cast of Kumud Mishra and others is competent. However, the undercurrents of the narrative are too grim and Bollywood never quite manages to become the strong force it was meant to be. The ambiguous climax also leaves one with mixed feelings.
If only noble intentions could translate into good movies. Watch Filmistaan to appreciate a film that stands up for Bollywood like very few films have. It doesn't have much else to recommend it for.