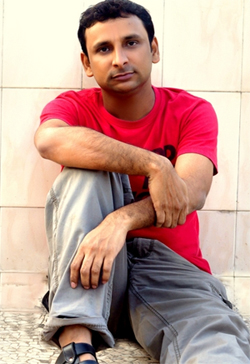 On June 6th, theatergoers will finally get to experience the 2012 National Award winning Filmistaan. Directed by Nitin Kakkar, the film stars Sharib Hashmi and Inaamulhaq who play two men from opposite sides of the border who find common ground and create a bond through the magic of Bollywood films.
In Mumbai, affable Bollywood buff and wanna-be-actor Sunny (Sharib Hashmi), who works as an assistant director, fantasizes on becoming a heart-throb star. However, at every audition he is summarily thrown out. Undeterred, he goes with an American crew to remote areas in Rajasthan to work on a documentary. One day an Islamic terrorist group kidnaps him for the American crew-member. Sunny finds himself on enemy border amidst guns and pathani-clad guards, who decide to keep him hostage until they locate their original target.  The house In which he is confined belongs to a Pakistani Aftaab (Inaamulhaq), whose trade stems from pirated Hindi films, which he brings back every time he crosses the border. Soon, the two factions realize that they share a human and cultural bond. The film shows how cinema can be the universal panacea for co-existence.
I got that fabulous chance to chat with Inaamulhaq about Filmistaan and we had a wonderful conversation that went beyond just a film interview. Check it out!
How did you become a part of the film?
I am a writer working in the television industry in India. My background is acting; I am a trained actor from the National School of Drama. I graduated from there in 2003. Before Filmistaan I acted in another film called Firaaq, directed by Nandita Das. The director of Filmistaan, Mr. Kakkar saw my performance in Firaaq and he asked his assistants to find me. They found me on Facebook and one fine day I got a message that they wanted to audition me for a role. I asked for a day or two to prepare. I went the next day and fortunately I got selected. Mine was the last audition for the director of the film. I am very fortunate to be a part of this film.
Tell us about your character.
My character is a Pakistani version of Sharib's character of Sunny Arora. Even the name Aftaab, that means sun, so it is sun and Sunny. I just want to be associated with films in any way. Like Sharib's character has the reach to audition to be a part of the film industry but I have some limitations. So I get associated with films by pirating Hindi films. This is what is within my reach. He feels really proud to be a part of the Hindi film industry. In one dialogue he says, 'We also make films. We put one DVD into the computer and that gets 10 out of it '. (Laughs) He is really proud to be a part of Bollywood films.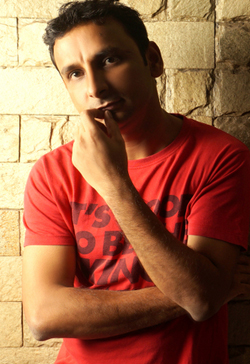 What was it like to work with director Nitin Kakkar?
I love his honesty and simplicity. On the set he was so darling to everybody. Everybody from the spot boy to the director were 100% committed to the film. We finished shooting this film in just 20 days. That was because of the dedication, the honesty and the hardwork of every team member. I am really very thankful to Nitin Kakkar for believing in me as an actor and giving me this opportunity to be a part of Filmistaan.
Filmistaan, was showcased and won awards at film festivals and then went on to win the National Award. How does that feel?

We have been at some wonderful festivals here in India and abroad. We have witnessed some amazing responses from audiences. Everywhere we used to get a standing ovation. It was overwhelming. At most of the festivals we got special extra screenings by public demand. It has gotten a really amazing response. Unbelievable.
It felt really wonderful. I just want to tell one interesting thing about the National Award. I was working as a creative director on a TV show the day we heard we got the National Award. I just locked myself in a vanity van. People are coming and saying, 'Go to work'. 'No I am a National Award winner'. (Laughs) I just locked myself in there and just felt proud that I was part of Filmistaan. I didn't come out for 2 hours and kept getting calls from my friends. But after two hours I came back to reality and realized there is less in my kitchen I better get back to work. (Laughs) So I went back to work and said okay that was just a joke.
How did it feel to have Amitabh Bachchan come out in praise of the film?
He's Big B…the biggest B (laughs) so it really feels amazing that a person like Amitabh Bachchan is tweeting about your film. It matters a lot and especially with a film that has no big stars. We are not really known in Bollywood. It really gives us a boost. It gives us very great confidence to go ahead. I am really thankful to Mr. Bachchan that he showed such a beautiful gesture towards us.
What do you think is the message of the film?
To me there are so many messages. I would prefer to leave it to the audience because if I interpret the message it will limit it. But if the audience will interpret it in their own way that will be wonderful. At so many screenings we have noticed people reacting or laughing at a line that we never thought we would get this response at this particular line. So that means if the audience interprets the message themselves I think that would be much better.
I would say only it is the voice of a heart to another heart. It is the voice of a person's heart from India with a message of love to a Pakistani.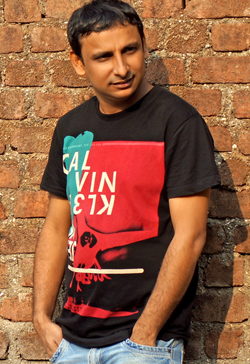 Seeing the film now after having filmed it so long ago what are your thoughts?
It is life-changing event for me. For a person like me, I come from a very small town Saharanpur in Uttar Pradesh. I had a very different background. There was a very religious atmosphere in my family. TV was banned, they said, 'watching TV is not a good thing so don't watch it'. I was raised in conditions like that. I used to steal away and go watch TV in my neighbor's house. I used to do so many things just to watch TV: massaging my Uncle's head…'oh you must be having a headache, let me just go in here…' (Laughs) So just to watch TV I struggled a lot.
I want to tell you this story… One day I saw people performing street theater on the streets of Saharanpur, I just watched and got amazed. After two days I realized I MUST be a part of this thing. This is wonderful. I should join them. But we were new in the town and we knew nobody. I had no clue where to find them because it was a street play. I had no clue except that these guys must be performing on some street in Saharanpur. So I went looking and I would take my bike on a route around the city. For 2 years! It took me 2 years to find them performing again. I just requested that they let me join them. They did. I am really thankful to Mr. V.K.Dobhal and Mr. Sardar Anwer that they let me in and I started working with the Indian People's Theatre Association.
On the other hand, from the family part, I just had to lie to my family telling them that I was going to typing course. Half the time I used to learn typing and the rest of the time I used to rehearse. This is a funny story, all my co-actors in the show used to wish that they would be published in the newspaper after the performance. But intentionally I used to hide. I used to pray 'Oh God please don't let my photo be published because then my family will know and then they will again shout at me'. (Laughs) But finally when I got selected for National School of Drama, they published an interview and the local people had a lot of respect. And my father encountered them and they said 'your son is going higher up'. Finally they realized he is doing well and going on fine, let him do what he wants to do and they allowed me to do this. I am really thankful to them. I am thankful to everybody who has been a part of my journey.
Coming back to your question having this interesting background and getting a space on a Bollywood film poster is amazing. I am a very unconventional face, I am not hero looking, just a very basic face and getting my face on a poster and getting a second lead in a Bollywood film feels really amazing and really life changing.
Already winning rave reviews before the release, we say Filmistaan is a film you must check out!