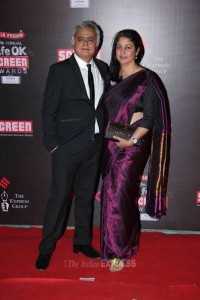 Hansal Mehta's wife Safeena Husain has been known for active social work. She recently received a prestigious Skoll Award for Social Entrepreneurship in London for her exemplary work in the field of girl child education. And to support her on this occasion the talented filmmaker, Hansal Mehta too flew down to London.
Safeena founded her NGO, Educate Girls in 2007 as a 50-school pilot project. As of today, the organization has managed to reach out to over a million kids across 7,500 schools. The award recognizes innovation and impact on solving the world's most pressing problems. Safeena is one of the four recipients of the $1.25 million (each) for a period of three years.
The national awards-winning director, Hansal Mehta, has often spoken highly about his wife at various occasions calling her his constant source of inspiration and pillar of strength. The beaming Hansal Mehta could not miss the awards event for the world. He said, "After all, I only make films, she does all the hard work". Well, all we can say is, more power to this couple!