"Life isn't all Haha Hee Hee" as Meera's Syal's book suggests, but in Bollywood, the comedy genre has its very own niche and following. For an all-rounded movie spectacle a la Dharma Productions style, any given movie should have portions of emotion, drama, dance, action and comedy. It can be said that in recent years, what is successful comically has altered because the audiences seem to have evolved in terms of what they find makes them laugh. However, it would be right to say that each Bollywood fan worldwide is able to list their favourite funny films in an instant. Here's a special and unique selection of the films that continue to make us laugh until our stomachs hurt…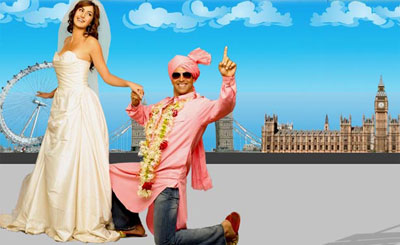 The first, and probably the most unconventional of the list, is Namastey London (2007). A story about a British girl, born and bred in London, who is taken to India by her family for the first time, Namastey London's comedy seeps through in a seemingly naturally. Starring the hit pair Katrina Kaif and Akshay Kumar, the movie explores the cultural and ideological divide between generations and also between Indians who reside within and outside the subcontinent. Kaif's performance as the modern and rebellious Jazz is commendable and her clumsy first date introductory scene in the movie somewhat sets the tone of the rest of the film. In contrast, Akshay Kumar's traditional and a little sleazy demeanor proves for some hilarious altercations between the two.
Namastey London's ensemble cast also features Rishi Kapoor and well-known British actress Nina Wadia. Wadia is mostly recognized for her signature typically Indian way in comedy and she compliments Kapoor's style perfectly, making their collective comic timing perfect. Namastey London makes you laugh out loud in the most uncanny way and when you least expect it.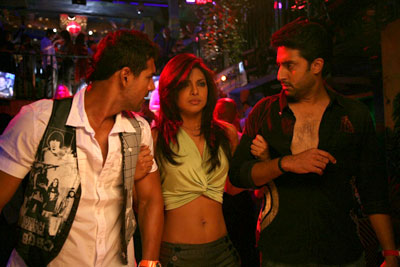 Produced under the banner of Dharma Productions, Dostana (2008) took baby steps towards the kind of cinema and topic not touched before in mainstream Indian cinema. A story about three friends – Neha (Priyanka Chopra), Sameer (Abhishek Bachchan) and Kunal (John Abraham), Dostana's USP was in its comedy surrounding a farcical homosexual relationship between the two male protagonists. The funny incidents creep in further when Neha brings her boss to dinner one evening, (played by the hugely talented Boman Irani) who is gay. Sameer's mother, played by the wonderful Kirron Kher, is also an unexpected guest at the dinner and the already messy situation is made ten times worse. Therein begins the confusion and intermingling of stories resulting in hilarity that's indescribable.
Dostana is a movie which sees a "love-square" rather than a "love triangle" and explores a very sweet yet slightly disturbing anecdote about friends that go out of their way to impress one another and be there for each other. It is very much the comfort factor of the actors with one another and the fresh approach to an otherwise taboo subject which makes this film one which makes us laugh at things we wouldn't usually be laughing at.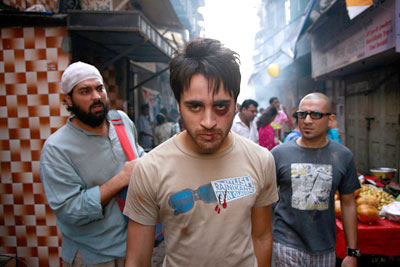 Recently released Delhi Belly (2011) is a must on this list. The movie, produced by Aamir Khan, quite simply exists to be in-your-face and make you laugh out loud. Starring Imran Khan, Vir Das and Kunaal Roy Kapur in pivotal roles, Delhi Belly is a film essentially in English and encompasses the story of a series of misunderstandings resulting in unpleasant realisations. An initial confusion lands the three characters running for their lives in what can be described as a very funny wild-goose chase.
It has to be said that Delhi Belly's comical success lies in its incredibly detailed portrayal of each of the characters. Although the script would be funny on paper, it is brought to life by the fact that serious scenes make you laugh, quite literally, until your tummy hurts. Be it the ridiculous dialogues, the caper-style trails, or the performances of the characters, Delhi Belly is one to watch if you want a movie to make you laugh for days on end.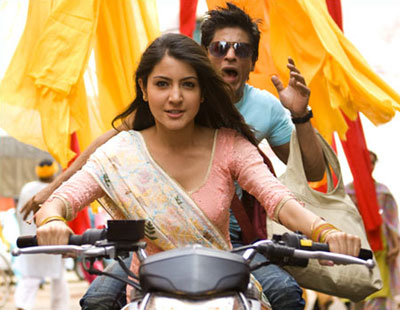 Rab Ne Bana Di Jodi (2008). The name of the movie itself is enough to put a smile on a Bollywood fan's face. The film, starring Shah Rukh Khan and introducing Anushka Sharma, is perhaps not one that would instantly come to mind when thinking about films in the comedy genre. However, the love story which sees a marriage of convenience and sees a husband becoming a different character altogether to impress his wife, is – I'm sure you'll agree – a very funny tale. It has to be said that Khan's rendition of Raj helped make Aditya Chopra laugh all the way to the bank and rightly so.
Rab Ne Bana Di Jodi's secret to success was in its simple story and larger than life characters. As mentioned, Khan's constant switch between the two characters of Suri and Raj is what makes this movie unforgettable. It's fair to say that the dialogues given to Raj are ones to remember and his extremely colourful wardrobe only added to the funniness. Be it the Matrix-style motorbike scene or the Pani Puri competition between Taani Partner and Raj, Rab Ne Bana Di Jodi is enough to define the kind of comedy which is fresh and made with a lot of heart. And it gets some hearty laughs from us!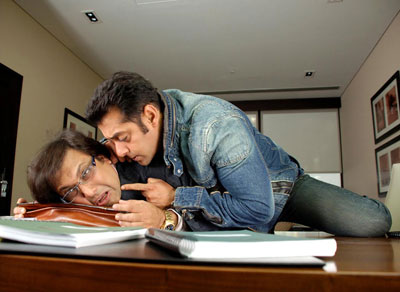 When one thinks of comedy in Indian cinema, it would be hard not to mention the name of Govinda. The actor made a comeback in Hollywood-inspired Partner (2007), which was produced by comical genius David Dhawan. Also featuring Salman Khan, Katrina Kaif and Lara Dutta, the story was about a Love Guru (Khan) who takes Bhaskar (Govinda) under his wing to teach him how to approach and win the heart of the lady he loves (Kaif). Govinda portrays a character who is conveyed as hopeless at pretty much everything and Khan, on the other hand, plays his cool as an ice-cube self. The success of the comedy aspect of the movie is very much in the interactions of the two opposing characters.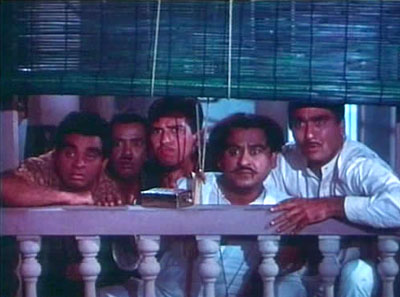 Our nostalgic inclusion this week is Sunil Dutt, Saira Banu and Kishore Kumar starrer, Padosan (1968). The story surrounds Bhola (Dutt) who falls in love with his neighbour Bindu (Saira Banu). In order to get on the right side of his lady love, he chooses to woo her with his singing skills of which he doesn't possess. He takes the help of his friend Guru (Kishore Kumar) whose vocals are enough to impress.
The movie is remembered not only for its comedy but also its music. As the plot suggests, the picturisation of songs is particularly pivotal and comical. Padosan is also remembered for portrayal of a love story in which a lover lies to impress the girl he loves. The legendary Mehmood is also a big part of the movie and is particularly effective in his role as Bindu's music teacher.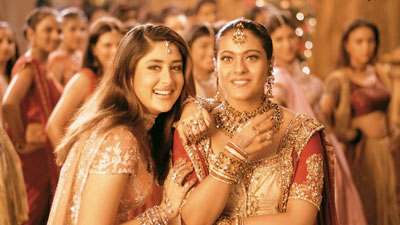 A special mention in this list is given to a movie whose characters and specific scenes cannot be missed. Kabhi Khushi Kabhie Gham (2001) is yet another which wouldn't come to mind when thinking about the comedy genre but I'm sure you'll all understand why we've decided to include it in our selection. The movie is very much about the dramas within a family when one offspring goes against his parents' wishes. With appreciated performances by Amitabh Bachchan, Jaya Bachchan, Shah Rukh Khan, Kajol, Hrithik Roshan and Kareena Kapoor, Karan Johar's film is, quite simply, an all-rounder.
The comedy part of the movie plays a significant part in its popularity with the characters of Poo (Kareena Kapoor) and Sanjana (Kajol) taking most of the credit. Khan's "khadoos" performance as Rahul is also enough to make one laugh out loud, more specifically in the second half. There are scenes in the movie which make you laugh just with thought such as Kajol's broken vase apology in the first half and Kareena's different shoes in the second part. K3G is very much a complete entertainer and, in many ways, this list would not be complete without paying homage to its comedy.
We hope you've enjoyed reading about the filmi comedies which stand out for us. Bollywood is very much about the sharing of an experience and what better experience to have with friends and family than that of laughter. Keep tuned in to Bollyspice for some more exciting film selections in the weeks to come.