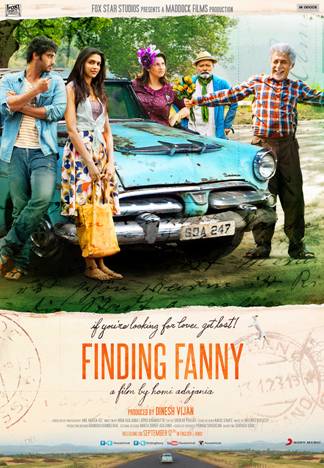 Homi Adajania's much anticipated comedy/drama Finding Fanny will finally release this Friday. Prior to its release, there was an exclusive screening of the film for a circle of people within the film industry. Check out what reactions the film got from some of Bollywood's top stars and filmmakers.
Karan Johar – "I absolutely loved it. It's one of the finest written films I have seen in a very long time and it's what you call an ensemble victory. Each performance – Pankaj, Naseer, Dimple, Arjun, Deepika – are alloutstanding – but the biggest star of the film will remain Homi. He put it together and he set a world that you haven't seen – the way he handled performances, the nuances of the screenplay. It's a complete directorial victory. I enjoyed it thoroughly.
Hrithik Roshan – "I saw the promos of the film and I decided that I am going to love this film. There are some films that you already decide you are going to like and I loved it."
Imtiaz Ali – "Finding Fanny is a really unique film, I really enjoyed it. It's crazy. It's the director who has made it very, very crazy and interesting. You could relate to all these people whom you see behind me. Very enjoyable, very funny."
Varun Dhawan – "I really loved the film, enjoyed it. I think all the performances are spectacular. Seeing Pankaj Kapur and Naseer saab on screen again is outstanding -it's a lesson for all actors. I think Arjun and Deepika have done a really good job and Homi, I think, is the real hero of this film. Hes proved once again why he is one of the best directors we have around."
Shraddha Kapoor – "Thought it was completely cracked, and madness. After a really long time, people will enjoy a really mad and cracked movie. It's instantly become one of my all-time favourites. So, everyone has to go watch it."
Ranveer Singh – "Finding Fanny has fantastic performances. It's a fine film, so many moments, hilarious. It's a really good watch and everybody should go watch it."
Sushant Singh Rajput – "I decided to see the film right after I saw the film's trailer. I congratulate the full team of Finding Fanny and wish them all the success. They truly deserve it."
You can catch Finding Fanny when it releases in cinemas on Friday! Starring Deepika Padukone, Arjun Kapoor, Dimple Kapadia, Naseeruddin Shah and Pankaj Kapur, this is one film not to be missed!