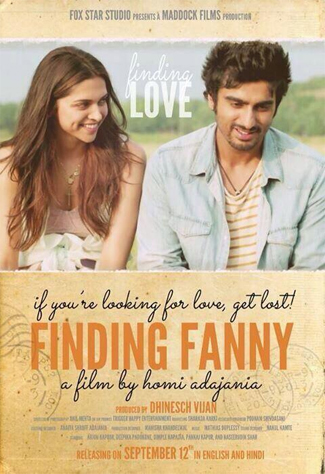 It has been confirmed that Homi Adajania's much-anticipated comedy Finding Fanny will get a premiere at the Busan Film Festival in South Korea. Considered to be one of the most prestigious film festivals within the Asian continent, Finding Fanny will be screened ahead of its official release on 12 September. Starring Deepika Padukone, Arjun Kapoor, Naseeruddin Shah, Dimple Kapadia and Pankaj Kapur, the film is based on 'five odd-balls' who set out to find Ferdie's long lost love Stefanie Fernandez (Anjali Patil).
Speaking about the great news, Fox Star Studios CEO Vijay Singh gave the following statement, "We are thrilled that Finding Fanny has been selected for the Busan Film Festival. We are getting incredible feedback at our screenings – this quirky comedy with an amazing ensemble cast is a must see film!"
Adding to this was producer Dinesh Vijan who had this to say, "It feels great! Busan is fast emerging as one of the more serious and hugely respected international film festivals. It gives Finding Fanny perfect exposure to a widespread international audience."
Director Homi Adajania gave his response by saying, "It's pretty cool to be showcasing at the Busan International Film Festival because it is the top festival in all of Asia. Big names come to Busan and I know that last year they had an over 200-thousand strong audience come in from all over the world to watch the chosen films. So ya, it feels very good that Finding Fanny has been invited there."
Deepika Padukone, who plays the female lead and also one of the first actors to sign up to the project, gave this reaction, "I know that the Busan International Film Festival is huge in prestige and is widely considered within the top ten festivals in the world so having our film invited there is very exciting because it will reach a massive and varied international audience. It's an amazing moment for us and that too just before the release of the film. We thank Busan for bestowing this honour on us."
Finally Arjun Kapoor gave his response in this short statement, "This is great news for the entire team of Finding Fanny. It's a moment of pride and joy that a prestigious film festival like Busan has given us such recognition."
Finding Fanny releases on 12 September!