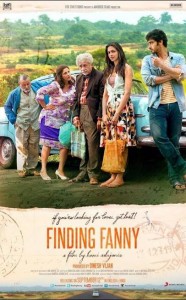 After many months of anticipation, Homi Adajania's Finding Fanny is in cinemas, starring Naseeruddin Shah, Dimple Kapadia, Deepika Padukone, Arjun Kapoor and Pankaj Kapur in the lead roles.
After the release of Cocktail in 2012, Homi Adajania moves away from Bollywood formulas and takes up again the quirkiness and unconventionality displayed in his debut film Being Cyrus (2006) and creates a group story which takes place along the roads of Goa.
Finding Fanny revolves around five rather dysfunctional characters that live in the quaint sleepy village of Pocolim, nestled deep in the interior of Goa, India. One night, the old postman Ferdie (Shah), receives a letter that is slipped under his door.
He realizes that it is the letter he had written 46 years ago to the love of his life, Stefanie Fernandes, asking for her hand in marriage. He discovers that the letter was never delivered. All these years Ferdie had lived believing that Stefanie had rejected him. He decides to find his beloved Fanny (as he fondly called her) and tell her the truth.
Four colourful characters from the village join the trip under random pretexts. Angie, Ferdie's friend and instigator of the trip (Deepika Padukone); Savio, back in Goa after spending six years in Mumbai (Arjun Kapoor); Don Pedro, an eccentric artist obsessed with big women (Pankaj Kapur) and Angie's mother-in-law and self-appointed "Lady" of Pocolim Rosie (Dimple Kapadia).
Although the film starts with Ferdie's letter revelation and his quest to find long-lost lover Fanny, it is soon clear that this just the pretext to put this bunch of quirky characters together in a succession of hilarious and outlandish situations. And it actually works, as one of the achievements of Finding Fanny is its characters. They are all unique in their quirkiness, and this is what confers realism to this surreal film. They are eccentric, zany and offbeat, but their desires and what moves them, either lust, hatred or love, are real and anyone can relate to them.
Despite being a multi-star cast, all actors have enough footage to display their talent and add definition to their characters. Special mention to Deepika Padukone, whose character Angie also acts as the narrator of the film. The talented Bollywood actress, who met with critical acclaim after the success Yeh Jawaani Hai Deewani and Goliyon Ki Raasleela Ram-Leela in 2013, set the glamour aside and gets into the role of ingenuous widow Angie with amazing easiness. Arjun Kapoor does a splendid job as sulky Savio, who ineffectively tries to hide his undying love for Angie behind a wall of hostility, as well as he engages in a war with Rosie, excellently portrayed by Dimple Kapadia. Naseeruddin Shah as the bashful and frumpy Ferdie and Pankaj Kapur as the lustful artist don Pedro complete this dysfunctional cast.
As for the comedic side of the story, the film offers a wide range of sketches and hysterical situations. Although few scenes are not as good as the rest – the encounter with the Russian man drags a little bit –, the overall tone of the film does not disappoint and makes the audience burst into laughter.
Finding Fanny is a well-written film that combines comedy and drama to create a charming story as well as accomplished entertainment. From its most touching moments to its most hilarious situations, the film is highly enjoyable and a recommended watch.