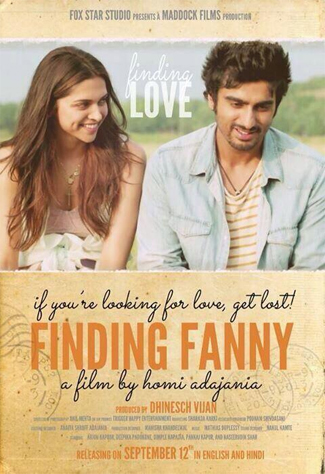 Finding Fanny is an upcoming comedy which has been directed by Homi Adajania (famed for Cocktail and Being Cyrus). Starring Deepika Padukone and Arjun Kapoor in the leading roles, the film also has legends Naseeruddin Shah, Dimple Kapadia and Pankaj Kapur in supporting roles. The film is based on a journey where the five 'oddballs' set out on a journey to find Stefanie (Fanny) Fernandez, who is the long lost love of Ferdie (played by Naseeruddin Shah). With special appearances from Ranveer Singh and Anjali Patil, Finding Fanny is scheduled for release on 12 September and hopefully it should be a film full of fun and adventure. The music has been composed by Mathias Duplessy and Sachin-Jigar. So does Finding Fanny (an album with only three songs) live up to our expectations? Read on to find out!
First up we have Fanny Re, sung by Mukhtiyar Ali and Mathias Duplessy. The song has a nice blend of Spanish sounds which gives it that upbeat feel to it. Instruments such as the guitar and violin have been executed very well, whilst Mukhtiyar sings with a lot of passion throughout. There is also a second version of this song titled Mahi Ve, which is pretty much the same song, with the words Fanny Re being changed to Mahi Ve instead. This one is not your usual Bollywood song but if you want something that's unusual, then 'Fanny Re' might just tick your boxes.
Next is Ding Dong. The song is performed in English throughout and it has some modest elements to it. Yet having said this, I have heard more interesting and catchier songs in the English language compared to this one, which is lacking in flavour.
Finally we have Shake Your Bootiya by Divya Kumar. I love how the guitar is incorporated in this song and it flows well as it builds up. It is not bad if you're looking for something that's fun and quirky to listen to. The song has a nice rhythm to it that just makes you want to get up and dance a little. It's not the best, but it is still satisfactory for those looking for a groovy anthem.
To sum up, my biggest problem with the soundtrack to Finding Fanny is the fact that it is rather short and leaves you feeling unfulfilled. Songs like 'Fanny Re' and 'Shake Your Bootiya' have been produced nicely, but you are left wanting more than just these two songs. Having said this, perhaps the film has been structured in a way where only a few songs are needed and having any more will tarnish its overall look. Finding Fanny is not the best album to release this year, yet I will say give it a try anyway if you are bored of your typical Bollywood music.