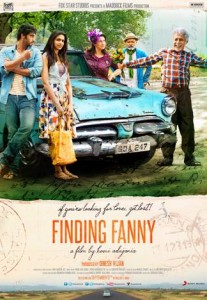 Arjun Kapoor, Deepika Padukone and the makers thank audiences for the brilliant start that the film has got at the box office
Homi Adajania's quirky comedy has opened incredibly well at the counters to register 5.1crore on day one. The actors and the makers are overwhelmed with the positive response from the audiences.
Arjun Kapoor says, "For me the success had come through the overwhelming reviews and feedback so this is really such an awesome windfall. It shows how discerning and exposed our audiences have become."
Deepika Padukone says, "Firstly, it's fabulous because it's gone way beyond our expectations but what I'm even happier about is that it reflects how cool our audiences have become. They are so smart, discerning and have shown us today how everyone is ready to embrace all sorts of cinema!"
Finding Fanny is riding on hugely positive word of mouth and rave reviews. Trade pundits suggest that the film will record a solid weekend number.
Director Homi Adajania, "I don't follow all this number stuff but I'm just glad that my producer didn't have to sell his house! The coolest thing is that the audiences today are savvy enough to immerse themselves into the experience and they are totally getting the layers and nuances of the film. It's a very healthy sign for filmmakers."
Producer Dinesh Vijan says, "The day one collection has surpassed our expectations. We are very happy with the incredible positive response that the film is getting. We knew that we had a strong product in Finding Fanny and the fact that people are unanimously loving the film only validates the belief we all had in Finding Fanny."
Vijay Singh of Fox Star Studios says, "The opening has been fantastic for a unique film like Finding Fanny. A film like this has never been attempted in Bollywood and it's great to see the country accept this kind of cinema. Finding Fanny is creating a benchmark for the Indian film industry."
Presented by Fox Star Studios and produced by Dinesh Vijan's Maddock Films, Finding Fanny stars Deepika Padukone, Arjun Kapoor, Dimple Kapadia, Pankaj Kapoor and Naseeruddin Shah.