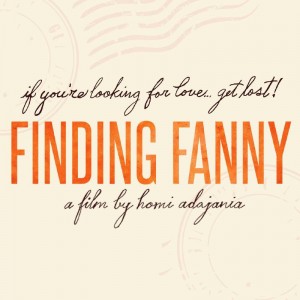 The release of Finding Fanny has run into an obstacle, as a petition was filed in the Delhi High Court on Tuesday seeking a ban on the release of director Homi Adajania's new film, due to its use of the "vulgar word" 'fanny".
As reported by IANS, the public interest litigation (PIL) also challenged the UA certificate given to the film, which is scheduled to release on Friday.
Although 'fanny' is the short form of the popular name Stephanie, it is also a slang word that may refer to the female genitals or the buttocks. The petition claims that the word has a highly sexually explicit meaning, so its use in the film will hurt the feelings of the citizens of India, especially minor children.
The PIL was filed by Nandini Tiwari and NGO Jai Jagriti Foundation through their lawyer Abhishek Krishna. They consider that the word 'fanny' is slang and should be removed from the movie, its songs, posters and banners.
The plea will come up for hearing Wednesday before a division bench of Chief Justice G. Rohini and Justice R.S Endlaw.
Questioning the UA certificate, the plea also seeks a ban on the film's release and direction to the filmmakers to delete the word 'fanny' from the movie, songs and posters.
It seems that Finding Fanny cannot get rid of controversy. Only few days ago the Central Board of Film Certification (CBFC) approved the line "I'm a virgin", said by Deepika Padukone's character. Although the Board was initially seeking to chop the line from the dialogue, which still appears in the promotional trailer, its members finally accepted its use and passed the film with a UA certificate.
Both Deepika and Arjun Kapoor criticized the censor board for the inconsistency of its guidelines and welcomed the final resolution. "I don't think their request is valid and I believe that there's no system to this. Every six months the rules keep changing and what we are allowed to do, what we are not allowed. There's no consistency to what is being said or what is being done", the actress said last week on the sets of reality show 'Cine Stars Ki Khoj'.
The actor of Gunday went a step further on his statement and urged the censor board to adapt their rules to current times. "If they are doing the censorship for the audience, I hope they change their minds after they realise that the audience is ready (for such words). So, eventually we can make films that can speak for the audience".
"It's not that we enjoy saying particular words. It is important in the context of the film. I hope they realise it in the future and give us a consistent platform of rules so we know where we are heading before we face the censors", the actor added.