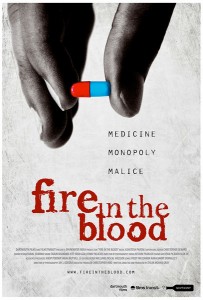 At a gala award ceremony in Hamburg, Germany, on Saturday night (October 5th), Indian film Fire in the Blood, directed by Dylan Mohan Gray won the first-ever Prize for Political Film at the Filmfest Hamburg. Twelve films from around the world were in the running for the prestigious award.
Internationally-acclaimed Turkish-German director Fatih Akin, a native of Hamburg, accepted the award on behalf of his friend Dylan Mohan Gray, reading remarks in German prepared by Gray just before the event.
The jury's citation called the film, which details how Western pharmaceutical companies condemned millions to death by blocking access to lower-cost medicine, "superbly researched, making engagingly clear the omnipotence of big business interests… A film that challenges us to fight back. "
In his remarks read by Akin, Gray noted "I hope that everyone in the audience this evening who has not yet had the chance to see Fire in the Blood will have the opportunity to do so, because I strongly believe it is one of the very most important stories of our time, even though it is one which unfortunately still far too few people know about." He added that he sincerely hoped to have the honour to bring his next film to Filmfest Hamburg as well.
Now in its 21st edition, Filmfest Hamburg has become a major stop on the European film festival circuit, well-known for highlighting challenging, politically-engaged films.
The Prize for Political Film was endowed by the Friedrich-Ebert-Stiftung, a highly-respected German foundation dedicated to promoting democratic values since 1925.
Fire in the Blood director Dylan Mohan Gray: "It's a huge honour to win this award, especially given the exceptionally high quality of the twelve films from all over the world which were nominated. We are all extremely proud, and obviously it's a great feather in the cap for Indian independent cinema as well. The audience reaction to Fire in the Blood has been absolutely astounding wherever we have shown it throughout the world, and we are so happy to finally be able to bring this film home to audiences in India, especially because India itself is such a hero of this incredible story."
FIRE IN THE BLOOD MILESTONES
— 1st Indian film to be selected for the World Cinema Documentary Competition at Sundance, the world's most competitive and selective festival for independent films; nominated for the Sundance Grand Jury Prize (Sundance received 5000 feature-length submissions and over 12,000 submissions overall this year; just 12 international docs were selected)
— only Indian film to be selected in the main competition at a Top 5 international film festival in the past couple of years
— narrated by Academy Award-winner (for Kiss of the Spider Woman) and 4-time nominee William Hurt, who waived his fee because he felt the project was so important
— official selection at over 30 top festivals in 25 countries thus far (including Sundance, Rio, Valladolid, Vancouver, Washington, Tel Aviv, Thessaloniki, Sheffield, Hamburg, Zurich, etc.)
— US entertainment trade papers including The Hollywood Reporter have mentioned Fire in the Blood as an outside Oscar contender
— 1st non-fiction film on a global scale produced out of India (shot in 8 countries/4 continents)
— 1st non-fiction feature from India to be theatrically released in either the US or UK
— three UK magazines rated FITB among top theatrical releases in the 1st half of 2013; Vada Magazine named FITB the number 1 film released in the UK in the period January to August 2013
AWARDS AND NOMINATIONS (all 2013)
WON, Justice Matters Award, Washington DC International Film Festival
WON, DOXA Feature Documentary Award (main prize), DOXA Documentary Film Festival, Vancouver
WON, Prize for Political Film, Filmfest Hamburg
Nominated, Grand Jury Prize — World Cinema Documentary, Sundance Film Festival, US
Shortlisted, One World Media Award – Best Documentary Feature, UK
Shortlisted, Grierson Trust British Documentary Awards – Best Cinema Documentary, UK