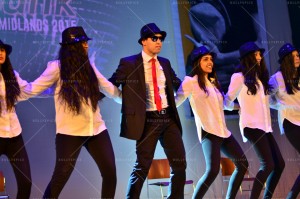 Over 300 students from the Shiamak Davar Dance Academy took to the stage at De Montfort Hall on Saturday, March 21 for their first ever Spring Funk Show in the Midlands.
Dance enthusiasts from ages four to eighty four brought the theme, World Dance Beats come alive on stage performing style including Contemporary, Hip – Hop, Salsa and the most popular Bollywood Jazz. The world's biggest Bollywood dance academy had the audiences on their feet throughout the two hour student showcase.
Students form Leicester. Coventry and Birmingham learnt their favourite dance styles through the workshop taking by Shiamak Davar's senior instructor Anupam Hinge. "I have taught classes across India and UAE, and was extremely pleased by the energy and enthusiasm shown by the students here. Shiamak has given me the opportunity to spread the joy of dance here in the Midlands, and I'm looking forward to this experience!" said Anupam. Anupam has a remarkable dance background having performed at the prestigious IIFA Awards, Filmfare Awards, Star Parivaar Awards and Chevrolet Apsara Awards and in popular Bollywood films including Rab Ne Banadi Jodi, Yuvraj and Game. He has partnered Bollywood superstars including Kareena Kapoor and Kangana Ranaut at various shows.
SHIAMAK Managers in London, Rohan and Shruti Shah were at the event along with the London Dance Team and put up a fantastic performance showcasing a teaser to their upcoming show, ConfiDance.
Speaking about the show, Midlands Coordinator of Shiamak Davar Dance Academy, Anand Bhatt, said: "We are thrilled with the feedback we have received from the public. The dancers put in so much hard work, as did our new teacher Anupam, it was great to see all of their efforts being appreciated in such a big way."
Anand added: "Over the past year we've seen the dance company grow from strength to strength here in the Midlands and now with the addition of Anupam to the team, it really is an exciting time to join us."
Classes for the new term will begin on April 14th across the region. For further information call 0743 7442 625 or email midlands@shiamak.com
(Photo credit: Bijash Chauhan)