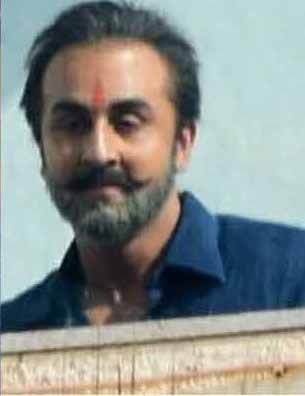 Here's some exciting news, the teaser of Rajkumar Hirani's highly anticipated Dutt Biopic starring Ranbir Kapoor will launch on the 24th of April.
The biopic on the life of Sanjay Dutt is written and directed by Rajkumar Hirani. The film also features Paresh Rawal, Sonam Kapoor, Dia Mirza, Karishma Tanna, Manisha Koirala, Jim Sarbh, Vicky Kaushal and Boman Irani.
The director tweeted the news today!
A film very dear to me. Unveiling the teaser and title of #DuttBiopic on 24th April. Hope you like it@duttsanjay #RanbirKapoor @AnushkaSharma @sonamakapoor @deespeak @SirPareshRawal @bomanirani @vickykaushal09 @KARISHMAK_TANNA @mkoirala @jimSarbh @foxstarhindi @VVCFilms @TSeries

— Rajkumar Hirani (@RajkumarHirani) April 21, 2018
Early reviews have been outstanding with praise coming from directors like Subhash Ghai, who could not stop praising the film. "As a friend Hirani has shown me the teaser and it is really very nice. I think it is going to be an amazing film and it is going to be a blockbuster. Because the way Ranbir Kapoor has acted as Sanjay Dutt and the way he (Hirani) has directed I was shocked, amazed and happy. I am sure 'Sanju' is going to be a big hit."
Hirani said that Sanjay Dutt has seen parts of the film, "He has seen some scenes but not the entire film. But he has seen many scenes, the teaser of the film. We are working on it. When it is completely ready he would be the first person to see it. He is surprised and shocked that a film is made on his life. He has to absorb that."
As for Ranbir's transformation into Dutt, Hirani said at a recent event, "He is a fantastic actor. I Ioved working with him. I would like to work with him again."
About playing the character Ranbir said, "It was surreal for me. You're acting like him, and the director calls cut, you look up, and suddenly there's Sanjay Dutt actually sitting behind the monitor! But then I'd got so obsessed with him. Every time I'd see him, I'd start observing him like a hawk — the way he scratches his beard, twitches his eye, drinks water, hugs… It'd become a bit of a sickness for me. But that obsession is necessary for acting, or any form of art — that madness to get something right. You may still fall flat on your face, but it's necessary."
Along with an online release, the teaser have the biggest ever television launch and will be aired across 80+ TV Channels over a period of 2 days. Led by a massive roadblock on the entire Star network at 19:58 hrs, the 85 second teaser will exclusively play on 15 key channels like Star Plus, Star Bharat, Star Gold along with showcasing on IPL that is airing on 8 channels this year and Hotstar.
This will be followed by an additional 60 channels across English, Hindi and Regional languages the next day, that would encompass the TV audiences across all key markets like Maharashtra, West Bengal, Punjab, UP-Bihar, Gujarat along with the 4 south territories. The simulcast would reach out to 100mn+ unique TV viewers in India, making it the highest ever viewed movie teaser!
Produced by Vinod Chopra Films, Rajkumar Hirani films in association with Fox Star Studios.
Stay tuned!