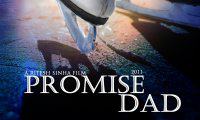 We are ecstatic to bring you the very first look and trailer of the International film, PROMISE DAD produced by TEN FILMS INDIA PVT. LTD. Written, produced and directed by the award winning film-maker Ritesh Sinha; Promise Dad is a powerful story capable of appealing to a diverse global audience.
The film unravels the heart warming story of a Father and Son that revolves around the exceptionally competitive sport of Figure Skating; the first time ever that an Indian film-maker has attempted to capture and showcase this beautiful Sport on film! At its core it remains a deeply emotional film that effortlessly revolves around Eastern values imbibed from the Mahabharata set in the Western World.
The sheer beauty of the film also lies in the fact that the role of the young son who aspires to be a Skating Champion one day has been essayed by a Professional World Skating Champion in the Britisher, Tom Thomson. This lends the film with an unparalleled level of genuineness, essential to the storyline. Tom's Father in the film is played by the legendary Indian Character Actor, Satish Kaushik who strives to help his son realize his true potential. Watching the drama unfold from a distance is Tom Alter.
Set in London, Promise Dad has been shot at some of the city's most prestigious locales, including the Lee Valley Ice Skating Club. London plays an integral "role" in the film, forming the backdrop for the stunning drama, action and raw emotion that unfolds onscreen; a tribute to the incredible picturisation!
A unique and powerful story, an impressive Cast fuelled by a mix of industry stalwarts and emerging talent, international Production values and a Director driven to take Indian Cinema to an all new level…Promise Dad truly promises to be a landmark film for more reasons than one.
This is Indian Cinema poised to create ripples across the globe…one "promise" at a time. One look at the trailer is enough to leave you yearning for more. This is just the beginning…there's a lot more in store, we "promise"!