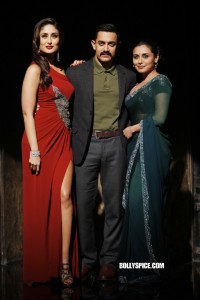 We told you yesterday about the unique way that the first song of the highly anticipated Talaash was unveiled on the internet. We even gave you a little clue to help you find your way and find the song. In case you haven't we have the video for you right here, but first we have some more exclusive scoop!
We have heard of suspense drama films revolving their entire story around bringing together all suspects in one script and confusing the audiences. But Talaash, which features the acclaimed actor Aamir Khan (who has been India's Oscar choice frequently and whose production house, Aamir Khan productions has co produced this film, was nominated in the foreign language category at the Oscars, for Lagaan), newly married Kareena Kapoor, and Rani Mukerji, has juiced up this suspense formula a little more.
In the first song video from the film, 'Muskaane Jhoothi Hain', all suspects of the crime are going to be seen in the same room, under one roof. Talaash being a film of suspense drama genre, this music video is set to build up the anticipation of the audiences even more.
The movie is about a police officer played by Aamir Khan, who is trying to investigate and solve what seems like a perfect crime, and all suspects in the film are going to be seen together in that one single music video. The video will thus have Aamir Khan, Kareena Kapoor, Rani Mukherji, Nawazzudin (from Gangs of Wasseypur) and all principal cast of the film in one single frame making it a never seen before visual.
The film also marks the amalgamated re-union of Aamir Khan, Farhan Akhtar and Ritesh Sidhwani who last came together in the cult classic film, Dil Chahta Hai.
One more reason for having a special promotional video was to bring Aamir, Rani and Kareena together in one frame and give that sensational visual to the audiences, as in the entire film, all three are never seen together. The film has been scripted in such a way that three lead characters of the film don't come face to face…
Reema Kagti has directed a music video for the first time, and as the director of the film. She says: "Muskanein jhoothi hain is the title song of the film. The idea was thrown by the producers that perhaps we should also shoot a promotional video with it. Farhan, Zoya and I sat and brainstormed, and we came up with this idea to introduce all the players in the suspense plot that will unfold in the film".
Here is the video just for you: 'Muskaanein Jhooti Hai', sung by Suman Sridhar with music by Ram Sampath
The much anticipated Talaash is out on November 30, 2012 and brings back the action drama genre to Bollywood cinema.
More suspense from TALAASH, here: