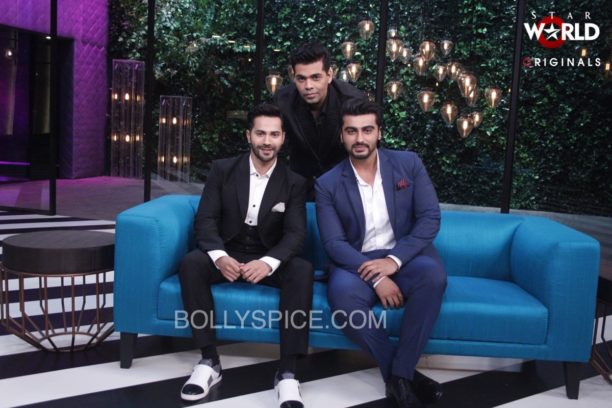 Sunday night's episode of Koffee with Karan was a laughter riot as the two rising stars and bachchas of Bollywood, Varun Dhawan and Arjun Kapoor set the Koffee couch on fire with their hilarious antics in the third episode of the show that aired on Star World.
The two boys were exactly how one can expect childhood friends to be when around each other – candid, open, no-holds-barred-funny and refreshingly honest. They spoke about everything under the sun – from their childhood escapades to their days in acting school to the ups and downs in their friendship that has stayed strong through the course of their busy careers.
If you have missed the episode, worry not because we have the top five best moments lined up just for you. You can also catch up on all the fun in the repeat telecast of Koffee with Karan Season 5 on Star World and Star World HD, weekdays at 1 PM and Monday – Saturday at 7 PM.
VARUN ADMITS TO BEING IN A RELATIONSHIP
Tonight it was on Karan's agenda to unearth the truth about Varun's relationship status. After much prodding and beating around the bush – at one point Varun claimed he has a lot of love in this life since his mother loves him a lot – Varun finally admitted, albeit in a rather indirect manner, that he is with someone and is happy and has been for quite a while now! Now if that special someone really is Natasha Dalal or not, is a mystery that Varun refuses to solve but not that we didn't get it!
VARUN (IN MARATHI): "KAI ZHAALA?"
We have to agree that the impromptu acting challenge that Karan threw at the boys was the highlight of the episode tonight and both actors rose to the challenge. From playing two homosexual strangers hitting on each other in a bar to getting into the skin of two estranged brothers, Varun and Arjun nailed it. The fun all began when Karan directed both to speak in a language other than Hindi. While Arjun was the perfect young, angry Punjabi munda, Varun was a plausible Marathi manoos. But, things took a hilarious turn when it looked like words had eluded Varun as all he said was, 'Kai Zhaala?' over and over again!
THE STUDENT OF THE YEAR WAS ONCE A DIRECTOR!
It is common knowledge that Varun and Arjun actually bonded during their stint at Barry John's acting class. From playing a waiter to a coconut water seller to a court martial scene together, the boys have done it all! Not only did they enact various roles, Varun also scripted, directed and edited an entire short film titled White Mountain that starred Arjun as drug dealer Savio, while Varun played the vengeful character that returns from the dead to seek revenge from the former! Apparently, Varun is so proud of his work that he even showed it to Karan while auditioning for Student of the Year and got the part!
VARUN AND ARJUN'S COMPETITIVE STREAK!
Things got a whole lot spicier when the two actors zapped Karan with their extremely honest confessions. As part of the Koffee Konfessions segment, Karan asked the duo two controversial questions – who is the bigger star and who has the bigger *****? And what followed was a hilarious banter between the two boys! Not one to leave the opportunity to tease each other, Varun & Arjun went all out, leaving Karan speechless. While Varun said he is the bigger star, Arjun claimed to lead in the other department.
NUDE AND PROUD!
No one can doubt that Varun has a great body. And his affinity to take off his shirts, stems from – in Varun's own words 'nudist tendencies as a kid'. Varun revealed that as a child of four or five, he used to run around the house in his underwear, unembarrassed and unabashedly free even if there were guests over. If Varun harbours nudist tendencies, Arjun roams around the house shirtless in just his shorts – men we tell you! When a rather confused Karan tried to make sense of these weird tendencies, Arjun cleared the confusion by saying that he has a rule he believes in – 'If I have a bath, then I have to get ,out of the house.' Basically if he has gotten ready and taken a bath, staying in the house is not an option!
Not that we are complaining about a shirtless Varun or Arjun!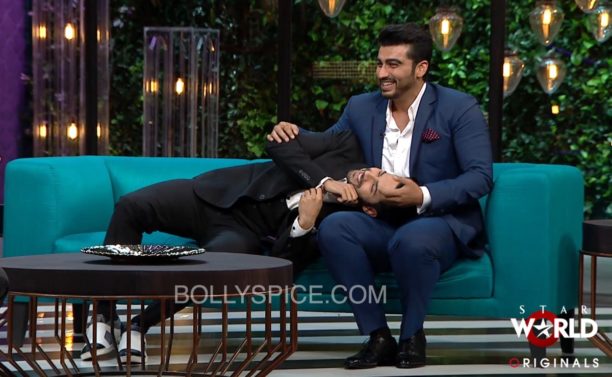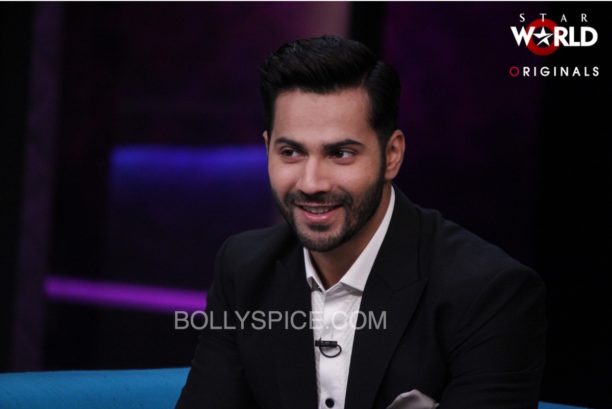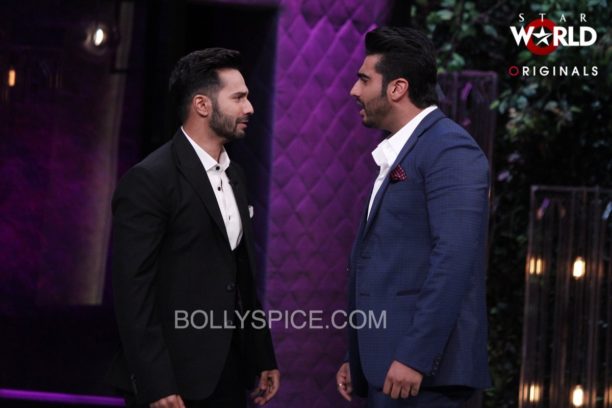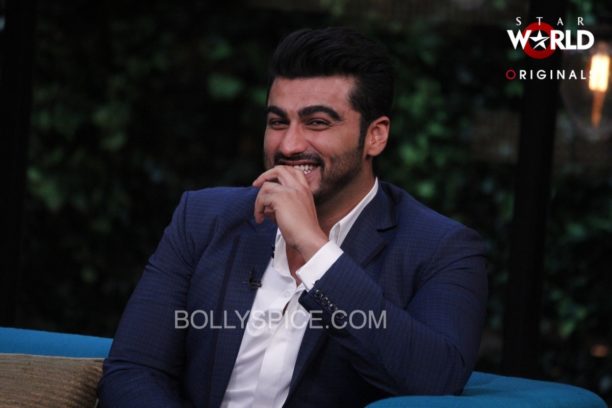 Catch Koffee with Karan Season 5 every Sunday at 9 PM only on Star World and Star World HD!