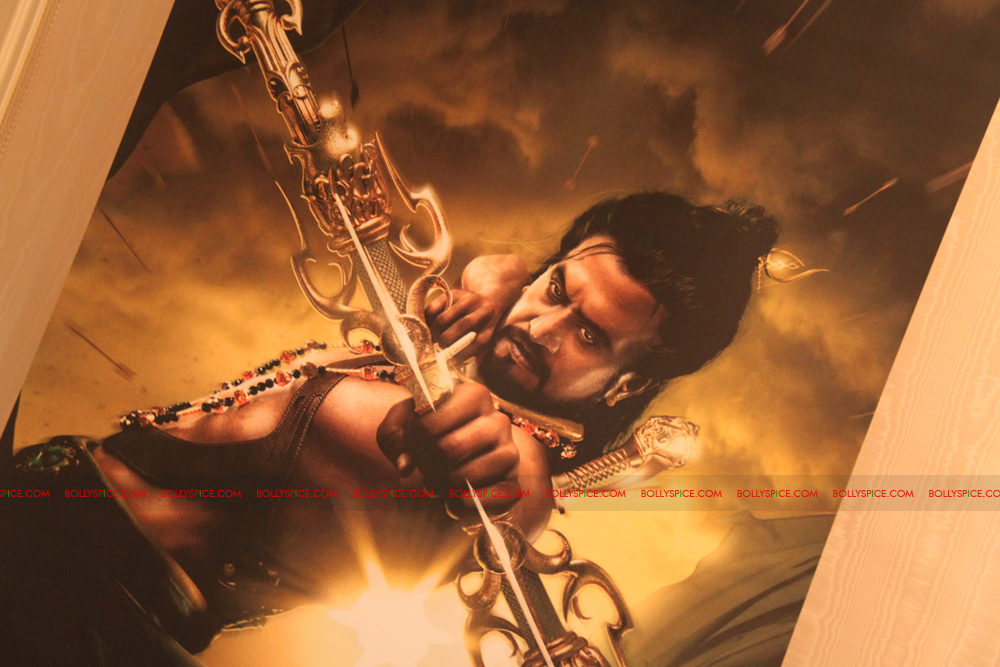 As we told and showed you eariler in pictures, Bollyspice was at the special UK press event that superstar Rajinikanth, his younger daughter the debutant-director Soundarya and musical-maestro AR Rahman attended for the launch of Rajini's next blockbuster-in-the making Kochadaiyaan.
For those of you who don't already know, the three stars have been busy working with world-class technical experts in London's Pinewood Studios, creating India's first film made with the same technology used in James Cameron's Avatar and Steven Spielberg's The Adventures of TinTin. This will be a ground-breaking film for Indian cinema on an international level. Rajni will play the warrior Kochadaiyaan the archetypal superhero in the epic dramatisation of good versus evil. Also starring in the grand-scale production are Deepika Padukone, Jackie Shroff and South India's leading stars R Sarathkumar, Aadhi and Shobana.
We now bring you an exclusive on everything you need to know about Kochadaiyaan the from the lips of Rajni, Soundarya and AR Rahman themselves.
Soundarya on the 'technology' behind Kochadaiyaan, her 'inspiration' for the film and her 'role models':
About the technology used for Kochadaiyaan:
I wanted to immortalise my dad and this technique (photo capture technology) allows us to do so much more creatively than what live action films can do. It is different from visual effects because with that you shoot live and then you composite with a computer generated background (CGI), but in this movie everything you see is going to be created in the studio. So visually this is going to be something spectacular and in my father's career he has never done a film in which he's played a warrior….so the reason for motion capture technology is to push the creativity and to set the benchmark for imagination.
On her inspiration for the film:
I'm a die hard fan of my father…anything I know and I do on the set floor I've learnt from him. I've grown up in a film atmosphere and ever since I was born I saw shoots, directors, actors and so this film is home for me. I don't think at any point I thought of doing anything else apart from being behind the camera and feel blessed that my father and Rahman are part of my first project. I'm aware of all the audience expectations, but as a Rajni and Rahman fan myself…their powerful combination is something that I'm trying to put together in this film.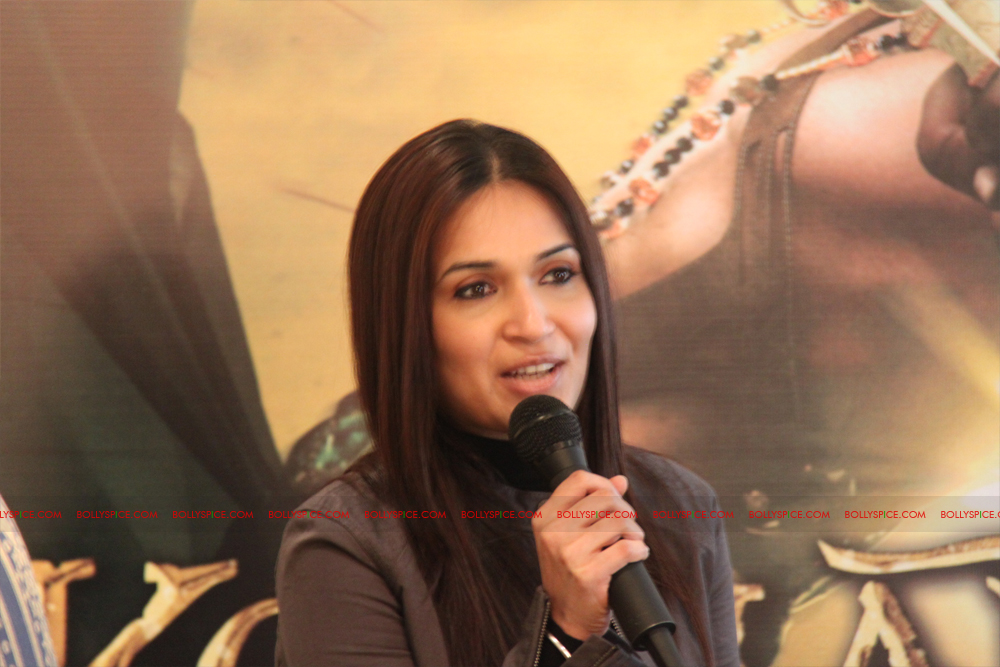 About her role models:
As far as role models, it would be Steven Spielberg and James Cameron, they understand the technology and are the gurus of it. With Avatar for example, it's one of my favorite films because of the way they've pushed their imaginations to the extreme…but also it is about what we can say that is new (cinematically) like Jurassic Park and E.T, by taking that one step further out of realism.
AR Rahman on the music of Kochadaiyaan, on making Rajni sing and the difference with Bollywood music:
On the music:
This film is animated and created on the computer, so it is about how much life can we give through music to the characters. So, in this film the music has to play a very important role. In every frame there will be music from the beginning to the end. With this movie we have to set a standard for Indian animation movies.
When Soundarya first came to me, I said I can't do it! It scared me, so I said to myself if I have to do it and I have to do it right. I had a little hesitation, but when I went into it I felt the potential. We had a German orchestra for which I prepared some orchestral themes and for three days we worked in Mumbai, brought them over and we got a Hollywood engineer to record them, just as a starting foundation for the music and now we've finished two songs and are due to record a few more. For me it is a very exciting and I am looking forward to what Soundarya's going to do more than her father!
When I select a project I want to make sure that I am on the right track, we are hoping this is going to set a new standard. I think this is the future – animation and immortalising actors on screen.
Making Rajni sing:
Rajni has a lot of things to say in life which have inspired me too, so then Soundaraya ji came up with this idea of using certain quotes (in the music) which Rajni would say in his own words. It is not actually singing, more speaking quotes and sharing some beliefs from his personal life.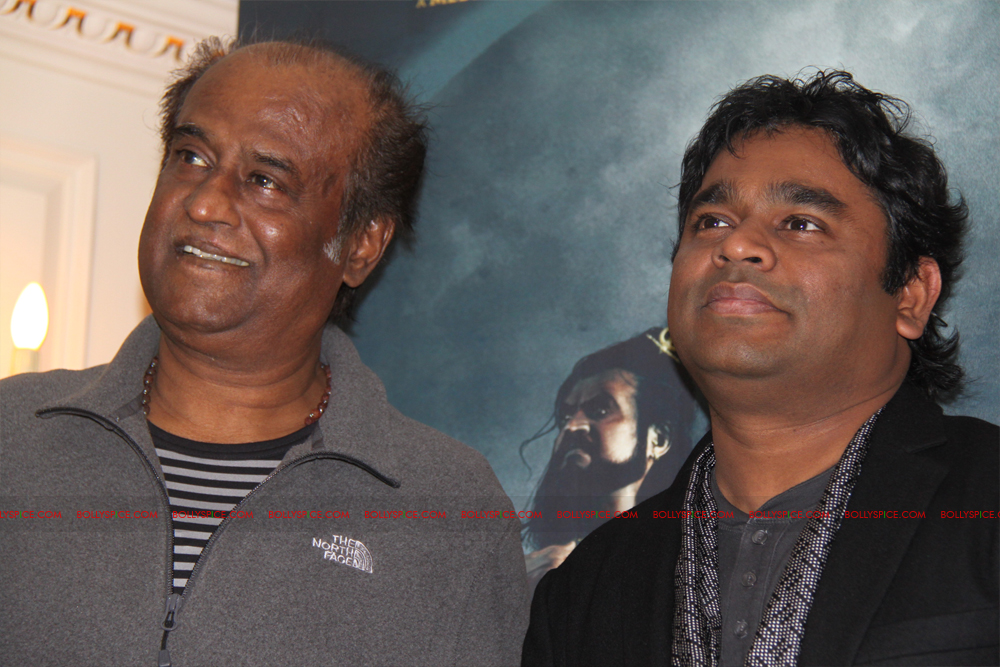 Soundarya: We actually took my father by surprise when we requested this song, but he said yes, so we thank him for accepting.
Rajni: It is all entirely new for me, whether singing or saying quotes (in the music). Basically it is not an actor's show, it is a technician's show – more about visual effects and musical features.
The differences with composing in Bollywood films:
When you take a movie on the sensibilities are different. In this movie what we're trying to do is to make it universal, we are doing songs in Hindi and in Tamil (separately), so we are not simply dubbing (the songs). The thoughts are slightly different where it is more Hindi orientated and with Tamil, again the thinking of the audiences is different. For me it's very exciting, I'm doing a film with Dreamworks (Hollywood film production house) based on monkeys getting inspired by Ramayan and here we are doing a film (Kochadaiyaan) made with our own sensitivities.
Rajni on Kochadiyaan, on being a 'superstar', on 'pleasing fans', on 'London' and on his 'daughter':
On Kochadaiyaan:
It is a fantasy film on an Indian subject and matches the standards set internationally. It has got a very strong story, which has been done keeping international audiences in mind and will not only attract children but also people (adults and international audiences) who like films.
Being a superstar:
What the director says I do! I'm lucky to be given great characters, great stories and great directors and fans…All this 'superstar' is nothing, we're just actors, if the film runs we're stars, otherwise not. For me the only superstar is Amitabh Bachchan…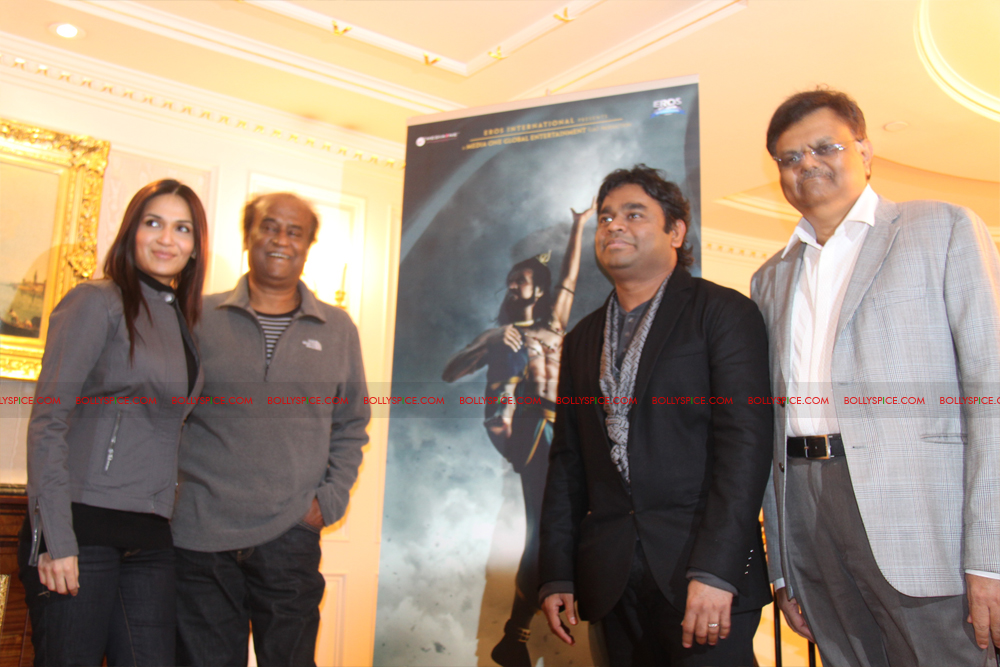 On London:
I have been to London many times…I used to come every year…I love the history and I love London. Twenty five years ago I worked on an English film called 'Blood Stone' and at that time I was here for a month, I seriously planned to buy a house in London then, which I regret not doing, so now I am going to buy one!
Pleasing his fans:
There is a lot of pressure with every film, which is why I am very choosy with the director and the technicians I work with. There has been more pressure recently with the success of my last three films: Chandramuki, Shivaji and Robot. The fans are expecting something new and I'm getting older, so I need to do something different like Kochadaiyaan for my fans around the world and so I hope I won't disappoint them with this film.
On his daughter Soundarya:
I am really proud and shocked to see my daughter directing me. At first I was uncomfortable, but later I'd forgotten that she was my daughter! I could see only the director. I'm happy that she wrote the script and so know what she wants (from me) and Rahman has fully supported and encouraged Soundarya from the start.
So there we have it, the latest on Kochadaiyaan, fresh from the star, the director and the music director! Stay with us as we hope to bring you many more exclusives on the making and news of the movie as it nears release.
Check out more pictures from the event here