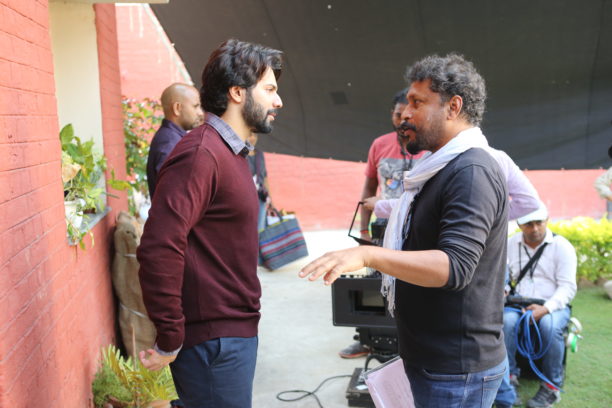 National Award winning Shoojit Sircar is one of the few directors whose body of work is eagerly awaited for its realism and relatability packed with entertaining content. He recently stated that October marks the debut of Varun Dhawan as audiences will see him unlike anything hes done before. While the actor has been getting a lot of appreciation from the little glimpses we have seen of October we hear he had to observe the hallowed 10 Commandments of Shoojit Sircar!
Immediately after coming on board, Varun surrendered himself to become Dan as per the vision of Shoojit Sircar aka the 10 Commandments which go something like this:
1. Thou shall wake up and look at plants: Once Varun wakes up he was asked to look at a plant instead of his phone. He followed this for a year to imbibe calmness.
2. Thou shall not do social media: No Social Media while shooting.
3. Thou shall talk softly: Varun was asked to consciously lower his volume and talk softly to everyone.
4. Thou shall not race ahead with the script: He was told not to read the entire script before performing the scene.
5. Thou shall look normal! The actor was required to look like a regular 21 year old boy for which he stopped his gymming and consumed normal food.
6. Thou shall be honest : Shoojit Sircar believes in being honest to onself which in turn shows in everything you do. He asked Varun to do the same.
7. Thou shall walk like a civilian! Instead of walking with a swagger as a hero, he was asked to start walking like a normal person.
8. Thou shall look natural:Shoojit Sircar made Varun wear less to no make-up
9. Thou shall do all the work! As Shoojit was keen on Varun picking up mannerisms of a hotel employee naturally, he was asked to do all the tasks of a trainee of cooking, cleaning, laundry, serving, etc.
10. Thou shall NOT sleep! Sleepless nights for Varun. The actor was asked to not sleep at a stretch to be able to look his part in the film.
Well trust Shoojit to always go beyond the expected!