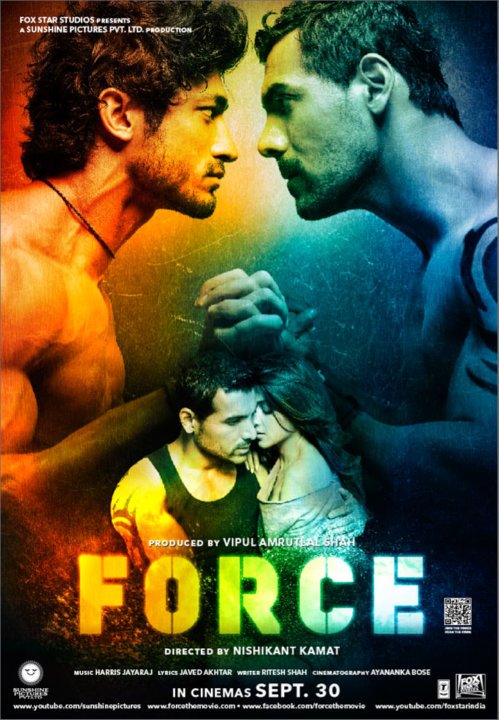 Tried and tested formulas can weaken any film. Regardless of star power, chart busting music or excellent performance. But with the right people on board, and an innovative way to tell a story, your average film can become almost epic. However, Force doesn't fit into this category. Even while we have John Abraham, Genelia D'Souza and debutant Vidyut Jamwal stepping into the roles of ACP Yashvardhan, Maya and Vishnu, originally played by Surya Sivakumar, Jyothika and Jeevan in the Tamil smash hit Kaakha Kaakha, all is not well. Nishikanth Kamat is no doubt an amazing director and each actor in their own right is talented. However, when put together with Vipul Shah backing the film in production, the sparks that normally you would expect to fly fail to make attendance.
Ok so we take a step back and understandably, the story of the remake from the South was not unique to even for the original Tamil, or subsequent language audience. A sharp and intelligent cop ACP Yashvardhan played by John Abraham taking down a drug ring including drug lord Reddy Anna (Mukesh Rishi), in turn becoming the revenge target for his brother Vishnu played by newbie Vidyut Jamwal. And everyone knows, the burnt bad guy shaking up your work life is never enough. This is where Genelia comes into play. In between the narcotics cases that threaten his fair city, Yash reluctantly brings social activist Maya into his life, making her danger's sweet and easy target. How things pan out form the crux.
The film's action and testosterone exchange between John and Vidyut is high in volume as an attempt to keep audience on the edge of their seat. Unfortunately for us high in volume does not mean high in spark. On one side, the screenplay is percieved to depict a slick, urban cop story. And on the other, the masaledaar treatment (plus a fair few strategic brand placements) is interjected. Individually speaking, each actor has done their part. John's beefed up exterior does add to the character and its brute strength. Yet, even as he tries hard to fit the bill but simple things like his dimpled smile take away from the stern and seriousness of the role, causing him to lose the essence of a strict cop. Genelia D'Souza dons a young, bubbly yet responsible version of Maya but she plays it very well as she is on familiar ground with a good of chunk of her roles in the south having similar traits. A quick mention must be made about the chemistry between the two though which fluctuates from hardly there to cute. A bit of a sad point since it is integral to the love angle. But by far newcomer Vidyut takes the whole cake, kit and caboodle. The actor has amazing screen presence and is the perfect bad guy of the new generation. Mukesh Rishi is ok as drug lord Reddy. Monish Belh is sufficient as is Sandya Mridal. The cast of John's remaining comrades Mahesh and Kamlesh, pitch in their two cents.
From behind the camera, Ayananka Bose brings to life every scene with Aarif Shaikh keeping the proceedings crisp. The scenery is almost picture perfect. However, beautiful locales aren't the only thing we see on screen. Watching a film like Force isn't for the faint hearted and that is evident in Allan Amin's action sequences. Its possible, the trend of masala films making a comeback may be behind the depiction and screenplay for this Nishikanth Kamat directed venture. It would be unfair to say it doesn't entertain but the high voltage action doesnt sit the way one would like it to for a masala film. On the other hand, the intro fight scene for Vidyut does make you sit up and take notice. The same can be said for the music of the film. Harris Jeyaraj makes a return after Rehna Hai Tere Dil Mein, another remake from the south and has brought a track from the original Tamil film, 'Khwabon Khwabon'. But the pick of the lot would have to be Main Chali with Kaise Kahoon coming close behind.
So is Force as forceful as you would expect it to be? Yes. But brute force doesn't always work.