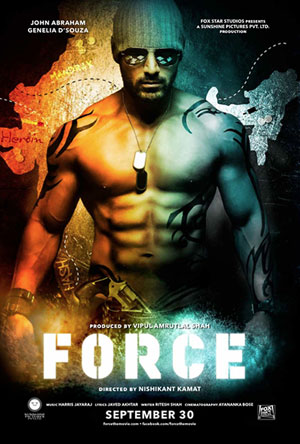 The season of remakes continues with Force which stars John Abraham and Genelia D'Souza in lead roles. The film's a remake of Tamil film Kaakha Kaakha starring Surya (Rakht Charitra) and Joytika (Doli Sajake Rakhna) which was also remade in Telugu as Gharsana. While the Tamil and Telugu versions were directed by Gautum Menon, the Hindi remake is being directed by Nishikanth Kamath (Mumbai Meri Jaan). One thing that remains the same is that Harris Jayaraj (Rehna Hai Tere Dil Mein) who has composed for original and the Telugu remake, has also composed and produced the music of Force. Meanwhile, Javed Akhtar has penned the lyrics.
The album is made up of 5 tracks, one of which is a bonus track composed by Lalit Sen seemingly unrelated to the movie. Surprisingly, no remixes.  It features the vocal talents of Shreya Ghosal ('Bahara' – I Hate Luv Storys), K.K (Mere Brother Ki Dulhan – Title Song), Karthik ('Behka' – Ghajini), Vijay Prakash ('Fikrana' – Blue), Naresh Iyer ('Rubaroo' – Rang De Basanti) and Bombay Jayshree ('Zara Zara' – Rehna Hai Tere Dil Mein).
Force opens in cinemas on 30 September 2011.
The album gets of to an impressive beginning with Khwabon Khwabon promos of which having been making rounds on video channels with much applause. It is a very pumped up romantic track which is equal parts traditional and equal parts modern in terms of music. It is fast, catchy with great lyrics and has you singing and dancing to its tunes in no time. K.K's vocals match the demands of the song, strong and unwavering at one time and soft and serene at another. Khwabon is definitely the USP of the album.
The album slows down with Chaahon Bhi, which is a trifecta of beauty. That is, beautifully sung, beautifully written and beautifully composed. Lyrics about the said and un-said have been aesthetically penned by Javed Saab which have then been given life by Bombay and Karthik via Harris's melody. The track is elegant in its simplicity, easy on the ears and as mentioned previously, just all round beautiful.
Next is the bonus song, Dum Hai To Aja by Mahua composed by Lalit Sen. It is unimpressive filler number that will surely fall prey to the skip or delete button of the listeners' respective music devices.
Main Chali is next, another beautiful track by Harris which has a brilliant flute solo and then a sitar solo between the vocal styling's of Naresh and Shreya. Shreya sings the softer melodious portions of the track while Naresh's portions are very energetic. That being said, they are still very much interconnected by way of lyrics which depict how each person's life has changed recently.
The final track of the album is Dil Ki Tamana by Vijay, Shalini Singh and Neha Bhasin. One of the ladies sings the chorus while the other sings the verses in between. It is a lovely melodious duet about he illogical hesitation with respect to acting on one's feelings. It well written by Javed Saab and Vijay, Shalini and Neha do full justice to the lyrics while Harris maintains the elegant simplicity of Chaahon Bhi with this track.
In summary, the music of Force proves that good things do come in small packages. All four of the tracks are lyrically, musically and vocally beautiful with Khwabon undoubtedly coming out on top. The reminder of the tracks, though being somewhat of each other's derivatives are still a good listen. Lalit Sen's bonus track is definitely a spanner in the works and should have been the last track as opposed to being the awkward third song. Definitely force yourself to get a hold of Force and you won't be disappointed.