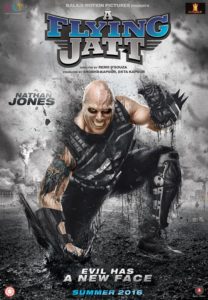 Australian actor, power lifting champion, strongman and former pro wrestler and WWA World Heavyweight champion, Nathan Jones, will be making his grand, Bollywood debut in Remo D'Souza's superhero movie, A Flying Jatt. Jones plays the role of a super villain and arch nemesis of heartthrob Tiger Shroff's superhero character, 'Flying Jatt'. Looking menacing in the film with his all black look and full body of tattoos, the good friend of Dwayne 'The Rock' Johnson, Jones was last seen on the big screen in Mad Max: Fury Road as 'Rictus Erectus', alongside Tom Hardy and Charlize Theron.
Speaking about his Bollywood experience, Jones says, "I was in Thailand and got a call from the team. When I heard the role and the script, I thought it was perfect for me and great for my career. It's really utilizing what I have and I think the kids are going to love it. It's a great kind of confrontation and the size difference. And you know it had all the right ingredients. For a movie, it's really going to appeal to the kids with a great message. It's not just about senseless violence like we see in all the movies today. It has great substance.
"For me it was the first time in India. It was a pleasant experience, very professional and efficient. And I got to know everybody on the sets and it was just like watching your face in a river. I felt very secure. The director, he is a lovely man. He listens to everybody. I think he's a humanist in the way he obeys. He's a sensitive person. So it was a pleasure working with him. And Tiger, he's very disciplined, he has a good head on his shoulders and again he's very professional. He made my job easy. I had to work a lot as acting in this film was very hard and I had to make him look strong enough that he could beat me. So because of his talent, his acting and everything, he brought the whole package that made my job easier. And it's like a dance. It's good fight choreography. It's not much different from dance choreography and Remo was a very good choice to direct this movie."
Starring Tiger Shroff and Jacqueline Fernandez and directed by Remo D'Souza, A Flying Jatt releases in cinemas on August 25th 2016.