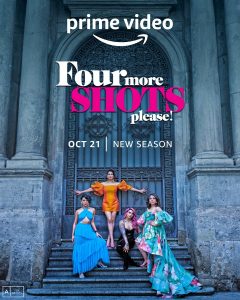 Four More Shots, Please! Season 3(Amazon Prime)
Directed by Joyeeta Patpatia
Unalloyed fun… the sassy quartet is back with a bang. Many bangs, actually, considering the predominance of carnal activities. No harm in that. Anjana(Kirti Kulhari), Siddhi(Maanvi Gagroo), Umang(Bani J), and Damini(Sayani Gupta) have a healthy appetite for the good things in life, including sex. They are not apologetic about their hedonism, or afraid to fall flat on their face when their heels can't balance their drinks.
What to do? Sometimes, no , make that very often times, things don't go according to plan. Of the four characters Siddhi is the most adroitly etched. She is a rich spoilt brat and she makes no bones about it. There is a marginally captivating subplot about Siddhi's lately-widowed mother and her…errrr… golden vagina. Every middle aged man in the neighbourhood wants to woo her.And her golden spot.
Here we see a bit of an exaggeration. Four More Shots, Please doesn't shy away from overstatement. Its beauty lies in the eyes of be-older: the older these sassy strong vulnerable and real women get, the more they bring out their inner world out in the open voluntarily.
Umang's lesbianism remains problematic. Her conservative Sikh father rejects it. And why should he not , when she is seen smooching her sister-in-law on the rooftop(a good way to avoid the scandal hitting the roof). There is an interesting encounter between Umang and a boorish cop who doesn't know what 'lesbian' means.
Ogay, then.
Luckily for the viewer, the pacing of the ten-episode is brisk if not crisp throughout. The writing is clearly on the ball. Full marks to series creator Rangita Pritish Nandy, writer Devika Bhagat, dialogue writer Ishita Moitra and director Joyeeta Patpatia for investing so keenly into the characters . Besides the four protagonists,the rest of the casting also remains nearly impeccable. This season there are interesting additional actors like Shilpa Shukla,Rohan Mehra, Jim Sarbh and Sushant Singh playing actors who most certainly add to the enticing patina.
The tone is deliciously elitist: posh hotels are the favourite shooting spot. This doesn't take away from the show's connectible joie de vivre. Constantly showing the middle finger to conventions Four More Shots, Please remains a game-changing show, for allowing four saucy sassy sexy women the freedom to do what they like.
And face the consequences.