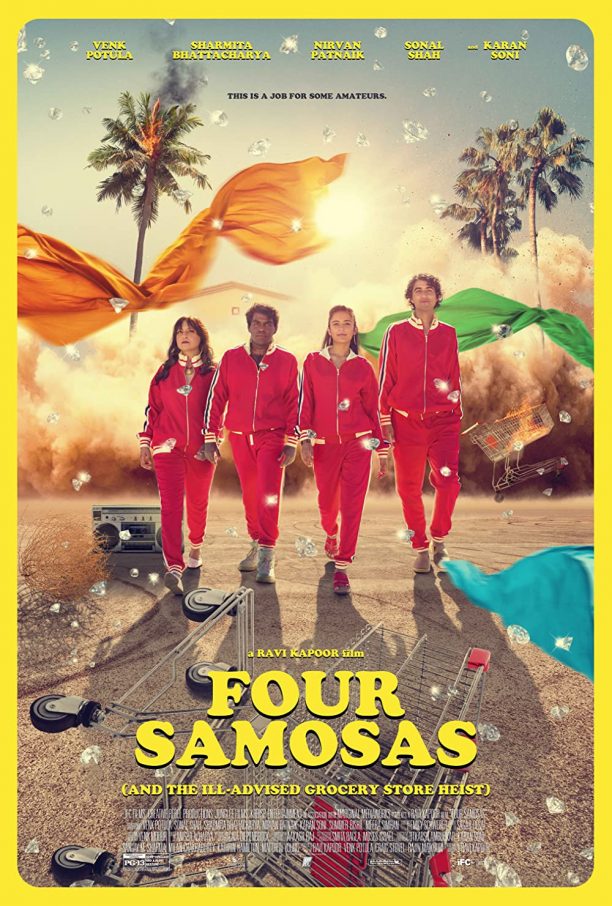 Artesia is a small city in Los Angeles County in California, possibly home to an artesian well (there are wells in the area, hence the name), but definitely home to Vinny (Venk Potula), an underachieving wannabe rapper. Vinny feels that his creativity and confidence have been stifled after being dumped by his girlfriend Rina (Summer Bashil) three years earlier. Everyone who knows Vinny points out that he probably should have found a way to move on by now. Vinny now channels his rapper skills into sales pitches for sarees in the shop he works in. When he discovers Rina is getting married, and to Sanjay (Karan Soni), whom he considers an idiot, Vinny is jolted out of his state of inaction to finally do something. Along with the help of his friends Zak (Nirvan Patnaik), who works at the local Chaat House restaurant, Anjali (Sharmita Bhattacharya), the perky creator and writer of the Great Little India Times, and Paru (Sonal Shah) an IIT graduate desperate to get her green card, Vinny decides to plan a heist.
And not just any heist: Vinny wants to steal the jar of "dirty diamonds" Mr. Juneja, Rina's father, has stored in the safe in the office of his store. Further, he ties some lofty goals to liberating the diamonds, like paying for his aunt's heart valve surgery. Disguises are organized, tools procured, and plans made.
Of course, this is Four Samosas, and not Ocean's Eleven. Anjali has an overactive imagination and comes up with plans that are patently beyond the reach of the crew. Zak's main contribution is to use his Bollywood acting/singing/dancing skills (for he dreams of going to India to become a star) to create a distraction in the store so that Anjali can take pictures of the safe so they know what they're dealing with. Paru, despite her confidence in her IIT education, declares the job of opening the safe might take one – or two – or, okay, maybe three or four hours. The crew organizes disguises and sneaks into the store before it closes so they can be there overnight, giving them enough time (two, or three, or four hours) to deal with the safe.
Writer and director Ravi Kapoor's film owes as much to classic 70s Bollywood masala filmmaking as it does to Wes Anderson. Muted, dry colour palattes (amusing that a place built on artesian wells looks so parched), 70s style balloon fonts for title and intertitle cards combine with glitter, and Bollywood style song and dance to create the film's aesthetic.
But beyond this, Four Samosas is a film about identity, something not uncommon in many films set in the Indian diaspora. At the heart, of course, is Vinny – much humour is derived from the fact that everyone thinks he should have moved on after Rina dumped him, but it's obvious that the relationship with Rina was something central to him, so much so that he literally loses his voice and confidence as a rapper. That doesn't stop him, however, from helping other people find their own voices and identities – as he tells us in the opening voiceover of the film, "…maybe it's a story about finding your voice again, after you've smashed it so deep down inside of yourself and made it so small and hard that even you can't hear it no more." Among the things he wants to do with the heist money is help his friend Zak find his place in the world, by sending him to India so he can become a Bollywood actor. Vinny has a younger cousin, Nikki (Maya Kapoor), who aspires to be a rapper as well, and her rhymes centre around her father's pizza parlour, with Vinny encouraging her. Everyone who needs affirmation that their voice is important gets what they need in this film, even Vinny.
And then there's also community identity. There's the Revolutionaries crew, gathering signatures on a petition to turn an abandoned lot into The Independent South Asian State of Aisetra, something Vinny cannot comprehend. "If I wanted to live in South Asia," he tells them, "I'd go live in South Asia." Finally, the community talent show, The Little India Cultural Show, reveals itself to be fairly inclusive. Everyone who auditions – from Nikki, to the histrionic society (and their play about the Emperor Ashoka that gives the film one of its funniest running gags), to a sitar player, to Vinny and *his* crew , to even the saree shop assistant Pushpa, who never uses her voice – is accepted into the show.
Four Samosas shines precisely because it embraces its low-budget, low-stakes feel.
Not much has changed by the end of the film, but sometimes it's more about the doing. Nikki reminds Vinny of the advice he gave her: "You have to find the little voice inside you and make it big. That's your heart's voice." As Vinny tells us, you might get knocked down, but you still have to put yourself out there. And things are always better when you find your crew to support you – even if that crew is a motley group like the Four Samosas.