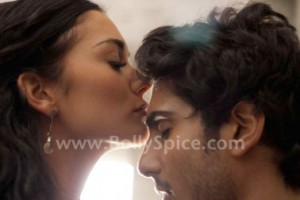 Fox Star India will release Ekk Deewana Tha starring Prateik and British model-turned-actress Amy Jackson, on February 17, 2012.
The romantic love story is the brain child of the critically acclaimed director Gautham Vasudev Menon. Oscar winning Maestro A.R. Rahman has composed the beautiful romantic songs for the movie.
Director Gautham Menon is thrilled at the way Ekk Deewana Tha has shaped up. Gautham says A R Rahman's music is the highlight of the movie.
Check out the trailer of the movie!
httpvh://www.youtube.com/watch?v=_3tSDa0u68k
SYNOPSIS: Sachin is a regular guy, a 22-year-old engineering graduate from a middle class family in Mumbai who is in love with the world of cinema. As a struggler in the film industry – where his long days are filled with waiting and then some more waiting, surviving on his father's pocket money and desperately trying to make an entry into any of the main film camps – there is nothing that makes each day worth looking forward to. And that's when he sees Jessie, and it is love at first sight for him. Jessie is beautiful, elegant, smart and classy. But Jessie is not that simple. Jessie belongs to an orthodox Malayali Christian family where watching movies, partying or falling in love are completely taboo. While Sachin battles with the idea of someone like Jessie and her family living in 21st century modern Mumbai, he finds himself increasingly drawn to her. Jessie, for her part, tries to forge a friendship between them believing that cloaking their feelings under the umbrella of friendship would save them heartache, tears and a full blown family drama. EDT is the intense, yet feel good love story of these 2 very different characters as they understand the pangs and pleasure of first love while battling with the situations that life has placed them in making Sachin question all the time – Of all the people in the world why did I fall in love with Jessie?
Here are some cool links to check out!
Official Site: http://www.ekkdeewanatha.com/
Facebook: https://www.facebook.com/EkkDeewanaTha
Twitter: https://twitter.com/#!/ekkdeewanatha