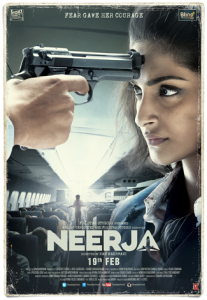 Neerja is a HIT and is now all set to cross 50 crore in a jiffy. As a matter of fact, trade predicts that the film could cover an even greater distance. For a film that has been made at a budget of around 20 crore, the film is now set to reap in very good profits. For its makers Fox, this has turned out to be a very good success. However, none of that was left on chance and there is a lot that went behind the scenes to make it happen.
We caught hold of the entire campaign plan that was painstakingly put into place for weeks in succession, which led to huge awareness for Neerja, hence resulting in wonderful opening and then sustained word of mouth.
Informs our source, "From 'Who is Neerja' to 'India will not forget Neerja', the graph of the marketing campaign of this very special film has as wonderful as it gets. Neerja's story has become a talking point, a conversation starter,  leading up and on the day of its release. Building a campaign on the lead star of the film – Sonam Kapoor- and yet not pivoting the film around her (an easy trap to fall into) – she was used carefully to keep the film in news and let the story take centre-stage. The single most focal objective of all communication was that the film is a tribute to the spirit of Neerja Bhanot, her zest for life and her unparalleled act of courage, and that, Sonam Kapoor happens to play the character. The positive sentiment around Neerja is primarily because of this single point agenda."
Here is an overview of the entire campaign below from innovative marketing stand point. Really, the manner in which this was all planned left us truly shocked as Fox may have just established a case study when it comes to marketing campaigns.
–  Republic Day push: The trailer of Neerja was played out across Star network to play the special Republic Day promo of Neerja
Music Video:
–  A special music video for the promotional song – Aankein Milayenge Darr Se was shot, in line with the theme and ethos of the film. Structured as tribute to the unflinching courage of Neerja, led by campus youth, this music video was the start of the critical Fear vs Neerja campaign
Integrations:
It was a long campaign and integrations sustained the buzz and reach of Neerja till the paid campaign kicked in. There was a range of interactions covering every reach platform, varied demographics, but strategically targeted at key markets. From reality shows, to award functions, to appearances in fiction shows – Neerja was present everywhere. From a good two months, Neerja integrations happened every weekend: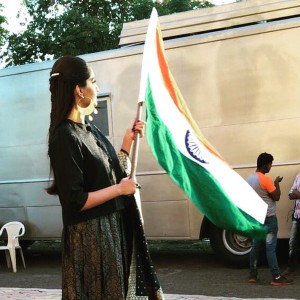 –  On the Star Network front :
Aaj Ki Raat Hain Zindagi on Star Plus : Special episode with Sonam Kapoor interacting with Amitabh Bachchan in the finale episode. TX on

10th Jan
Screen Awards : Sonam was  part of the awards, as a presenter, where she spoke about real life Neerja and the film. TX on

24th Jan
Big Star Entertainment Awards : Sonam presented two awards and spoke about Neerja and what she represents in today's times. TX on 31st Jan
Valentine's Day on Star Plus : Sonam shot for the special on-ground event with Shekhar and they launched the love song Gehra Ishq. TX on 14th Feb
Saavdhan India on Life Ok :  Episode with Sonam, TX on 15th Feb
Pro Kabaddi on Star Plus : Sonam Kapoor traveled to Pune and sung the national anthem, as a part of the pre-match show on 11th Feb that was aired on Star Sports and Star Gold
Lakshya on Star Plus: Two episode integration on 17th and 18th Feb, in the first of regional integration
Co-branded promos on Channel V, Jalsha, Pravah and MAA TV supported the film through special programming for two weeks
– Outside Star Network:
Guild Awards on Sony – 30 sec trailer playout and integration of Neerja, with Sonam introducing the film with TX on

3rd Jan
Big Boss on Colors – Sonam appeared on the show to introduce the film to viewers on

9th Jan
Aaj Tak and India Today integration : Sonam went to Delhi for a special integration.  Sonam shot 45 minute special with young  Gallantry Award winners – aired on both Aaj Tak and India Today on 26th.  Promos went on-air on 24th right through 26th telecast.
Comedy Nights Live with Krushna – TX on 13th  Feb and Comedy Nights Bachao on Colors with TX on release weekend.
Zee Marathi – Integration in the biggest Marathi show on TV – Chala Hawa Yevudya. TX on 22ndFeb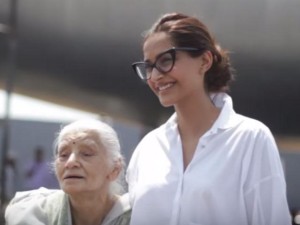 Events and Tie-ups :
A record number of events that became mini press cons through the lifeline of the campaign that helped building buzz around the film.
–  The Annual Neerja Bravery Awards in Chandigarh hosted by the Bhanot family : Sonam was chief guest at the ceremony and main presenter. Extensively covered by local media
–  Bombay Scottish Republic Day event : Sonam was invited for the flag hoisting as it was Neerjas alumni, chief guest at the function
–  Tie-up with FICCI FLO to inaugurate the first FLO Women Film Festival, with Sonam Kapoor being the chief guest. FLO also booked a whole screening of the show on release day, with Sonam Kapoor interacting with the guests before the show.
–  Partnering with TOI Max Bupa Delhi Walkathon
–  Launch of the Biography of Neerja Bhanot
Extensive college visits included in the campaign for an immediate connect with the youth, and interact with the relevant demographic live
– Pilai college Panvel : Interaction with 5000 students, and launched the anthem – Aankhein Milayengey Darr Se.
– IIT Bombay : Interaction with 1500 students, trailer and song playout
–  St Xaviers institute of technology : Unveiling of Neerja Bhanot plaque and interaction with 2000 students
–  Venkateshwara College in Bangalore : Interaction of 5000 students – flash mob on Aankhein Milayenge Darr se with 120 students.
– National College Bandra – Cutting Chai festival : Interacting with 1000 students, and flash mob to Aankehin Milayenge
City Visits :
– Tours in Bangalore, Chandigarh, Delhi and Surat that helped boost regional buzz around the film.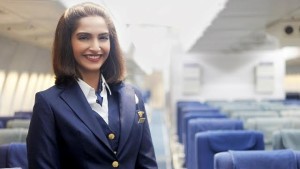 Indigo Airlines:
In a first of its kind innovative association, there was partnership with Indigo Airlines for Neerja with an  aim to reach out to the substantial number of flyers who will flied Indigo in the week of 12th to 20th Feb. The estimated reach of this partnership was 20 million unique passengers.
Special screening of the movie with Sonam Kapoor for 550 IndiGo flyers – chosen from a contest they run. This was fully paid for by Indigo.
Sonam was present for a special screening with 35-40 air hostesses a day before the release. This was a big photo-op for media
Special in-flight announcements talking about Neerja and promoting the release
#FearvsNeerja Campaign:
The main stay of the entire campaign was the Fear Vs Neerja digital activation. Sonam started the #fearvsneerja campaign on her Instagram account on January 28th asking her fans to talk about the stories of their fear and overcoming it via 15 sec videos on Instagram. She reposted the best ones
Adding to this, many celebrities came forward and spoke about their fear and how they overcame it. Celebrities like Salman Khan, Anil Kapoor, Homi Adajania, Huma Qureshi, Shahid Kapoor, Karan Johar, Alia Bhatt, Athiya Shetty, Parineeti Chopra, Priyanka Chopra, Rajkummar Rao, Gaurav Gera, Sunny Leone,  Anupam Kher, Lisa Ray, Anushka Sharma, Emraan Hashmi etc. spoke about their fears
Fox Star extended this campaign on their own platforms with an unique spin on this on Instagram, where they asked  fans to share their fear using one word by writing it down on a piece of paper/placard. The idea here was the fans telling the world about their fears by (My fear V/S Me)
The strength of the conversations around #Neerja increased by 3% because of the campaign
The hashtag #FearVsNeerja trended in India for 2 hours on 7th Feb. The potential reach of the hashtag #fearvsneerja was 50 million
The Voice of Neerja Bhanot – Video Launch:
As a sign off to the campaign, a special video was released which featured the original voice of Neerja Bhanot, as a last tribute to the icon. The video went viral and was picked up by various sites