The year was 2001 and we were treated to not one but two amazing Aamir Khan starrers. Both of them were at opposite ends of the creative spectrum, yet they were both absolute masterpieces! One was period drama Lagaan (2001), whilst the other was the ultra-modern, cool and stylish Dil Chahta Hai (2001). For Indian cinema Dil Chahta Hai was a game changer. So much so that it actually won the National Film Award for Best Feature Film in Hindi, over Lagaan, that year. It appealed to urban sentiments, at a time when the multiplexes were about to explode and set a template for actors and actresses to start experimenting with their styles and looks.
The story was simple, yet fresh – three friends (Akash, Sameer and Sid), each one very different in their personality and showed the transition of their lives post-university and the differing impact that has on their relationships and friendship. Dil Chahta Hai was the coming of age story which was missing in Bollywood. It introduced us to the quintessential 'road trip' and now the Mumbai to Goa road trip the trio undertake has become an essential part of tourist trail. It introduced us to Sydney in Australia like never before. It was also one of the decisive soundtracks which catapulted musicians Shankar Ehsaan Loy into the limelight, who were aided by imaginative song picturizations. Who can forget the Bollywood parody in 'Woh Ladki Hai Kahaan'?
From a filmmaking perspective Dil Chahta Hai was a great leap forward. In an industry where bound scripts and screenplays are hard to come by, Farhan Akhtar emerged from a yearlong self-imposed exile in his bedroom, with a fully bound script, packed with memorable scenes and dialogues. Who can forget the "Be a man" dialogue, where Aamir taunts Saif into standing up to his pushy girlfriend? Or the end scene where Akash (Aamir) and Siddharth (Akshaye Khanna) patch up, with Akash delivering the line "It's hard to improve perfection!" Many of those scenes and dialogues have become folklore!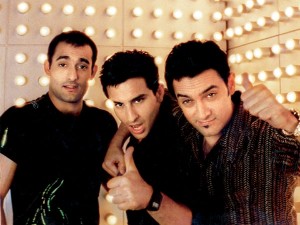 Dil Chahta Hai was fully sound-synched, where live sound recording was used whilst the actors were delivering their lines, rather than being typically dubbed over again in the studio, as with most Hindi films. Farhan paid particular attention to styling his actors, a feature which has become the mainstay of Aamir's roles ever since. It was such a strong feature of the film and its characters, that it was even referred to as a source of inspiration in Karan Johar's Kal Ho Naa Ho (2003), starring Shah Rukh Khan.
From a filmmaking perspective Farhan's fresh approach set a standard for many young filmmakers to follow. More time was spent in writing and pre-production, fifteen months, over shooting the film itself, a mere four months. That too in an industry where films are launched and churned out with alarming regularity. The film was also based partly on Farhan's personal diaries and stories of friends and couples he knew, which helped add to realism of the characters and situations.
Such an iconic film and to think Abhishek Bachchan turned down the part of Sid, which Akshaye later played. With all the current talk of Sridevi's successful comeback in English Vinglish (2012), you could say the same for Dimple Kapadia in Dil Chahta Hai, whom Farhan managed to convince to come out of retirement and join the cast. The tagline of Dil Chahta Hai was "welcome to a summer of their lives you will never forget". That's one tagline which still rings true today…