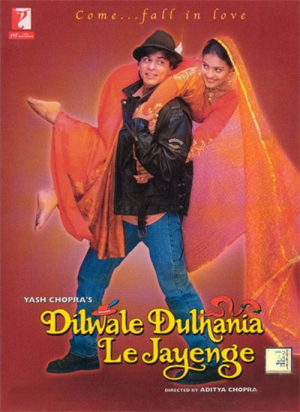 The next film we shine the spotlight on in our Framing Movies series is a film that many, many, many fans list as their favorite film of all time. It also has the distinction of being the longest running Bollywood film ever, and is one of the most iconic films in Hindi cinema. Have you guessed yet? Here's a hint: "bade bade deshon mein aisi choti choti baatein hoti rehti hain, senorita". Yes, we are indeed talking about Dilwale Dulhania Le Jayenge (The Brave Heart Will Take Away the Bride).
Released on October 20, 1995, the Yash Chopra produced film was Aditya Chopra's debut film as a director. DDLJ, as it is affectionately called, stars one of Bollywood's all time favorite jodis, Shah Rukh Khan and Kajol. The film also boasts the incredible cast of Anupam Kher, Amrish Puri, Farida Jalal, and many more.
The story invites you to fall in love; it is an epic romance between Simran and Raj… just reading their names you see your favorite scenes don't you?
As in many Bollywood movies, they first pass by each other on the street, but it is not their fate yet to meet. The next meeting is one of the most iconic scenes in Bollywood: Simran running and Raj holding his hand out to help her on the train.
Here is something interesting; when we talked to Shah Rukh Khan and asked him what goes into choosing his projects, one of his examples was DDLJ: "I feel a script. If somebody is telling me a story, there is maybe an instance of the film I like, which I come to realize later may have been the least important in the film or the most important in the film. I remember I was doing Dilwale Dulhania Le Jayenge, which has been running for a long time now, and I just liked the one moment when he puts his hand out and takes the girl onto the train and that's it. The rest of the film was far more wonderful than even just that moment!"
Their prem kahaani begins with the hero and heroine hating each other. Simran is a sweet proper Indian girl while Raj is a spoiled playboy who has yet to grow up. Simran and Raj, along with their friends, are on an Eurail trip around Europe and through many fights, a missed train for a knife and a cowbell, a night in a barn, a song on a mountain and so much more the two slowly become friends and he falls in love. Of course, it is not until the end of the trip and they are parting at the train station that she realizes she loves him. You are thinking of that look in his eyes, aren't you, as he leaves? I know I am.
You would think, oh happy ending now, right? Oh no, there is more, because Simran has promised to marry a man her father has chosen. On hearing Simran tell her mother she loves Raj, her father whisks her away to Punjab for the arranged marriage.
In search of Simran, Raj comes to Punjab. Another iconic scene in the sarson ke khet (mustard field), many more great songs, fights, tears, even more romance… and well, you will have to see, if you haven't already, whether Raj finally manages to take his 'dulhan' (bride) away…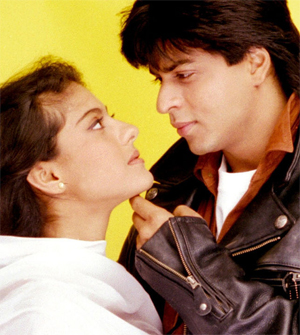 The film was a huge success when it first opened, not only in India, but also all over the world. In fact, DDLJ could be considered one of the first films, in that now barometer of success, the 100 crore club. As we mentioned earlier, DDLJ is the longest running Hindi film and is still playing over 17 years later, running one show a day at the Maratha Mandir theater in Mumbai. Yes, the romance of DDLJ has played out for over 900 weeks and shows no signs of stopping. I know people that have seen it over 50 times or more in the theater and still whistle, sing-a-long, dance in the aisles and cheer in the end. Of course, since its release it has gone to DVD and even is now available digitally online, so the number of times DDLJ has been seen cannot be counted. I am sure many people whistle, sing-a-long, dance and cheer in the end even when they see it at home [not that I do that ;-)].
This actually was the first Bollywood movie I saw and, before it was even over, I wanted to see it again and have, at least 10… okay, well 15 times. In fact, whenever I think of Bollywood, the first film that always comes to mind is DDLJ and the song 'Tujhe Dekha' begins in my head.
Not only considered one of the best by BollySpice, DDLJ has also been listed as one of 1001 Movies You Must See Before You Die and was recently voted as the Favorite Bollywood film of the Century of Hindi films.
So what makes this film so amazing, so loved and one that if you are a Bollywood fan you have, have, have to see? It is the perfect combination of everything that makes a Bollywood movie good: laughter, drama, tears, romance, themes of family, of honor, of relationships and of course true love, gorgeous scenery, great choreography, amazing music by Jatin-Lalit, a perfect cast, a brilliant story, and a lead pair that you truly believe in, and you fall in love right along with them. DDLJ has a story that takes you on a emotional, romantic journey with many, many surprises and of course, makes you wait until the final seconds to see if there would be an HEA (happily ever after) for Simran and Raj. Loved the world over, this film appeals not only to people in India and NRIs, but to the many non-Indian Bollywood fans. It is a film that makes many movie buffs, who are newly exposed to the world of Hindi films, become fans and want to continue on their journey down the Bollywood path. It is that good.
It is a timeless film and one that we highly, highly, highly recommend you see or go watch once more and fall in love all over again.