Before Yash Chopra's Veer-Zaara (2004), there was Raj Kapoor's Henna (1991). Perhaps today still the most beautiful and genre defining film on Indo-Pak cross border relations, with its aspirations for peaceful co-existence.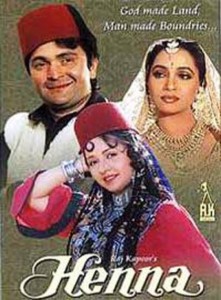 Henna released in the summer of 1991. It was the last film India's showman Raj Kapoor was working on before he passed away unexpectedly a few years earlier in 1988. So in a sense, Henna was his swansong. The film was completed by his sons Randhir and Rishi Kapoor, with Randhir as director and Rishi as the leading man. The brothers later shared that they actually had to alter their father's original script as it was a little too controversial and too ahead of its time, which really does make the mind ponder.
Henna's character was created to symbolise an innocence that understands humanity and no man made borders and conflicts. That role went to Pakistani actress Zeba Bakhtiyar, who was previously married to singer Adnan Sami. So author backed was her role that she was and to this day is still associated to the character she played, which ultimately meant that her follow up films in Bollywood failed to make a mark. Her loss was cinema's gain because Henna was that dream girl – beautiful, personified, caring and innocent, whom many have fond memories attached to.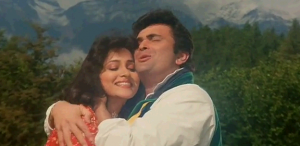 The story starts off in India, talking of how rivers know not boundaries and which freely flow between India and Pakistan. A tragic car accident, whilst on the way to his own engagement function, transports Chandar (Rishi Kapoor) into the picturesque and magical valleys of Kashmir, on the Pakistan side. A result of the accident is Chandar losing his memory, but being nursed back to health by Henna and members of her gypsy tribe. His identity and nationality is unknown to all and leads him to becoming an extended member of the tribe, as well as an eventual romance and engagement to Henna. On the evening of Chandar's engagement to Henna, his memory returns. This leads to a heartbroken Henna and suspicions amongst Chandar's new found family, that he may be an Indian spy. An act of Henna's love and humanity is that she and her tribe assist Chandar in returning to India to reunite him with his fiancé Chandni (Ashwini Bhave) and family, which results in a tragic sacrifice for Henna herself.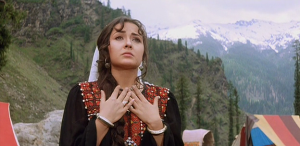 Much of the beauty of Henna was the cinematography, performances and music. It was reported that even four of the songs were already recorded whilst Raj Kapoor was alive. Many of those songs, sung by nightingale Lata Mangeshkar, are still classics today. Henna was also a woman centric film, like many of Raj Kapoor's previous works. Reportedly he had seen a number of girls before Zeba was finally chosen. Her performance was raw, which lent itself well to the character of the child-like lady. Although Zeba could not make a career beyond Henna, she will always be remembered for that one special role.
We have had a whole raft of films which have focussed on the wars and hatred between India and Pakistan. Many of you will fondly remember Veer-Zaara, as the prominent cross-border love story. However, those who have seen Henna prior to Veer-Zaara will say that Henna was indeed a film ahead of its times.