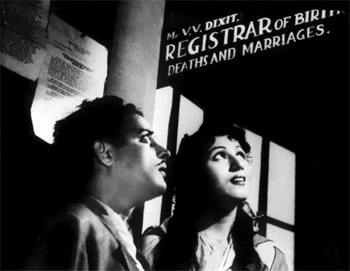 Guru Dutt is largely famous for making films that are of a melancholic nature. However, one of his greatest works that falls under the romantic comedy genre is Mr and Mrs 55 (1955). Guru Dutt not only directed this film, but he also played the male lead opposite the beautiful and talented Madhubala. The story is about a middle class girl named Anita (Madhubala) whose scheming aunt hires a struggling cartoonist named Preetam (Guru Dutt) to marry her for a short period. This is so that Sita Devi (Lalita Pawar) can inherit Anita's fathers' wealth. However, little does Sita Devi know that her niece and Preetam begin to fall in love with each other. This makes it all the more difficult for her to convince them to file for a divorce. Sita Devi is a feminist and is hence against the concept of marriage. She does not want Anita to fall into what she perceives as a trap for women. Sita Devi believes that once a woman is married, they will become oppressed and will spend the rest of their lives performing the household chores for their husband. However, Anita's love for Preetam only encourages her to embrace the idea of marriage and its actual connotations. You will have to watch this lovable classic to discover whether or not Preetam and Anita are united in the end.
Mr and Mrs 55 is a highly enjoyable film with lots of exciting moments to look forward to. One of the most admirable qualities about Mr and Mrs 55 is its simplicity in terms of screenplay, as well as its interpretation of romance. This film is no Pyaasa (1957), which contains a more acute narrative that only perhaps the classes will be able to follow, in contrast to the masses. Mr and Mrs 55 is a film for everyone regardless of your social background. Despite being filmed in black and white, it takes you into a colourful fantasy of love between two people. Although some concepts are little outdated, this is truly one of those few gems that you will relish. There are also some memorable dialogues in this film. This includes the moment where Sita Devi asks Preetam "tum communist ho" (are you a communist) with Preetam replying "ji nahin cartoonist" (no, I am a cartoonist).
The screenplay to Mr and Mrs 55 was written by Abrar Alvi, who went onto become a core member of Guru Dutt's production house. Alvi had written this story whilst he was at university under the title 'Modern Marriage.' Guru Dutt loved it so much that he decided to make a film out of it, but added a whole new twist to it. Initially, Sunil Dutt was roped into play the role of Preetam opposite Madhubala, who was the first choice to play the adorable Anita. However, just before shooting had begun; Guru Dutt decided to play the male lead himself in addition to directing it. The film also stars Johnny Walker, who is not only of the greatest comedians to have emerged from Indian Cinema, but was also one of Guru Dutt's closest friends.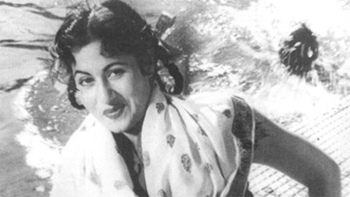 The music to Mr and Mrs 55 was composed by O.P. Nayyar, with lyrics by Majrooh Sultanpuri. There are some classic tunes in this soundtrack, which includes 'Thandi Hawa Kaali Ghata,' 'Ae Ji Dil Par Hua Aisa Jadoo,' 'Udhar Tum Haseen Ho,' as well as 'Preetam Aan Milo.' The music has a strong 50s feel to it and contains some very well- written lyrics. One of the great qualities about the songs that were made during the fifties is that the lyrics are meaningful and more connected to the storyline. These are traits which you rarely find in today's Hindi film songs; despite the fact that there have been some great hits that have released over the past few years. The soundtrack to Mr and Mrs 55 is delicious, catchy and will certainly appeal to all, whether you form the old or young generation of filmi music lovers.
Mr and Mrs 55 was a sensational hit at the box office and went onto become one of the highest-grossing films of 1955. It also received rave reviews from the critics which includes the following from a top critic at Filmfare on May 1955. "A thoroughly delightful honey and cream social comedy, 'Mr and Mrs 55' is a model of film craft and has gripping interest for every class of cinegoer." The success of this film helped to financially consolidate Guru Dutt's production house. This now meant that he could make films with stories that were of a sombre nature and which he was more passionate about. Hence he went onto make Pyaasa (1957), which many film critics consider to be his magnum opus during his short career.
Mrs and Mrs 55 is a most certainly film that should be treasured for another one hundred years. Although it is to some extent a predictable film, you cannot help but fall in love with it. Both Guru Dutt and Madhubala give sensational performances and share great on-screen chemistry also. Lalita Pawar delivers perhaps one of the finest performances in a supporting role which Indian Cinema has offered over the past one hundred years. She projects hostility and individualism as Sita Devi and manages to do this with immense skill, which she deserves the highest credit for. A romantic comedy with is centred on how love blossoms between two people in unusual circumstances; you must watch Mr and Mrs 55 and experience the magic which this great classic has to offer!