Chandni was a 1989 romantic blockbuster starring Sridevi, Rishi Kapoor and Vinod Khanna. The film was directed and produced by the late and legendary Yash Chopra and is often revered as one of the most successful Bollywood films of all time, as well as the film which ended the violent era in Hindi Cinema.
The movie is a classic love triangle. Chandni (Sridevi) and Rohit (Kapoor) fall instantly in love at a friend's wedding. Romance ensues, Chandni and Rohit are engaged but Rohit meets with a tragic accident that binds him to a wheelchair. Rohit's family blames Chandni for his fate and Rohit too pushes her away, as he is convinced that he will no longer be able to make her happy. Chandni then moves to Mumbai and ends up working for Lalit (Khanna) and she and Lalit are eventually engaged to be married. As the movie progresses, however, it is clear that Chandni's heart ultimately lies with Rohit.
Through this seemingly simple storyline, Chandni shined. There was just enough romance, comedic relief and adversity to provide an impactful, yet wholesome entertainer for the whole family. Kapoor and Khanna were both desirable heroes and cameos by Juhi Chawla and Anupam Kher were a nice surprise.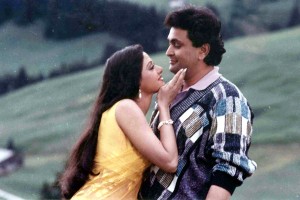 Undeniably stealing the show, Sridevi's sweet portrayal of her character was most memorable of all. She became an iconic character with her bubbly expressions and simple and loving personality. Her costumes and styling also caused a ripple throughout India. True to the meaning of her name (moonlight), Chandni was almost always dressed in white with a simple white salwaar kameez and dupatta becoming her signature look that took audiences by storm. Various media outlets including Hindustan Times and CNN proclaim Chandni to be one of the most iconic Hindi film characters of all time.
To this day, the music of Chandni by Shiv-Hari (with lyrics by Anand Bakshi) is still as celebrated as it was over 20 years ago. Sridevi showcased her impeccable dancing skills in "Mere Haathon Mein," perhaps the most famous song of the movie and the one still remembered today at weddings and celebrations (remember that mini tribute in Kabhi Khushi Kabhie Gham?). The title song of the movie is just as renowned, and one where Sridevi lent her own vocals for portions of the track.  Sridevi's dancing prowess was most featured in her intense Tandav number. With 9 songs and two instrumentals, Chandni was the epitome of a Bollywood musical.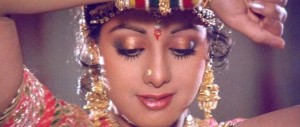 Chandni was both a critical and commercial success. Audiences loved the film for its music, characters and love story. The movie was nominated in all major categories at the 1989 Filmfare Awards and won the National Film Award for Best Popular Film Providing Wholesome Entertainment.  Chandni was one of the most successful movies of 1989 in terms of box office success and critical and commercial acclaim.
As we approach the silver anniversary of Chandni, it is clear why the film should be remembered for the next 100 years of Indian Cinema: for its impact on the everyday lives of audiences everywhere. After shooting at exotic locales in Switzerland, Chandni made Switzerland a popular tourist destination and film location for many, many Bollywood movies to come. The love triangle storyline also became a staple in Hindi cinema as viewers demanded to see more and more of this after this movie.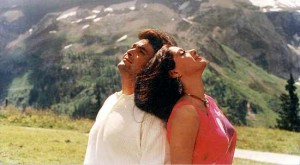 Arguably more impactful than Chandni the movie, was Chandni the character. Her vibrancy and lovability became desirable qualities. Female viewers desired to be her and male viewers simply desired her. It came to the point that there are now countless twenty-somethings bearing the name "Chandni" who were clearly named after the character (my own name is case in point!).
Chandni ended Yash Chopra's lean phase during the 1980s when he had delivered a number of box office failures. The film also cemented Sridevi as one of the most popular actresses of all time and she is arguably the greatest Yash Chopra heroine to have ever emerged. Almost a quarter of a century later, viewers still remember the movie as if it was just released yesterday. It's easy to see that the film will be just as cherished 100 years from now.