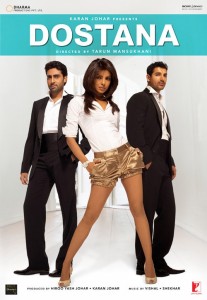 Kunal (John Abraham) and Sameer (Abhishek Bachchan) decide to play it gay to secure an apartment. However, the problem is that it's not just the apartment that's beautiful- their new flatmate Neha (Priyanka Chopra) is too. They both become smitten with Neha and fall head over heels in love with her. Neha begins to bond and become close to the 'couple' by sharing her problems and confiding in them. What Neha does not know is that she means more than a friend to both of them. Sameer's mother accidently finds out that her son is gay, which initially shocks and upsets her. However, she accepts her 'gay' son and Kunal as his partner. Whilst the two guys are busy falling for Neha, she begins dating her boss, Abhi (Bobby Deol). To stop the relationship from going any further, Kunal and Sameer manipulate Abhi's young son Veer by telling him that his life will be ruined if Abhi marries Neha. When Neha finds out Abhi's plans on proposing to her during a football match, she confides in Kunal and Sameer on what to do. Kunal and Sameer decide it's time to tell Neha the truth and confess to her on not being gay and also being in love with her. In the mean time, Veer tells his father his insecurities which ultimately brings him to the decision to break up with Neha. She kicks out Kunal and Sameer from the apartment and is left heartbroken.
A couple of months later, Kunal and Sameer decide to find Neha and apologise. They find her at a fashion show where Abhi is also present. Once they find out about their break up, they have to once again spill the beans and confess to manipulating Veer for their own interest. Kunal and Sameer get up on stage and beg Neha to forgive them. Neha is ready to forgive but only on one condition – if Kunal and Sameer kiss. After much hesitation Kunal and Sameer pucker up and eventually kiss. Attempting to fix what they broke, they propose to Abhi on Neha's behalf. Abhi says yes and the two are brought back together. The film ends with Neha asking Kunal and Sameer if they ever had any feelings for one another whilst pretending to be a gay couple. Kunal and Sameer deny any feelings and once left alone, the memory of the kiss comically haunts them.
Dostana did very well at the box office both in India and internationally. It performed at 37 day run in the UK and grossed a total of $17,894,574 worldwide as of 11 December, 2008. At the Filmfare Awards it was nominated for: Best Movie; Best Actor (Abhishek Bachchan); Best Music Director (Vishal- Shekhar). It won 'Best Comedian' (Abhishek Bachchan) and 'Best Chorography' (Farah Khan) at the International Indian Film Academy Awards. It also won 'Stardust Star of the Year Female' (Priyanka Chopra) at the Stardust Awards as well as 'Jodi No. 1' (Abhishek Bachchan and John Abraham) at the Star Screen Awards.
Dostana's soundtrack was composed by Vishal-Shekhar and consists of six songs: 'Jaane Kyun', 'Desi Girl', 'Maa Da Laadla', 'Shut Up & Bounce', 'Khabar Nahin', 'Kuch Kam', 'Maa Da Laadla (Mummy mix)'. The soundtrack debuted in fourth place on IndiaFM's 'Top Ten Soundtrack sales Chart.' IndiaFM and NDTV both gave the soundtrack 4 out of 5 stars. 'Desi Girl', not to mention holds its popularity even today, five years after its release. However, 'Shut Up & Bounce' was the song that had got attention upon release. NDTV described it as 'exceptional' whereas other critics were not too keen on it and made comparisons with Kal Ho Naa Ho's 'It's the time to disco.'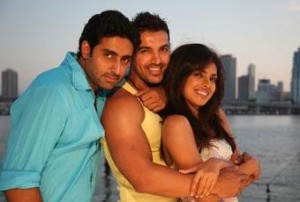 For the first time in Bollywood, a gay couple were shown on the big screen and were integral to the story- albeit a fake gay couple. The reception in the LGBT community was positive and encouraging. With reference to 'www.punemirror.in', the director of 'Sambhavna' a gay NGO, Jasmeer Thakur, felt Dostana was "the first movie which is sensitive to gays. Although a comic touch has been given in this film, still it deals with the gay relationship quite well. The scene in the film where Kirron Kher and Priyanka Chopra are shown talking about the relationship is sensitively depicted. Now, as far showing of this film is concerned, I think people should not avoid watching it and parents also should not stop their kids from doing so. It is a fact and people should accept it. However, not everyone felt comfortable with Dostana's portrayal of homosexuality. A 'www.punemirror.in' reader Neha Parwal felt that children should be stopped from watching Dostana until they come out of their teenage years- "We don't have any children as yet, but when we do, we'll never take them out for such movies. I guess such movies should be for adult viewing only. Adults understand things in a better perspective, while kids may not be aware of so many things."
It was not just the homosexuality that caused controversy. There was huge controversy surrounding the song 'Kuch Kum'. According to www.bollycurry.com, the owner of Pritish Nandy Communications filed a court case against Dharma Productions claiming that the song had been used without his consent. The original plan was for 'Kuch Kum' to be used in a film, directed by Tarun Mansukhani under Nandy's banner. Dharma Productions handled the situation by paying Nandy a Rs. 3 crores compensation.
Dostana translates as 'friendship' and throughout the film the meaning of friendship is explored. Asking for forgiveness and being able to forgive is portrayed as an integral part of friendship. Also symbolised is the importance of honesty for a friendship to flourish.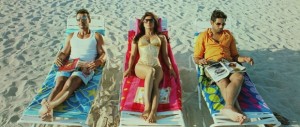 In my opinion, what signifies Dostana as a significant film is that not only does it portray homosexuality in a positive light; it raises important issues faced by many gay people in a comical way. It is said that the best way to face difficult issues is through laughter, and Dostana does just that. For instance, Sameer's mother's shocked and frightened reaction on finding out her son is gay represents the experiences of some homosexual people. Homosexuality being controversial and taboo, some families find it very difficult to accept gay family members. Some factors may be the question of honour in society, the possibility of not having children (although many gay people do choose to adopt or have children via artificial insemination), or perhaps just a fear of the unfamiliar. Sameer's mother accepting her son as gay is a turning point for Indian cinema. Dostana portrays homosexuality as love that should be accepted. What is also interesting is how Dostana brings out the challenges faced by homosexuals to fit into a heterosexual society, as well as the perplexity felt towards homosexual relationships. When Sameer's mother welcomes Kunal into the house as a traditional new bride would be, she comments 'I don't know if you're my daughter in law or my son in law…' This highlights the question of gender norms set within society as well as the confusion towards homosexual relationships fitting into 'traditional Indian family life'. Her comment, 'make sure you fast for Sameer at karva chauth' symbolises that love is for all and that marriages should be based on love. Sameer's mother shows that her love for her son is so immense, that despite him being gay, she will not compromise the hopes and desires she had for him.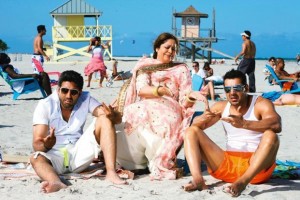 Although Sameer's gay persona I personally feel is heavily stereotyped and depicts homosexual men in a comical fashion, Dostana is a prominent film that must be highlighted. Homosexuality has been introduced on the Bollywood screen at last. Although set within a hetero-normative frame, Dostana has created a stepping stone for homosexuality to one day find an accepted, equal and dignified place on the Bollywood screen and a step closer in society.