Kabhi Khushi Kabhie Gham is a film about loving your parents. Yashvardhan Raichand (Amitabh Bachchan) is a wealthy businessman who lives with his wife Nandini (Jaya Bachchan) and his adopted son Rahul (Shah Rukh Khan) and actual son Rohan (Hrithik Roshan). Although Rahul is adopted, they treat him as their own. Being the head of the family, Yashvardhan has the last word on everything, including whom he believes his son should marry. Enter Naina, a family friend's daughter who is the ideal choice for Rahul according to Yash, but Rahul is in love with Anjali (Kajol). Yash tells Rahul that Anjali will not be able to fit into their lifestyle, as she has a different upbringing and rejects this alliance. Rahul marries Anjali and brings her home to receive blessings from his parents but is quickly turned away by Yash. He relocates to London along with Anjali's sister, Pooja (Kareena Kapoor). Rohan goes to boarding school in order to keep with the family tradition.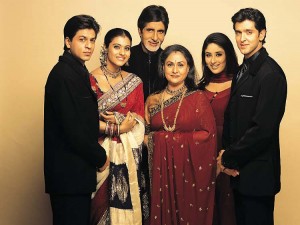 Ten years on, Rohan eventually discovers the real truth as to why his brother left. He decides to take on the challenge of reuniting his family. He tells his family he is going to London to study. It is in London that he meets Pooja, with whom he creates a plan in order to successfully unite the family. Rahul discovers that Rohan is his brother and tells Rohan to return home. However, Rahul finally meets Yash and Nandini after Rohan manages to trick them into visiting London. When the entire family returns to India, Yash apologises to Rahul and tells him he was silly to believe his father did not love him. He is regretful of the fact that they have left it till now to patch things up. The film ends with Pooja and Rohan's wedding and the family are once again reunited.
K3G was one of the highest grossing Bollywood films overseas in 2001 especially in UK and US and within two weeks, it had already climbed up to third place at the British box office and broke all opening records upon release. It  was one of the most expensive Bollywood films released and the highest grossing Bollywood film until Devdas. The film was the first Bollywood feature to see a theatrical release in Germany with German subtitles. K3G won 5 Filmfare Awards including, Best Actress for Kajol, Best Supporting Actress for Jaya Bachchan, Best Dialogue, Karan Johar, Best Art Direction for Sharmishta Roy and Best Scene of the Year. It also won 9 awards at the International Indian Film Academy, 1 Award at the Screen Weekly Awards, 5 awards at the Valenciennes International Festival of Action and Adventure Films and 2 Zee Cine Awards. Additionally, it was screened at the International Film Festival of Marrakech as a tribute to Bollywood completing 100 years of cinema.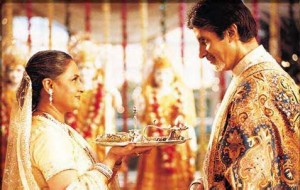 K3G had 11 tracks which were composed by Jatin Lalit, Aadesh Shrivastava and Sandesh Shandilya. The lyrics were written by Sameer and Anil Pandey. Upon release, it became the largest selling album of the year in India. However, samples taken from the track 'It's Raining Men' saw Karan Johar being faced with a lawsuit as it was used without permission. Therefore Karan had to face courts and payments due to this particular error. The soundtrack catered for every member of the audience as it contained both traditional and modern songs from a bit of disco/bhangra to slow romantic songs. Karan Johar said he "wanted music that had all kinds of tunes – pop, romantic, bhangra – but one sound. It had to be larger than life." That is exactly what he got as the K3G soundtrack was a major success.
The inspiration of K3G came from Yash Chopra's Kabhi Kabhie (1976) Karan told rediff, "What appealed to me was the fact that the love story stretched out across generations. It began with youth and went on as the people grew older. You could say that Kabhi Kabhie is the starting point for my new film, that I am inspired by it."
K3G was one of the first Bollywood films that had a 'making of' book written by author Niranjan Iyengar. It included behind the scenes news, photographs, interviews and more. K3G was the first film in which Amitabh Bachchan and Jaya Bachchan starred in after 18 years. Karan Johar said he immediately thought of Amitabh Bachchan to play Yash even before he had selected any of the other characters. K3G was Karan Johar's second film after Kuch Kuch Hota Hai (1998) but he still managed to incorporate some of KKHH into K3G through 'Suraj Hua Maddham' which featured the instrumental tune from KKHH in it. This particular song was shot in Egypt – a first for a Bollywood film.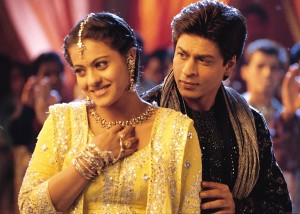 During filming, Hrithik Roshan was unable to complete his scene with Shahrukh and Amitabh as he felt intimidated by their acting in the reconciliation scene. Amitabh took him aside and reassured him by telling him to take on the scene as Rohan and not Hrithik. Hrithik managed to complete the scene after this. It was rumoured that Aishwarya Rai was considered for the movie and Abhishek Bachchan was to appear for a cameo role but it was later cut. After the success of K3G, Karan had said to have been considering K3G 2 after Amitabh Bachchan convinced him it was not only possible but desirable, but so far no sequel has surfaced.
K3G is an all-time favourite for many Bollywood enthusiasts. It is a classic that will continue to be appreciated for years to come. It has everything a Bollywood film should have, from colourful, larger than life songs, classic filmi romance and traditional melodramatic love scenes. It is a film that appreciates family values and allows the audiences to experience love between different generations. Although a big starrer, each character brought something different to the film and no one was over shadowed by another. Each character was allowed to shine. K3G provided amazing visuals and it was almost impossible to look away from the screen, whether it was the setting, the outfits or even the songs. The grandeur props allowed the audiences to indulge within the wealth and status of the Raichand family whilst appreciating the love and simplicity that the Sharma family portray for one another.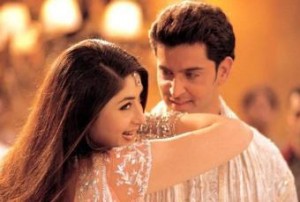 Shah Rukh and Kajol Jodi will always work no matter what the roles are as they have amazing on screen chemistry. The choice to have Amitabh Bachchan and Jaya star together after 18 years worked well as it created excitement to see them together on screen again. Kareena and Hrithik worked well as they almost played off each other, their chemistry was fun and fresh.
K3G placed importance on every member of the family, it showed that the whole family has a part to play and through the film they represent how each member is an important part of the family and all members and needed together to create a happy family. Hrithik brought the family together, Shah Rukh and Kajol still craved the love and blessings of the parents and it showed how incomplete the family home was without the sons.
K3G should be appreciated for years to come as it provides a whirlwind of emotions, a rollercoaster of love, tears, happiness and a sense of togetherness. It represents Bollywood at its best. It shows that no matter how modern times are, family traditions and values should always matter and have importance placed on them. A big starrer, great soundtrack and a well thought out storyline – K3G will always be a classic for many years to come.