Running time: 139 minutes.
Directed by: Reema Kagti Produced by: Ritesh Sidhwani, Aamir Khan, Farhan Akhtar(Studio Excel Entertainment and Aamir Khan Productions)
Written by: Farhan Akhtar (dialogues), Anurag Kashyap (additional dialogues).
Screenplay: Reema Kagti, Zoya Akhtar
Story by: Reema Kagti, Zoya Akhtar. Starring: Aamir Khan, Rani Mukerji, Kareena Kapoor, Nawazuddin Siddiqui, Shernaz Patel, Raj Kumar Yadav, Vivan Bhatena
Music by: Ram Sampath, Cinematography: K.U. Mohanan.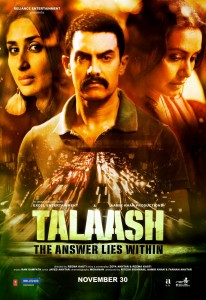 Talaash – The Answer Lies Within was Reema Kagti's second film as a director after Honeymoon Travels Pvt Ltd and it revolved around a complicated murder/accident, investigated by Inspector Surjan Shekhawat (Aamir Khan). Suri, who is otherwise a personally troubled person over his son's death and his troubled marriage with Roshni (Rani Mukerji), decides to not give up till he solves this case. He traces leads and handles the complication of the case with the help of escort Rosie (Kareena Kapoor), only to reach an extremely shocking conclusion to the turmoil. Talaash definitely did the right thing by letting the 'answer lie within' and left no stone unturned to make you all jittery on your seats, waiting to see what happens next. Aamir Khan's performance is 'perfect' like him, while Rani completes her character with correct tone of expressions, of pain or of joy. Kareena Kapoor ironically plays a prostitute exactly 10 years after Chameli, where she played a call girl. She has the right amount of mystery in her eyes, while her confidence and sex appeal are exactly how they should be without going overboard. And how can we not mention the fabulously talented Nawazuddin Siddiqui as supporting character Taimur! He is one man who disguises himself in his character, so much so that you actually take time to register that it is the same man who played officer Khan in Kahaani!
While the characters and storyline of Talaash leave you stunned, the music of this film also deserves a thumbs up. Topping the list for me is 'Muskaane Jhooti Hai'. The lyrics of this song, complimented with Suman Sridhar's voice, make this song perfectly mysterious and spooky and it is definitely not a regular track in Bollywood. My second favourite from the list is 'Jiya Laage Na', more for Javed Akhtar's lyrics without forgetting Sona Mohapatra's justice to them with her amazing vocal skills. The music of the film is somewhere different from regularity and these two tracks are still on my daily playlist!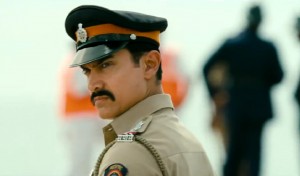 And what did Talaash achieve? In spite of mixed responses by the audience and critics, this film made its way into the 100 crore club by making 131.78 crores worldwide and became the third highest grosser film of the year in the international market after Jab Tak Hai Jaan and Ek Tha Tiger. Kareena Kapoor received nominations in the Best Actress (popular choice) category in the Screen awards, most entertaining film actor in the BIG Star Entertainment Award sand Best Actress (female) in Zee Cine Awards while she bagged the award for the Editor's choice for Best Actress in the Filmfare Awards, and for the most entertaining actor in a thriller (Female) for BIG Star Entertainment Awards. Rani Mukherji got nominated for the Best Supporting Actress (Female) in three different award programs. The success of the film continued with Javed Akhtar's nomination for best lyrics in Filmfare Awards for the song 'Jee Le Zaraa'. We at Bollyspice rated the film as 3 and half stars while critics like Taran Adarsh gave it 4.5 stars. The film deserved the ratings and also received a lot of appreciation, awarded or not.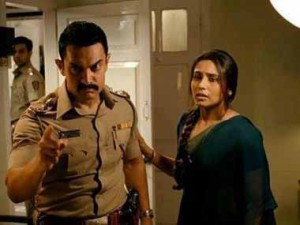 Coming to some very interesting facts about Talaash, not a lot of people are aware of the fact that this film has been shot at maximum real locations! The crew shortlisted 520 locations and finally shot in 47 of them. Talaash has also captured a chunk of demolishing areas of Mumbai and has also taken locations like Charni Road and Bombay Central into account to show the real flavour of the city. This movie has got the trio of Farhan Akhtar, Ritesh Sidhwani and Aamir Khan together after the iconic Dil Chahta Hai and evidently, their trio really works! Also, Reema Kagti and Aamir Khan have an old connection. Why? Well, she assisted Ashutosh Gowarikar on the sets of Lagaan. Reema has also worked on the script of Zindagi Na Milegi Dobara with Zoya Akhtar and contributed to the success of the film, and they worked together on the script of Talaash as well. Another very important fact that we cannot miss out on is Aamir's police avatar! For the first time, Aamir has donned the uniform of a policeman. He played an officer in Sarfarosh, but he was plain clothed and in Talaash, he looks absolutely handsome in the cop uniform! One more interesting fact about this film is Kareena still taking her maiden name in her credits, and not Kareena Kapoor Khan. This raised some eyebrows towards Bebo, didn't it? Not to forget, Aamir and Rani came together after 7 years since their last film together was Mangal Pandey: The Rising. In one of her interviews, Rani also said that she doesn't look into Aamir's eyes, as she fears she may fall in love with him. "I want to believe my friendship with Aamir is forever and I will be attending his 8oth birthday also," she added.
How can we finish the trivia surrounding Talaash without exclaiming at the 'actor disguised in character' Nawazuddin Siddiqui? After creating a rage with his performance in Gangs of Wasseypur, Nawazuddin played a very pivotal role in Talaash and surprised his audience with yet another rocking performance!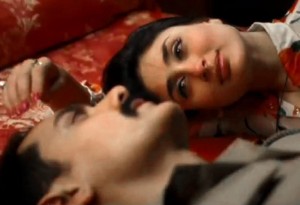 I know I have to explain why I loved Talaash so much that I think it should be an emblem of Hindi cinema forever, so I will do it step by step. First of all, this is a very new concept introduced in Hindi cinema and it is a thriller that has not been done before. A lot of people complained when the suspense finally revealed at the end of the film that it diverted from the genre, but that is not entirely true. Talaash had a very different climax, a different storyline and had been performed extraordinarily by the actors. What is important in a suspense thriller is that it should keep you guessing till the very end and then shock you. Talaash did just that. Even though a lot of spoiler broadcasts about the 'killer' were circulated, the ultimate ending was a complete wow factor! Also, Reema Kagti has created a beautiful picture by shooting on real locations, which is something that connects you to the film even more, and for a lot of people that did happen. Whether it was the scene at Marine Drive or at Colaba Causeway, it connected you to Mumbai, the Mumbai under all those lights in the wee hours of night or in the hustle bustle of the day. The background score by Ram Sampath had a mesmerizing effect while Mohanan's cinematography cannot escape attention at any cost. The music of the film, especially 'Muskaane Jhooti Hain', has uplifted the soul of the film in every way by keeping the suspense and spookiness alive with the lyrics and music. You can actually realize how the story has been 'sung' in 'Muskaane Jhooti Hain' when you listen to the song after watching the film. The dialogues were penned down in an extremely crisp manner, so Farhan Akhtar and Anurag Kashyap deserve their credit for the same. Talaash was overall crafted beautifully!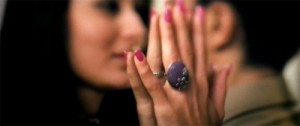 This film marked the beginning of a new genre, received its share of good marks and bad marks, but it definitely did not fail to take in the audience and the critics by surprise with its unique suspense and amazing array of perfect actors put together. So 100 years down the line, I really want to hear the generations saying," Have you got the DVD of Talaash (2012)?"