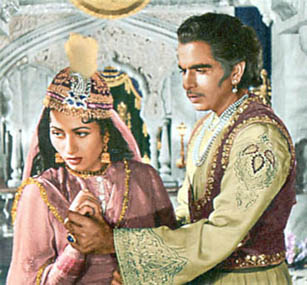 It would be wrong of us to celebrate one hundred years of Indian Cinema if we did not acknowledge one of the greatest epics to have ever been made. Directed by K. Asif, Mughal-E-Azam (1960) is a film oozing with grandeur, romance and drama. Starring Dilip Kumar, Prithviraj Kapoor and Madhubala in central roles, it is based on the 16th century mythical love tale between a Mughal prince named Saleem (Dilip Kumar) and the court's maidservant Anarkali (Madhubala). After seeing the two lovers together, Emperor Akbar (Prithviraj Kapoor) attempts to separate them, as he does not want a commoner to become the future Queen of India. Without a doubt, you are not a true fan of Indian Cinema until you have seen the phenomenal beauty that is Mughal-E-Azam.
Initially having received a lukewarm response from the critics, Mughal-E-Azam rapidly became one of the biggest hits in Indian box office history and has acquired a huge following amongst the masses. It is a beautifully woven film which depicts a type of love story which we rarely encounter. The various inimitable qualities of Mughal-E-Azam are perhaps why it is so widely revered amongst film enthusiasts, as well as by people within the Indian film industry. It contains a finely written screenplay, riveting Urdu dialogues, lavish sets and costumes, as well as some wonderfully composed music. It also contains one of Hindi Cinema's first ever erotic scenes, where Saleem strokes Anarkali's face with a feather and she quivers in an erotic manner. Whether you are a man or a woman, the tragic love story between Saleem and Anarkali is one which will have a touching effect on you. You will deeply appreciate the historical context in which the film is set, as it has brilliantly showcased elements of Mughal history on screen. This is despite the fact that there are still debates amongst historians regarding the ultimate fate of Anarkali. You will see the version which most historians agree with towards the end of the film. The film has a gripping climax which will be etched onto your mind and permit you to show sympathy for the two protagonists.
According to film scholar Nasreen Munni Kabir, K. Asif began working on Mughal-E-Azam in 1944 which was to have a different star cast attached to it. Originally, Chandramohan was to play Emperor Akbar, Nargis as Anarkali and Sapru as Saleem. However, the communal violence which transpired in India during 1946 (a year before the country's partition) resulted in K. Asif putting a halt to filming. The first producer of the film, Shiraz Ali Hakim, also left India for Pakistan which meant that K. Asif was unable to find a producer who could finance this big-budget film. However in 1951 Shapoorji Pallonju, the owner of Sterling Investment Corporation Pvt. Ltd, teamed up with K.Asif to provide the financial support he needed to give Mughal-E-Azam the precise depth, shape and appearance it needed. It also saw the original cast members being replaced with new ones. Hence, Dilip Kumar, Prithviraj Kapoor and Madhubala were taken on to play the three iconic characters. Durga Khote played the lovable Queen Jodhaa, a role which she was initially assigned to way back in 1944.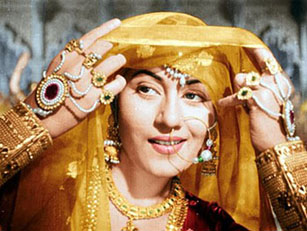 To give Mughal-E-Azam the opulent style it needed for it to look authentic, the costumes were hand-stitched by tailors from Delhi; the detailed jewellery was made by goldsmiths from Hyderabad and the heavy armoury used during the battle scenes in the film were made by Rajasthani ironsmiths. In addition, the Indian army contributed towards the look of the battle scenes by providing two thousand camels, four thousand horses, hundreds of elephants and eight thousand soldiers. One hundred and fifty carpenters, decorators and painters were taken on to recreate the Mughal courts. This includes the famous Sheesh Mahal (Glass Palace) that was used for the iconic song 'Pyar Kiya to Darna Kya;' which is picturized on Madhubala.
The soundtrack for Mughal-E-Azam was composed by the music maestro Naushad Ali, with lyrics by Shakeel Badayuni. It contains some truly inspiring classical Indian music which will win your heart in an instance. They include songs such as 'Mohe Panghat Pe,' 'Pyar Kiya To Darna Kya,' 'Humen Kash Tumse Mohabbat Na Hote,' 'Teri Mehfil Mein Kismat,' as well as 'Ae Mohabbat Zindabad' and 'Yeh Dil Ki Lagi.' Lata Mangeshkar, who is regarded as one of India's greatest ever playback singer, dominates most of this album with her melodious voice. Her vocals add exquisiteness to Mughal-E-Azam and hence; this is arguably one of the best film soundtracks Lataji has ever sung for.
Madhubala is known for having been diagnosed with a heart ailment, but did not disclose this to the makers of Mughal-E-Azam. Yet she took on incredibly difficult tasks for the film; which included posing as a statue, wearing heavy costumes and carrying heavy chains in order to authenticate her character. For anyone who is uncertain about Madhubala's abilities as an actress, then you must watch Mughal-E-Azam as this is the film which is one of the most pinnacle moments of her career. She delivers a very poignant and stirring performance which should have won her the awards she thoroughly deserved. In addition, both Dilip Kumar and Prithviraj Kapoor provide very powerful performances, which gives Mughal-E-Azam that realistic touch. Dilip Kumar is magnificent as the young Saleem and provides you with conviction throughout the film that he is genuinely in love with Anarkali. Prithviraj Kapoor's portrayal as Emperor Akbar makes you disapprove of his mission to tear Saleem and Anarkali apart from each other. However, this legend manages to successfully demonstrate what it takes to be a great actor, as he exudes a range of sentiments which you will appreciate. Thus, Mughal-E-Azam is not just a film that is filled with opulent costumes and sets, but also some truly spellbinding performances from all three of the leading actors.
Mughal-E-Azam managed to secure awards at the Filmfare ceremony, which included Best Film, Best Cinematography and Best Dialogue. Madhubala unfortunately did not receive her just deserves at the Filmfare Awards and lost the Best Actress Award to Bina Rai for the film Ghunghat (1960).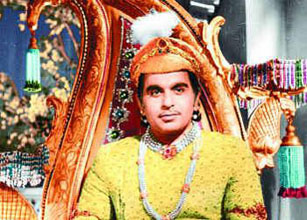 Mughal-E-Azam was originally released in black and white, with only some colour portions included in the reels. However in 2004, Sterling Investment Corporation Ltd decided to re-release the film in colour and hired special technicians in order to fill this historical epic with the colour that it truly deserved. The colourised version of Mughal-E-Azam was released on November 2004 and became a hit at the box office all over again. Although it was filmed in black and white, this colour version is breath-taking to watch and is also very popular with the young generation. The soundtrack was re-mastered for this occasion by Naushad Ali, who appropriately kept the original voice recordings intact and only re-recorded the compositions. There are only a handful of black and white Hindi films which have been transformed into colour. Though there are debates amongst film enthusiasts and historians as to whether or not certain classics should be colourised, Mughal-E-Azam is a film which required colour. By doing so, this has certainly enhanced the overall look of the film and beautified it even more.
Mughal-E-Azam is a film which should be treasured for hundreds of years to come. Considered at the time to be one of the most expensive films ever made in Indian Cinema, it typifies extravagance to the core. Yet if you unveil the layers which are embedded in this film, you will find that it is more about love. It is about the fact that no one has the right to destroy love between two people, regardless of how powerful they may be. It is the humankind of two people which unties them together and not their social background. Thus, it would be unfortunate if a film like Mughal-E-Azam is ignored by future generations. By doing so, they would be missing out on seeing one of the most fascinating love stories ever told.