Some films offer one an instant cheer-up and others speak to that gloom that we feel at certain ages and times. If I watch Pyaasa every afternoon, then Kagaz Ke Phool would be for each weekend since it envelopes this viewer into a sighing and sniveling wreck. The film is one of the rare cases where its trivia and history cloud the film as a whole due to its eerie significance in Dutt's trajectory. You cannot talk of the film without looking at the overlap and meta-ness of the narrative's role in Dutt's filmmaking oeuvre. The film broke Guru Dutt's heart with its commercial failure of which he never directed another film after, sticking to acting and writing for his other protégé's projects Sahib, Bibi, aur Ghulam and Chaudvin Ka Chand.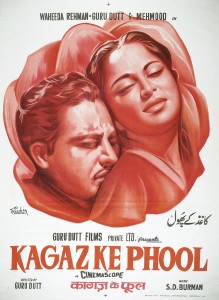 The essential plot is similar to A Star is Born, with the rising heroine mentored by the declining actor/director here. But isn't any muse-mentor relationship just the same as well? This film is so much more than the sum of its parts, marking India's first Cinemascope film by ace cinematographer VK Murthy. The film centres on Suresh (Guru Dutt) an artistic film director whose life is constantly in flux with his estrangement from his wife (Veena) and separation from his daughter (Naaz). One rainy night he meets Shanti (Waheeda Rehman) a vision of beauty, who he moulds into his Galatea of the silver screen, coaching her on how to walk and look. They enter into an intense relationship that threatens his marriage and his daughter warns Shanti away. Shanti gives up acting to return to the village as a teacher, and Suresh goes from bad to worse as his film flops and he loses custody of his daughter. He seeks solace in drink and loses interest in films, which destroys his life. He meets Shanti once more, and shocked by his ravaged condition, she implores him to direct her comeback film. He endures bemused reactions from his former colleagues and instead is an extra in one of her films. In one of the saddest moments of cinema history, Shanti spots him for the last time on the studio lot but is engulfed by an autograph-seeking crowd that won't let her go.
Kagaz Ke Phool has aged in some spots, the comedy track with Johnny Walker as Suresh's foppish brother-in-law goes nowhere in spite of Walker's funny anglicised accent. Whereas Walker had more delightful and integral roles in Pyaasa and Mr. and Mrs. 55, in this film he is the needed fool to break up the gloom and dourness of the picture. There are moments of self-indulgence where his wife and her family are exaggerated and anglicised evil caricatures keeping Suresh away from his daughter. These moments can be forgiven as the radical and brilliant cinematography and love story at the centre draws the viewer in. VK Murthy is at his stylistic peak with his remarkable use of the Cinemascope to emphasize the expansive space of the studio as Suresh's vast kingdom. Murthy contrasts the two film premieres in their varied reactions. Murthy signifies those dizzying heights of fame, with smiling patrons clamouring for Suresh's autograph with the initial hit. With the flops, Murthy takes us from a high angle tracking shot looking on at the irate and unruly audience who throw shoes and insults when spotting Suresh inside the movie hall. These images are sweeping in their symbolic value, and it evokes the audience's sympathies for Suresh's downfall.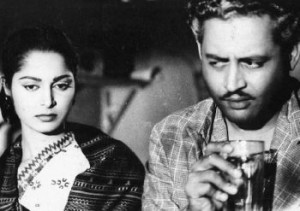 Dutt and Rehman's intense chemistry is muted in this film, which accentuates their position as star-crossed lovers like the Devdas and Paro of the film-within-the film that they make together. The provocative love story does not sensationalize the infidelity as the estrangement between Suresh and his wife are solidified. They fall in love to SD Burman's beautiful track, 'Waqt Ne Kiya Kya Haseen Sitam', with the gorgeous lyrics by Kaifi Azmi. This song is another example of Dutt's visionary style towards the film song, which enhances the narrative with the yearning and pathos of the central lovers. The scene is simply masterful with its use of chiaroscuro lighting as they surround each other at an empty soundstage. The lighting espouses that yearning as they pass between light and shadow as their feelings are revealed in their looks and gestures. Murthy uses several tracking shots to suggest their persistent desire as the camera highlights that magnetism they have in spite of the push, and pull of these shots. In the most serene image of the film, a shaft of light appears from above that separates them, while their inner selves reunite in this heavenly light. Lighting is used in a number of interesting ways to highlight the mentor-student relationship that develops into much more. From the iconic image of Suresh sitting in a chair and Shanti below him in the dark with one ray of light shining on them, Dutt and Murthy set up scenes that show a developing relationship through its perfect mise-en-scene. This particular image develops from a clear hierarchical scale to the song where the two face each other straight on and head into their relationship. Whereas Pyaasa focused on a meandering and fluid camera that crept through the alleys and dark nights, Kagaz Ke Phool is all about stylization and framing of expressionist images that make one fall in love with it on a technical level.
Kagaz Ke Phool plays with the meta-device of the Devdas story mirroring that of Suresh and Paro, who fall in love but are interrupted by society and self-destruction. Suresh is not an easy character to admire or like, but that is one strength in this complex relationship between mentor and muse. He has a self-destructive edge that was hitherto unseen in noir heroes like Dev Anand or melancholic lovers like Dilip Kumar. Here is a man, who will drink himself to death to push away his demons and nurse his broken heart, than to accept a favour from his loved ones. He is unrelentingly self-destructive and cynical, which reveals a certain discontent from its auteur's life that makes its way into the story. Dutt's own trials and tribulations are good fodder for the story, yet you wonder whether he unknowingly realized the prophesies of his film's denouement in his own life. Much like Orson Welles' film, The Magnificent Ambersons, Kagaz Ke Phool is a cinematic gem that reaches its pinnacle of appreciation long after the filmmaker is gone. The film is deeply layered with its indebtedness to Dutt's life and showcases a filmmaker willing to exorcise his demons on so public a platform.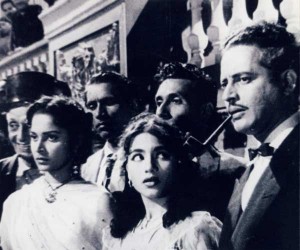 We all love a tortured artist story, and in that sense Kagaz Ke Phool fulfills its criteria in offering a heartrending love story that is shrouded in an aura of could-have been and should-have been. It is a cynical treatise on the film industry and how it encroaches on creativity and love. Yet the film acts more so as a historical document into Guru Dutt's creative life, blending his own life into his art was one means of displaying his love and distaste for his chosen art form that takes so much and gives little.