Who would have known that forty-four years after Raja Harishchandra (1913), India would be subjected to one of the most powerful and touching epics to have ever released from their film industry. This film was of course Mehboob Khan's magnum opus Mother India (1957). A remake of Khan's previous film Aurat (1940), Mother India has renowned actress Nargis playing the role of Radha; who is by far one of the greatest characters to have graced the big screen. The film was released 10 years after India's independence and partition from British colonial rule. It is centred on the social and economic conditions of the country during the post-independence era and met with unanimous acclaim both from the critics and the public.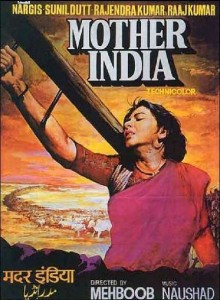 The story is based on Radha, Shamu (Raaj Kumar) and their children, who are subjected to extreme exploitation from Sukhilala (Kanhaiyalal) after Shamu's mother takes a 500 rupee loan from him in order to pay for her son's wedding. This results in them giving Sukhilala three quarters of their crops in interest and therefore; they begin to experience poverty like never before. Life is made even harder for Radha when Shamu leaves his family after having had his arms crushed by a boulder, as well as her mother-in-law dying on them. Radha and her children endure immense poverty and hunger due to Sukhilala's greed and manipulation. Despite a heavy storm tarnishing the village, Radha decides to use the remaining land that is under the family's name to grow crops. The scene shifts to many years later when her surviving sons Birju (Sunil Dutt) and Ramu (Rajendra Kumar) are all grown up and together; they have successfully managed to grow crops. Ramu is the dutiful and law-abiding son, whereas Birju is the rebellious son and a trouble maker. Birju decides to seek revenge on Sukhilala for putting his mum through severe hardship. He manages to achieve this during Sukhilala's daughter Rupa's (Chanchal) wedding, where he finally kills him and kidnaps Rupa. Radha is angered by Birju's attitude and behaviour towards women as she considers honour to be the most valuable quality in a woman. Hence, Radha decides to take matters into her own hands in order to stop Birju from leaving with Rupa, which results in an incredibly tragic climax. You will have to watch Mother India yourself if you wish to see one of the finest endings to have ever been made in Hindi Cinema.
Mother India is a landmark film which transformed Hindi Cinema forever. The film's intense subject matter, its depiction of realism, as well as the nationalistic message it conveyed contributed vitally towards its popularity and subsequent cultural significance. Mother India is regarded by many as the film which placed Hindi Cinema (or Bollywood as it is commonly known today) on an international platform. Though it received mixed reviews from some western critics, it was showered with praise amongst the Indian critics. Mother India became the first ever Indian film to be nominated at the Oscars under the Best Foreign Language category. It reportedly lost by just one vote to the Italian film Nights of Cabiria (1957). Nargis became the first ever Indian to win the Best Actress prize at the Karlovy Vary International Film Festival (based in the Czech Republic) and she also went onto win her first and only Filmfare Best Actress Award. Mother India won many other awards at the Filmfare ceremony, which included Best Film, Best Director, Best Cinematography and Best Sound. It has been dubbed by scholars as India's equivalent to Gone with the Wind (1939), which is considered to be Hollywood's greatest epic.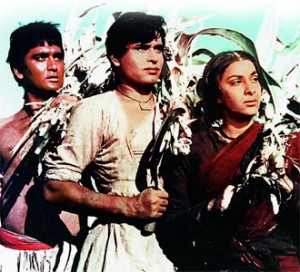 Mother India is a poignant story about a woman's struggle to raise her family in an agrarian context. This was during a time when India's illiterate villagers were taken advantage of by individualistic moneylenders. It also emphasises the importance of honouring women in the same way one would show similar respect to Hindu deities. Moreover, Radha is one clear example of a woman whose characteristics are parallel to that of a Hindu goddess; since she goes to great lengths in order to protect her family and village from evils. Such elements about this film are perhaps why it is so revered not just amongst the Indian public, but also at the state level. Mother India was screened especially for the President and Prime Minister of India in New Delhi, a few days prior to its release. Mother India was also exempt for entertainment tax in Bombay, since the state's Chief Minister was highly impressed with the film's nationalistic content. It is by far one of the most magnificent and pungent films to have arisen from Indian Cinema during its 100 year history. It can be safely said that Indian Cinema would have lost some of its definition and meaning had we not been exposed to Mother India.
Nargis was Mehboob Khan's first choice to play the iconic role of Radha. Initially, Mehboob Khan wanted Dilip Kumar to play Birju. However, Nargis objected to this since both actors have been seen as a romantic couple in many films. Therefore, she felt it would be awkward for Dilip Kumar to play her son in the film and this consequently led to Sunil Dutt entering the picture as Birju. Mother India shot three new actors (Sunil Dutt, Rajendra Kumar and Raaj Kumar) to stardom after its release. This was indeed an extraordinary trend, especially since in today's times; few new actors acquire stardom almost instantly. The film took three years to make in total and was one of few to be made in Technicolor during the 1950s. Mehboob Khan had done this earlier with Aan (1952), which was India's first ever colour release. For the fire scenes in the film, Nargis and Sunil Dutt performed them without the participation of any stunt doubles. This resulted in Nargis being trapped in the fire due to a shift in wind direction. Sunil Dutt saved Nargis from this incident which could have essentially killed her. He suffered from a number of burns due to his heroic act and was hospitalized for several weeks. During this time, Nargis fell in love with Sunil Dutt whilst she was helping him to recover in hospital. The two decided to keep their relationship under wraps until after Mother India was released. This was largely because they were playing mother and son in the film and they did not want to ruin the film's overall impact on the audiences.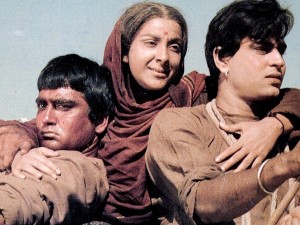 Mother India released in cinemas on November 1957 during Diwali celebrations, despite Mehboob Khan's dream to release the film on 15 August 1957, which marked the tenth anniversary of India's independence. It fast became the highest grossing film in Indian box office history, which was later overthrown in 1960 by K. Asif's historical epic Mughal-E-Azam (1960). Film magazine Empire included Mother India in its official list of '100 Best Films of World Cinema,' ranking it in 80th position. Indiatimes included the film in its list of the 'Top 25 Must See Bollywood Films.' Along with Dilwale Dulhania Le Jayenge (1995), Mother India was one of two Hindi language films to have been included in a book titled A 1001 Movies You Must See Before You Die (2012), edited by Steven Schneider. Such honours validates how this is indeed one of the most important films to have ever been produced in Indian Cinema.
In a year when India and the world are celebrating 100 years of Indian Cinema, it would be inappropriate to not acknowledge Mother India. The film has made a phenomenal contribution in shaping Indian Cinema and thoroughly deserves the numerous accolades and praise it has received on a global scale. Mehboob Khan has delivered a relevant and intriguing piece of cinema that will surely captivate people of all backgrounds. Although the entire cast of Mother India have played a commendable role in ensuring that it has a great impact on the masses; it was really Nargis who gave this film life and substance. Without her adopting the character of Radha, perhaps Mother India would not be classified as a great Indian film, since her superstar status did entice many people to watch it. She delivers here one of the finest and most significant works of her career. Nargis's powerful performance in Mother India is perhaps why many critics, as well as the rest of India regard her as the greatest actress that the country's film industry has ever produced. Therefore, make the time to watch Mother India if you wish to see what epitomises great cinema.